Textbook
Systems Analysis and Design with UML, 4th Edition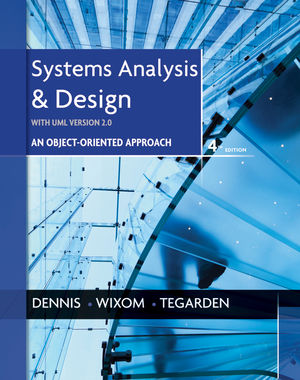 You can't truly understand Systems Analysis and Design by only reading about it; you have to do it. In Systems Analysis and Design, 4th Edition, Dennis, Wixom, and Tegarden offer a hands-on approach to actually doing SAD. Building on their experience as professional systems analysts and award-winning teachers, these three authors capture the experience of actually developing and analyzing systems. They focus on the core set of skills that all analysts must possess--from gathering requirements and modeling business needs, to creating blueprints for how the system should be built.



Table of Contents
Chapter 1 Introduction to Systems Analysis and Design 1
Chapter 2 Project Management 48
PART ONE ANALYSIS MODELING 107
Chapter 3 Requirements Determination 109
Chapter 4 Business Process and Functional Modeling 153
Chapter 5 Structural Modeling 195
Chapter 6 Behavioral Modeling 236
PART TWO DESIGN MODELING 271
Chapter 7 Moving on to Design 273
Chapter 8 Class and Method Design 317
Chapter 9 Data Management Layer Design 367
Chapter 10 Human–Computer Interaction Layer Design 412
Chapter 11 Physical Architecture Layer Design 473
PART THREE CONSTRUCTION, INSTALLATION, AND OPERATIONS 513
Chapter 12 Construction 515
Chapter 13 Installation and Operations 545
INDEX XXX
New To This Edition
•       Added brief examples, new figures, and more explanation to many chapters to help students learn some of the more difficult concepts.

•       Expanded the CD Selections case to be more complete, and moved it online (freely accessible at the companion website.)  At the end of each chapter in the text, a very short synopsis of the case is now provided.
•       Added more basic coverage of object oriented systems to chapter 1 by incorporating the prior edition's appendix on "Basic Characteristics of Object-Oriented Systems".

•       Greatly increased the coverage of  the so-called agile approaches to systems development,

•       Thoroughly rewrote the project management material to reflect more of an object-oriented flavor. (Net present value and return on investment, break-even point, work breakdown structures, Gantt charts, network diagrams and PERT analysis are all still included.)

•       Increased the focus on business processes by reorganizing and expanding the functional modeling material.

•       Rewrote the analysis modeling chapter to be more tightly coupled, especially with regard to the idea of iterative and incremental development.

•       Expanded coverage of non-functional requirements throughout the design modeling chapters.

•       Expanded material that addresses global concerns including a new section on international and cultural issues with regard to user interface design and expanded coverage of cultural issues with regards to construction and the installation and operations of information systems.

•       Updated coverage to address NoSQL data stores, mobile computing, social media, cloud computing, and green IT in the design modeling chapters.
Hallmark Features
•Written in UML: The text takes a contemporary, object-oriented approach using UML.
•Focus on doing SAD: The text builds on the applied approach of Dennis & Wixom's best-selling SAD text. After presenting the how and what of each major technique, the text guides students through practice problems and then invites them to use the technique in a project.
•Rich examples of both success and failure: Concepts in Action boxes describe how real companies succeeded and failed in performing the activities in the chapters.
•Project approach: Each chapter focuses on a different step in the Systems Development Life Cycle (SDLC) process. Topics are presented in the order in which they are encountered in a typical project.
•Outstanding author team: Dennis and Wixom draw on their experience as professional systems analysts. Co-author, David Tegarden, an OO expert, has worked with OO for over a decade and is a recognized OO expert in the IS community.
•A running case: This case threaded throughout the text helps students apply each concept they have learned.

Available Versions