Textbook
Systems Analysis and Design, 5th Edition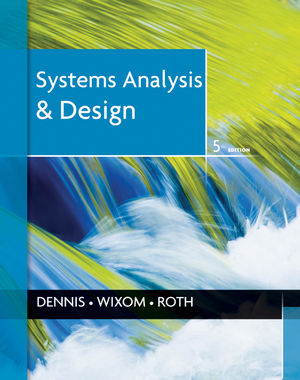 The 5th Edition of
Systems Analysis and Design
continues to offer a hands-on approach to SA&D while focusing on the core set of skills that all analysts must possess.  Building on their experience as professional systems analysts and award-winning teachers, authors Dennis, Wixom, and Roth capture the experience of developing and analyzing systems in a way that students can understand and apply.
With Systems Analysis and Design, 5th Edition, students will leave the course with experience that is a rich foundation for further work as a systems analyst.
See More
Preface
v
PART ONE PLANNING PHASE 3
CHAPTER 1 THE SYSTEMS ANALYST AND INFORMATION SYSTEMS DEVELOPMENT 5
CHAPTER 2 PROJECT SELECTION AND MANAGEMENT 45
PART TWO ANALYSIS PHASE 99
CHAPTER 3 REQUIREMENTS DETERMINATION 101
CHAPTER 4 USE CASE ANALYSIS 147
CHAPTER 5 PROCESS MODELING 183
CHAPTER 6 DATA MODELING 223
PART THREE DESIGN PHASE 257
CHAPTER 7 MOVING INTO DESIGN 259
CHAPTER 8 ARCHITECTURE DESIGN 281
CHAPTER 9 USER INTERFACE DESIGN 313
CHAPTER 10 PROGRAM DESIGN 365
CHAPTER 11 DATA STORAGE DESIGN 405
PART FOUR IMPLEMENTATION PHASE 443
CHAPTER 12 MOVING INTO IMPLEMENTATION 445
CHAPTER 13 TRANSITION TO THE NEW SYSTEM 471
CHAPTER 14 THE MOVEMENT TO OBJECTS 503
See More
•       Extensive new content including BPM and BPR, agile development, and more.
•       A more rigorous and thorough treatment of Requirements Determination and Use Case Analysis.
•       A new continuing example integrated in chapters 4, 5, and 6 introduces how to read use cases, process models, and data models in a simple, focused way. 
•       New Spotlight on Ethics features provide timely and real ethical dilemmas that confront systems analysts. 
•       Many new Concepts in Action boxes provide updated, real-world illustrations of the textbook content.
See More
•       Focus on doing SAD: After presenting the how and what of each major technique, the text guides you through practice problems and invites you to use the technique in a project.
•       Project-based approach: Topics are presented in the order in which an analyst would encounter them in a typical project.
•       Real-world focus with many examples, several running cases which serve as templates that students can apply to their own work, and Concepts in Action examples that describe how real companies succeeded (and failed) in performing SAD activities.
•       Provides a structured approach to SAD while also integrating object-oriented techniques as appropriate, for example, the development of use cases is presented as the first step in process modeling.  In addition, a final chapter on the major elements of UML 2.0 can be used as an introduction to OO SAD.
See More
Instructors Resources
ENHANCE YOUR COURSE
Digital evaluation copy available for this title
Request Copy

Contact your Wiley Representative
Find Your Rep

See More
See Less
Purchase Options

Information about Wiley E-Texts:
Wiley E-Texts are powered by VitalSource technologies e-book software.
With Wiley E-Texts you can access your e-book how and where you want to study: Online, Download and Mobile.
Wiley e-texts are non-returnable and non-refundable.
WileyPLUS registration codes are NOT included with the Wiley E-Text. For informationon WileyPLUS, click here .
To learn more about Wiley e-texts, please refer to our FAQ.

Information about e-books:
E-books are offered as e-Pubs or PDFs. To download and read them, users must install Adobe Digital Editions (ADE) on their PC.
E-books have DRM protection on them, which means only the person who purchases and downloads the e-book can access it.
E-books are non-returnable and non-refundable.
To learn more about our e-books, please refer to our FAQ.