Textbook
Contemporary Business 14th Edition 2012 Update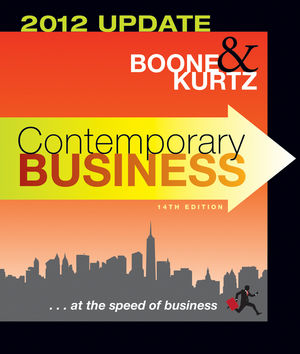 WileyPLUS and Boone & Kurtz, Contemporary Business, 14th Edition 2012 Update deliver teaching and learning solutions at the speed of business designed for a new generation of students. WileyPLUS is an innovative, interactive online environment that supports positive learning outcomes by providing a variety of study tools and resources for your students. For you, WileyPLUS offers a solution for teaching with current, engaging and relevant content quickly and easily.


Table of Contents
PART 1 Business in a Global Environment
Chapter 1 The Changing Face of Business 2
Chapter 2 Business Ethics and Social Responsibility 34
Chapter 3 Economic Challenges Facing Contemporary Business 70
Chapter 4 Competing in World Markets 104
PART 2 Starting and Growing Your Business 143
Chapter 5 Forms of Business Ownership and Organization 144
Chapter 6 Starting Your Own Business: The Entrepreneurship Alternative 182
Part 3 Management: Empowering People to Achieve Business 215
Chapter 7 Management, Leadership, and the Internal Organization 216
Chapter 8 Human Resource Management: From Recruitment to Labor Relations 252
Chapter 9 Top Performance through Empowerment, Teamwork, and Communication 284
Chapter 10 Production and Operations Management 314
Part 4 Marketing Management 349
Chapter 11 Customer-Driven Marketing 350
Chapter 12 Product and Distribution Strategies 386
Chapter 13 Promotion and Pricing Strategies 426
PART 5 Managing Technology and Information 465
Chapter 14 Using Technology to Manage Information 466
PART 6 Managing Financial Resources 497
Chapter 15 Understanding Accounting and Financial Statements 498
Chapter 16 The Financial System 532
Chapter 17 Financial Management 566
Appendix A Business Law A-1
Appendix B Insurance and Risk Management A-18
Appendix C Personal Financial Planning A-31
Appendix D Developing a Business Plan A-43
Appendix E Careers in Contemporary Business A-53
New To This Edition
NEW Companies: Thoroughly revised opening vignettes, features, cases, and business examples reflect new business trends and practices.
NEW Instructor's Annotated Edition: Lecture Enhancers and Class Activities are featured in the margins to assist with course prep and in-class discussions.
NEW Wiley Business Video Series: Brand new documentary-style video clips profile companies like Zipcar, Seventh Generation, and Comet Skateboards to reinforce key concepts, and expose students to innovative business practices.
NEW Business Weekly Updates: This free website features timely articles, video clips, business news stories with discussion questions and textbook references. Updated weekly and available for instructors and students in WileyPLUS or online-- http://wileybusinessupdates.com
NEW Business Simulations: New suite ethics simulations offered by Ethics-LX http://www.ethics-lx.com/. The Turning Gears company simulation is ideal for introduction to business, featuring a survey of topics including ethics in the global economy, advertising to children, product safety and consumer protection, stakeholder theory, and frameworks for managerial decision making.
NEW Business Plan Pro Software: Industry leading software for creating business plans gives students guidance on building business plans along with 500 sample business plans.
Hallmark Features
Currency: Contemporary Business 2012 Update features the most current content and relevant examples to illustrate business concepts.
Comprehensive Resource Package: WileyPLUS Version 5, complete Instructor's Manual, extensive Test Bank, Interactive PowerPoints, Video Cases, and more make up the leading suite of teaching materials.
Available Versions