Textbook
Managerial Accounting: Tools for Business Decision Making, 6th Edition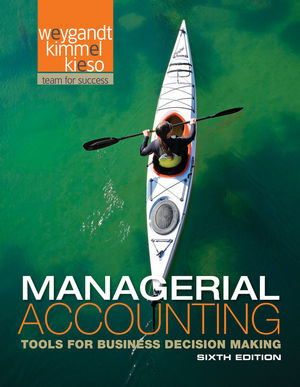 Weygandt, Managerial Accounting, 6th Edition
gives students the tools they need to succeed, whether as accountants or in other career paths. The authors present the fundamental concepts of managerial accounting in an easy-to-understand fashion in a decision-making framework for a one semester, undergraduate managerial accounting course.
With an expanded emphasis on student learning, Weygandt Managerial Accounting 6th Edition demonstrates how invaluable management accounting information is to business decision-making. The author team of Weygandt, Kimmel, and Kieso provide students with pedagogy that helps develop decision-making skills, so students can be successful as future business professionals.
Students using Weygandt Managerial Accounting, 6th Edition with WileyPLUS take more initiative in their learning so you'll have a greater impact in the classroom.
WileyPLUS sold separately from text.
See More
Cost Concepts for Decision-Makers
1 Managerial Accounting 2
2 Job Order Costing 48
3 Process Costing 94
4 Activity-Based Costing 144
Decision-Making Concepts
5 Cost-Volume-Profit 196
6 Cost-Volume-Profit Analysis: Additional Issues 236
7 Incremental Analysis 292
8 Pricing 332
Planning and Control Concepts
9 Budgetary Planning 382
10 Budgetary Control and Responsibility Accounting 434
11 Standard Costs and Balanced Scorecard 494
12 Planning for Capital Investments 546
Performance Evaluation Concepts
13 Statement of Cash Flows 586
14 Financial Statement Analysis 650
APPENDICES
A Time Value of Money A-1
B Standards of Ethical Conduct for Management Accountants B-1
Cases for Managerial Decision-Making CA-1
(The full text of these cases is available online at www.wiley.com/college/weygandt.)
COMPANY INDEX I-1
SUBJECT INDEX I-3
See More
• Use of Current Designs (kayak-making company)-introduced in new Chapter 1 Feature Story, and is the basis for new Broadening Your Perspective problem- presents managerial accounting situations that are based on the operations of a real company.
• People, Planet, and Profit Insight Boxes, featuring sustainability approaches of real companies.
• New Broadening Your Perspective problem: Considering People, Planet, and Profit, which requires students to consider examples of real cases, such as the costs associated with an oil-refinery accident versus the costs of improving safety/work conditions.
• New Wiley Managerial Accounting Videos use real, successful companies to demonstrate and reinforce managerial accounting concepts. .
• New easy-to-read spreadsheet illustrations improve readability as well as comparability to Excel.
• Bloom's taxonomy codes added to Brief Exercises, Do it! Review, Exercises and Problems, for quick assessment categorization.
• Updated End-of-chapter homework material.


See More
The decision making pedagogy, easy-to-understand writing style, and quality end of chapter material have been the hallmark features that have made Managerial Accounting, by Weygandt, Kimmel, and Kieso one of the most popular books for this course.
• Real-World Emphasis - the authors continue the practice of using numerous examples from real-world companies in chapter openers and in the Management Insight boxes.
• Accounting Across the Organization - gives students business context by showing how people, often in non-accounting functions, use accounting information to make decisions.
• Expanded Emphasis Service Company - prepares students for work in the service industry market, and shows that accounting is relevant to both service and manufacturing companies.
• Do IT! Exercises - teach students how to apply their knowledge quickly after they've learned it
• Comprehensive Homework Material - each chapter concludes with Self-Test Questions, Questions, Brief Exercises, Do IT! Review, Exercises, and Problems.
• Broadening Your Perspective Section - is designed to help develop students' decision-making and critical thinking skills.


See More
Instructors Resources
ENHANCE YOUR COURSE
Digital evaluation copy available for this title
Request Copy

Contact your Wiley Representative
Find Your Rep

See More
See Less
Students Resources
See More
See Less
Purchase Options
Managerial Accounting: Tools for Business Decision Making, 6th Edition
ISBN : 978-1-118-21531-9
768 pages
November 2011, ©2012
Loose-leaf&nbsp&nbsp&nbsp
Managerial Accounting: Tools for Business Decision Making, 6th Edition Binder Ready Version
ISBN : 978-1-118-06450-4
768 pages
November 2011, ©2012
Hardcover&nbsp&nbsp&nbsp
Managerial Accounting: Tools for Business Decision Making, 6th Edition
ISBN : 978-1-118-09689-5
768 pages
October 2011, ©2012

Information about Wiley E-Texts:
Wiley E-Texts are powered by VitalSource technologies e-book software.
With Wiley E-Texts you can access your e-book how and where you want to study: Online, Download and Mobile.
Wiley e-texts are non-returnable and non-refundable.
WileyPLUS registration codes are NOT included with the Wiley E-Text. For informationon WileyPLUS, click here .
To learn more about Wiley e-texts, please refer to our FAQ.

Information about e-books:
E-books are offered as e-Pubs or PDFs. To download and read them, users must install Adobe Digital Editions (ADE) on their PC.
E-books have DRM protection on them, which means only the person who purchases and downloads the e-book can access it.
E-books are non-returnable and non-refundable.
To learn more about our e-books, please refer to our FAQ.
This title is also available on :