Textbook
Core Concepts of Accounting Information Systems, 12th Edition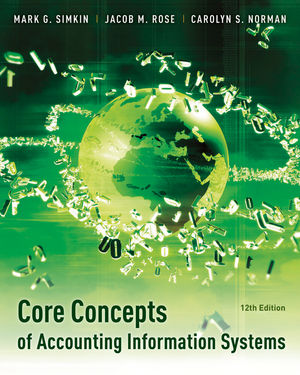 Mark Simkin, Jacob Rose, and Carolyn S. Norman's essential text helps students understand basic AIS concepts and provides instructors the flexibility to support how they teach the course, while still covering the basic concepts of Accounting Information Systems (AIS).

Given the variety of objectives for an AIS course and the different ways that instructors teach it, the authors developed Core Concepts of Accounting Information Systems covers only the core topics what are covered in any AIS course. The text is designed for a one-semester course in AIS and may be used at the community college, baccalaureate, or graduate level.
See More
PART ONE AN INTRODUCTION TO ACCOUNTING INFORMATION SYSTEMS/ 1
CHAPTER 1 Accounting Information Systems and the Accountant/ 3
Introduction/ 4
What Are Accounting Information Systems?/ 4
What's New in Accounting Information Systems?/ 9
Accounting and IT/ 14
Careers in Accounting Information Systems/ 21
CHAPTER 2 Information Technology and AISs/ 33
Introduction/ 34
The Importance of Information Technology to Accountants/ 34
Input, Processing, and Output Devices/ 36
Secondary Storage Devices/ 46
Data Communications and Networks/ 50
Computer Software/ 57
PART TWO DATABASES/ 73
CHAPTER 3 Data Modeling/ 75
Introduction/ 76
An Overview of Databases/ 76
Steps in Developing a Database Using the Resources, Events, and Agents Model/ 83
Normalization/ 91
CHAPTER 4 Organizing and Manipulating the Data in Databases/ 103
Introduction/ 104
Creating Database Tables in Microsoft Access/ 104
Entering Data in Database Tables/ 111
Extracting Data from Databases: Data Manipulation Languages/ 116
Recent Database Advances and Data Warehouses/ 123
CHAPTER 5 Database Forms and Reports/ 139
Introduction/ 140
Forms/ 140
Reports/ 147
PART THREE DOCUMENTING BUSINESS PROCESSES/ 165
CHAPTER 6 Documenting Accounting Information Systems/ 167
Introduction/ 168
Why Documentation Is Important/ 168
Primary Documentation Methods/ 171
Other Documentation Tools/ 186
End-User Computing and Documentation/ 191
CHAPTER 7 Accounting Information Systems and Business Processes: Part I/ 207
Introduction/ 208
Business Process Fundamentals/ 208
Collecting and Reporting Accounting Information/ 210
The Sales Process/ 215
The Purchasing Process/ 220
Current Trends in Business Processes/ 227
CHAPTER 8 Accounting Information Systems and Business Processes: Part II/ 239
Introduction/ 240
The Resource Management Process/ 240
The Production Process/ 246
The Financing Process/ 252
Business Processes in Special Industries/ 256
Business Process Reengineering/ 260
PART FOUR INTERNAL CONTROL SYSTEMS AND COMPUTER CRIME, ETHICS, AND PRIVACY/ 271
CHAPTER 9 Introduction to Internal Control Systems/ 273
Introduction/ 274
1992 COSO Report/ 276
Updates on Risk Assessment/ 278
Examples of Control Activities/ 281
Update on Monitoring/ 289
2011 COBIT, Version 5/ 290
Types of Controls/ 292
Evaluating Controls/ 293
CHAPTER 10 Computer Controls for Organizations and Accounting Information Systems/ 307
Introduction/ 308
Enterprise Level Controls/ 308
General Controls for Information Technology/ 312
Application Controls for Transaction Processing/ 324
CHAPTER 11 Computer Crime, Fraud, Ethics, and Privacy/ 341
Introduction/ 342
Computer Crime, Abuse, and Fraud/ 342
Three Examples of Computer Crimes/ 348
Preventing Computer Crime and Fraud/ 354
Ethical Issues, Privacy, and Identity Theft/ 361
PART FIVE SPECIAL TOPICS IN ACCOUNTING INFORMATION SYSTEMS/ 377
CHAPTER 12 Information Technology Auditing/ 379
Introduction/ 380
The Audit Function/ 380
The Information Technology Auditor's Toolkit/ 386
Auditing Computerized Accounting Information Systems/ 389
Information Technology Auditing Today/ 396
CHAPTER 13 Developing and Implementing Effective Accounting Information Systems/ 409
Introduction/ 410
The Systems Development Life Cycle/ 410
Systems Planning/ 412
Systems Analysis/ 414
Detailed Systems Design/ 419
Implementation, Follow-Up, and Maintenance/ 428
CHAPTER 14 Accounting on the Internet/ 447
Introduction/ 448
The Internet and World Wide Web/ 448
XBRL—Financial Reporting on the Internet/ 451
Electronic Business/ 455
Privacy and Security on the Internet/ 461
CHAPTER 15 Accounting and Enterprise Software/ 481
Introduction/ 482
Integrated Accounting Software/ 482
Enterprise-Wide Information Systems/ 486
Selecting a Software Package/ 496
Glossary/ 509
Index/ 521
See More
This edition of our book includes a number of changes from prior editions. These include:
• A new co-author -- Jacob Rose joins the team with an international reputation in the AIS community.
• All new database chapters -- Material related to the design of databases and database theory is all presented in the first database chapter, while the following two chapters describe how to apply the theoretical concepts using Access 2010. The new approach allows instructors to easily select a desired emphasis: theory, application, or both. New database diagramming methods simplify the design process for students.
• More Test Yourself -- Multiple choice questions at the end of each chapter to help students assess their understanding of the chapter material.
• Expanded coverage of topics current topics important to accounting systems, including cloud computing, data mining, sustainability accounting, forensic accounting COBIT version 5, COSO's 2010 Report on Enterprise Risk Management, enterprise controls, and internal auditing of IT.
• New AIS at Work features at the end of appropriate chapters help students better understand the impact of systems in a wide variety of contexts.
See More
• Focus on core concepts and flexibility have made his book widely adopted at a variety of different schools.
• Real World Focus with many real-world Cases-in-Points woven into the text material. Each chapter includes a detailed real-world case or concept in an end-of-chapter AIS-at-Work feature.
• Variety in Assessment through four types of end-of-chapter exercises (discussion questions, problems, Internet exercises, and cases) help students understand the material and gauge their progress.
• Recommendation for further inquiry includes lists of references, recommended readings, and web sites at the end of each chapter allow interested students to explore the chapter material in greater depth.


See More
Instructors Resources
ENHANCE YOUR COURSE
Digital evaluation copy available for this title
Request Copy

Contact your Wiley Representative
Find Your Rep

See More
See Less
Purchase Options
Wiley E-Text&nbsp&nbsp&nbsp

Core Concepts of Accounting Information Systems, 12th Edition
ISBN : 978-1-118-29741-4
544 pages
January 2012, ©2012
Paperback&nbsp&nbsp&nbsp
Core Concepts of Accounting Information Systems, 12th Edition
ISBN : 978-1-118-02230-6
544 pages
November 2011, ©2012
$176.95&nbsp&nbsp&nbsp
BUY

Information about Wiley E-Texts:
Wiley E-Texts are powered by VitalSource technologies e-book software.
With Wiley E-Texts you can access your e-book how and where you want to study: Online, Download and Mobile.
Wiley e-texts are non-returnable and non-refundable.
WileyPLUS registration codes are NOT included with the Wiley E-Text. For informationon WileyPLUS, click here .
To learn more about Wiley e-texts, please refer to our FAQ.

Information about e-books:
E-books are offered as e-Pubs or PDFs. To download and read them, users must install Adobe Digital Editions (ADE) on their PC.
E-books have DRM protection on them, which means only the person who purchases and downloads the e-book can access it.
E-books are non-returnable and non-refundable.
To learn more about our e-books, please refer to our FAQ.