Textbook
Fundamentals of Corporate Finance, 2nd Edition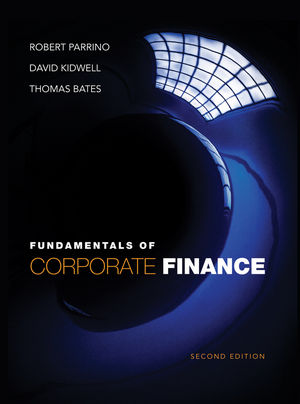 Fundamentals of Corporate Finance, 2nd Edition
offers an innovative integration of conceptual understanding and problem-solving... of intuition and decision-making... of the authors' industry and classroom/research experience...with current real-world examples and online practice.
Authors Robert Parrino, David Kidwell, and Thomas Bates believe that students who understand the intuition underlying the basic concepts of finance are better able to develop the critical judgments necessary to apply financial tools in real decision- making situations.
Their text develops intuitive thinking while simultaneously helping students develop problem solving and computational skills. It then shows students how to apply intuition and analytical skills to decision making while integrating it all with valuation and building shareholder value.
See More
PART 1 INTRODUCTION
1 The Financial Manager and the Firm 1
PART 2 FOUNDATIONS
2 The Financial System and the Level of Interest Rates 27
3 Financial Statements, Cash Flows, and Taxes 48
4 Analyzing Financial Statements 81
PART 3 VALUATION OF FUTURE CASH FLOWS AND RISK
5 The Time Value of Money 124
6 Discounted Cash Flows and Valuation 159
7 Risk and Return 200
8 Bond Valuation and the Structure of Interest Rates 238
9 Stock Valuation 270
PART 4 CAPITAL BUDGETING DECISIONS
10 The Fundamentals of Capital Budgeting 301
11 Cash Flows and Capital Budgeting 341
12 Evaluating Project Economics and Capital Rationing 380
13 The Cost of Capital 409
PART 5 WORKING CAPITAL MANAGEMENT AND FINANCING DECISIONS
14 Working Capital Management 441
15 How Firms Raise Capital 472
16 Capital Structure Policy 504
17 Dividends, Stock Repurchases, and Payout Policy 561
PART 6 BUSINESS FORMATION, VALUATION, AND FINANCIAL PLANNING
18 Business Formation, Growth, and Valuation 569
19 Financial Planning and Forecasting 606
PART 7 OPTIONS IN CORPORATE FINANCE AND INTERNATIONAL DECISIONS
20 Options and Corporate Finance 641
21 International Financial Management 671
See More
•
Improved Presentation and Organization
: edited and extended discussions improve the pedagogical presentation of key topics
• New Content: a new section on cash flows to investors has been added to Chapter 3, designed to help students develop an understanding of the sources and uses of investor cash flows. A discussion of the Sharpe Ratio has being incorporated into Section 7.4 to help students develop a stronger intuition about the relation between risk and return. The discussion of options in Chapter 20 has been extended to include different types of options embedded in debt and equity securities.
• Current Financial Information: All financial information for which more current data are available have been updated, providing timely examples of how the material covered in the chapter is relevant to financial decision-making.
• Refined and Extended Problem Sets: Examples are current and clearly presented. New questions and problems have been added to ensure appropriate coverage of key concepts at all levels of difficulty.
• Updated Ethics Cases: a new case concerning the Unilever Global Sustainable Living Plan has been added.
See More
• Building Intuition
boxes provide a statement of an important finance concept along with an intuitive example or explanation to help the student "get" the concept.
• Learning by Doing
applications contain quantitative problems with step-by-step solutions to help students better understand how to apply their intuition and analytical skills to solve problems. This unique feature takes the stepped-out problem beyond other texts by offering "approaches" students can take to solve each problem.
• Decision-Making Examples
emphasize the decision-making process along with computation and provide students at all levels with experience in financial decision-making.
•
Learning Objectives
identify the most important material for students to understand while reading the chapter.
•
Chapter Opener Vignettes
describe a real company application to illustrate concepts that will be presented in the chapter. These current vignettes are from international news highlighting domestic and global companies, reflecting the real world of business today.
•
Before You Go On
self-study questions throughout each chapter serve as a checkpoint at which students can test their understanding of the materials in that section.

Extensive End-of-Chapter Problems and Questions

In addition to the many numerical examples that are solved in the text of each chapter, Fundamentals of Corporate Finance has more than 1,000 end-of-chapter problems which have been written with Bloom's Taxonomy in mind. Solutions for these problems and charts showing how they relate to the levels in Bloom's Taxonomy are provided in the Instructor's Manual.
• Problems w/Detailed Solutions to reinforce the methods used to solve problems discussed in the chapter. • Critical Thinking Questions require students to think through their understanding of the basic concepts and apply those concepts to a problem.
• Questions and Problems provide a broad range of questions and problems, including sample problems from CFA Institute, covering a range of difficulty levels to help students solidify their understanding of the concepts. Excel Problems are identified for selected Problems that can be solved using Excel templates at the student website.
• Sample Test Problems call for straightforward applications of the chapter concepts and gives students a sense of comfort in test preparation.
See More
Instructors Resources
ENHANCE YOUR COURSE
Digital evaluation copy available for this title
Request Copy

Contact your Wiley Representative
Find Your Rep

See More
See Less
Students Resources
See More
See Less
Purchase Options
Fundamentals of Corporate Finance, 2nd Edition
ISBN : 978-1-118-21501-2
784 pages
January 2012, ©2012
Loose-leaf&nbsp&nbsp&nbsp
Fundamentals of Corporate Finance, 2nd Edition Binder Ready Version
ISBN : 978-0-470-93326-8
784 pages
September 2011, ©2012
Hardcover&nbsp&nbsp&nbsp
Fundamentals of Corporate Finance, 2nd Edition
ISBN : 978-0-470-87644-2
784 pages
September 2011, ©2012

Information about Wiley E-Texts:
Wiley E-Texts are powered by VitalSource technologies e-book software.
With Wiley E-Texts you can access your e-book how and where you want to study: Online, Download and Mobile.
Wiley e-texts are non-returnable and non-refundable.
WileyPLUS registration codes are NOT included with the Wiley E-Text. For informationon WileyPLUS, click here .
To learn more about Wiley e-texts, please refer to our FAQ.

Information about e-books:
E-books are offered as e-Pubs or PDFs. To download and read them, users must install Adobe Digital Editions (ADE) on their PC.
E-books have DRM protection on them, which means only the person who purchases and downloads the e-book can access it.
E-books are non-returnable and non-refundable.
To learn more about our e-books, please refer to our FAQ.
This title is also available on :