Textbook
Advanced Accounting, 5th Edition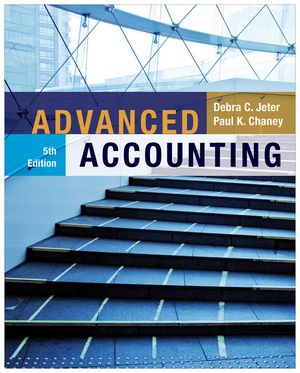 Designed for the advanced accounting course,
Advanced Accounting, 5th
Edition by Debra Jeter and Paul Chaney delivers a balanced and detailed approach to the conceptual and technical aspects of financial accounting and reporting. Reflective of the current state of the international accounting landscape, this new edition discusses the upcoming globalization of accounting standards with frequent references to the FASB's new Codification system and with a "compare and contrast" method for explaining the differences between U.S. GAAP and IFRS.
In addition, Advanced Accounting includes comprehensive coverage of all three methods of consolidated financial reporting (cost, partial equity, complete equity). Authored with both the student and teacher in mind, margin icons and labels distinguish all three methods and other pedagogical features.
See More
I: Accounting for Mergers, Acquisitions, and Liquidations.
1 Introduction to Business Combinations and the Conceptual Framework.
2 Accounting for Business Combinations.
3 Consolidated Financial Statements-Date of Acquisition.
4 Consolidated Financial Statements after Acquisition.
5 Allocation and Depreciation of Differences between Implied and Book Values.
6 Elimination of Unrealized Profit on Intercompany Sales of Inventory.
7 Elimination of Unrealized Gains or Losses on Intercompany Sales of Property and Equipment.
8 Changes in Ownership Interest.
9 Intercompany Bond Holdings and Miscellaneous Topics-Consolidated Financial Statements.
10 Insolvency-Liquidation and Reorganization.
II: Accounting in the International Marketplace.
11. International Financial Reporting Standards.
12 Accounting for Foreign currency Transactions and Hedging Foreign Exchange Risk.
13 Translation of Financial Statements of Foreign Affiliates.
14 Reporting for Segments and for Interim Financial Periods.
III: Partnership Accounting.
15 Partnerships: Formation, Operation, and Ownership Changes.
16 Partnership Liquidation.
IV: Fund and Nonprofit Accounting.
17 Introduction to Fund Accounting.
18 Introduction to Accounting for State and Local Governmental Units.
19 Accounting for Nongovernment Nonbusiness Organizations: Colleges and Universities, Hospitals and Other Health Care Organizations.
Glossary.
Appendix.
Index.
See More
• Significant updates to IFRS coverage, incorporating comparisons with US GAAP and a look at the road ahead in terms of likely convergence points between the two standards.
• Updated end-of-chapter material that includes additional "Business Ethics" questions and Professional Simulation problems, as well as expanded financial statement analysis problems.
• "In the News" feature continues the theme of currency; the book will include updated features.
• Expanded the use of the related concepts feature provides students with a broader picture of each situation to they can learn the concepts in more context.


See More
• Comprehensive coverage of all three methods of consolidated financial reporting (cost, partial equity, complete equity).
• Current coverage of relevant International Accounting Standards and a compare and contrast discussion of the differences between U.S. GAAP and IFRS.
• Consolidated financial statements chapter presented after acquisition without the complications related to excess depreciation and amortization.
• Conceptual questions in the end-of-chapter materials relate to theoretical topics covered in the framework and help students keep sight of the big picture.
• "Related Concepts" notes and conceptual questions at the end of chapter link the topics covered back to the conceptual framework where appropriate.


See More
Instructors Resources
ENHANCE YOUR COURSE
Digital evaluation copy available for this title
Request Copy

Contact your Wiley Representative
Find Your Rep

See More
See Less
Students Resources
See More
See Less
Purchase Options

Information about Wiley E-Texts:
Wiley E-Texts are powered by VitalSource technologies e-book software.
With Wiley E-Texts you can access your e-book how and where you want to study: Online, Download and Mobile.
Wiley e-texts are non-returnable and non-refundable.
WileyPLUS registration codes are NOT included with the Wiley E-Text. For informationon WileyPLUS, click here .
To learn more about Wiley e-texts, please refer to our FAQ.

Information about e-books:
E-books are offered as e-Pubs or PDFs. To download and read them, users must install Adobe Digital Editions (ADE) on their PC.
E-books have DRM protection on them, which means only the person who purchases and downloads the e-book can access it.
E-books are non-returnable and non-refundable.
To learn more about our e-books, please refer to our FAQ.
This title is also available on :