Textbook
Financial Economics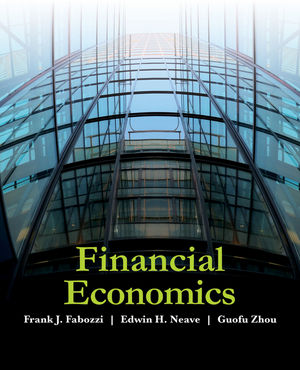 Financial Economics
, by Frank Fabozzi, Ted Neave, and Gaofu Zhou, presents an introduction to basic financial ideas through a strong grounding in microeconomic theory. This calculus based text explores the theoretical framework for analyzing the decisions by individuals and managers of firms, an area which is coming to both financial economics and microeconomics. It also explores the interplay of these decisions on the prices of financial assets.
The authors provide rigorous coverage aimed at assisting the undergraduate and masters-level students to better understand the principles and practical application of financial economic theory. In addition, the book serves as a supplemental reference for doctoral students in economics and finance, as well as for practitioners who are interested in knowing more about the theory and intuition behind many coming practices in finance.
In short, the book focuses on economic principles and on putting these principles to work in the various fields of finance - financial management, investment management, risk management, and asset and derivatives pricing.
See More
Preface ix
Acknowledgments xv
About the Authors xvii
CHAPTER 1 Introduction 1
PART I FINANCE IN A CERTAINTY WORLD WITH A PERFECT CAPITAL MARKET 13
CHAPTER 2 Consumer Financial Decisions 15
CHAPTER 3 Creating Wealth by Investing in Productive Opportunities 31
CHAPTER 4 How Investors Value Firms 50
CHAPTER 5 Firm Financing Decisions in a Perfect Capital Market 78
CHAPTER 6 Firm Investment Decisions 102
PART II FINANCIAL SYSTEM 119
CHAPTER 7 Financial Systems, Governance, and Organization 121
CHAPTER 8 Market, Intermediary, and Internal Governance 151
PART III TOOLS FOR COPING WITH RISK 177
CHAPTER 9 The Microeconomic Foundations of Financial Economics 179
CHAPTER 10 Contingent Claims and Contingency Strategies 199
CHAPTER 11 Risk and Risk Management 216
CHAPTER 12 On Choosing Risk Measures 234
PART IV SELECTION AND PRICING OF RISKY ASSETS 255
CHAPTER 13 Mean-Variance Portfolio Choice 257
CHAPTER 14 Capital Asset Pricing Model 287
CHAPTER 15 The APTand Factor Models 317
CHAPTER 16 General Principles of Asset Pricing 339
CHAPTER 17 Pricing Corporate Securities 366
PART V DERIVATIVE INSTRUMENTS 383
CHAPTER 18 Pricing Derivatives by Arbitrage: Linear Payoff Derivatives 385
CHAPTER 19 Pricing Derivatives by Arbitrage: Nonlinear Payoff Derivatives 414
PART VI CAPITAL MARKET IMPERFECTIONS AND THE LIMITS TO ARBITRAGE 449
CHAPTER 20 Capital Market Imperfections and Financial Decision Criteria 451
CHAPTER 21 Impediments to Arbitrage 479
PART VII CAPITAL STRUCTURE DECISIONS IN IMPERFECT CAPITAL MARKETS 499
CHAPTER 22 When Capital Structure Decisions Matter 501
CHAPTER 23 Financing Decisions in Practice 522
CHAPTER 24 Financial Contracting and Deal Terms 545
PART VIII INCORPORATING RISK IN CAPITAL BUDGETING DECISIONS 577
CHAPTER 25 Capital Expenditure Plans in a Risky World 579
CHAPTER 26 Evaluating Project Risk in Capital Budgeting 607
SUBJECT INDEX 639
AUTHOR INDEX 650
FINANCE APPENDICES WEB-APPENDIX A Deal Terms 653
WEB-APPENDIX B Corporate Debt Funding Instruments 658
WEB-APPENDIX C Investment Bankers and the Issuance of Securities 665
WEB-APPENDIX D Credit Risk 668
WEB-APPENDIX E Financial Statements 677
WEB-APPENDIX F Financial Ratio Analysis 682
WEB-APPENDIX G Estimating Cash Flows of Capital Budgeting Projects 692
WEB-APPENDIX H Merger and Acquisition Strategies 697
WEB-APPENDIX I Conglomerates as a Means of Overcoming Capital Market Imperfections 701
WEB-APPENDIX J Lease Financing 705
MATHEMATICAL AND STATISTICAL APPENDICES
WEB-APPENDIX K Taylor Series Approximation 716
WEB-APPENDIX L Some Elementary Concepts Involving Probability 717
WEB-APPENDIX M Continuous Probability Distributions 722
WEB-APPENDIX N Continuous Interest Rates 730
WEB-APPENDIX O Fundamentals of Matrix Algebra 733
WEB-APPENDIX P Principal Component Analysis in Finance 745
SUBJECT INDEX (WEB-APPENDIX A TO P) 751
AUTHOR INDEX (WEB-APPENDIX A TO P) 754
* Web-Appendix A to P are online only—please go to www.wiley.com/college/fabozzi
See More
• Flexible presentation of content
• Appendices which provide both institutional and technical information
• Variety of end-of-chapter questions class tested for clarity and accuracy

See More
Instructors Resources
Digital evaluation copy available for this title
Request Copy

Contact your Wiley Representative
Find Your Rep

See More
See Less
Purchase Options

Information about Wiley E-Texts:
Wiley E-Texts are powered by VitalSource and accessed via the VitalSource Bookshelf reader, available online and via a downloadable app.
Wiley E-Texts are accessible online and offline, and can be read on a variety of devices, including smartphones and tablets.
Wiley E-Texts are non-returnable and non-refundable.
Wiley E-Texts are protected by DRM. For specific DRM policies, please refer to our FAQ.
WileyPLUS registration codes are NOT included with any Wiley E-Text. For informationon WileyPLUS, click here .
To learn more about Wiley E-Texts, please refer to our FAQ.

Information about e-books:
E-books are offered as e-Pubs or PDFs. To download and read them, users must install Adobe Digital Editions (ADE) on their PC.
E-books have DRM protection on them, which means only the person who purchases and downloads the e-book can access it.
E-books are non-returnable and non-refundable.
To learn more about our e-books, please refer to our FAQ.