Textbook
The Complete Guide to Greener Meetings and Events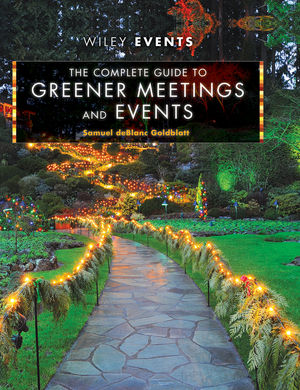 While there are many reasons to incorporate sustainable practices into meetings and events, including saving costs and resources, protecting the environment, improving social issues, doing business more efficiently and effectively and attracting new audiences, the number one reason to go green is to do business better. The book is divided into three parts, which reflect defining principles of greener meetings and events: Innovation, Conservation, and Education.
This book broadly explores sustainable management in the hospitality, tourism, conference and exhibition, and meeting and event industries, as well as countless smaller industries that include arts and music festivals and tour operators. Readers who are studying in, working in, or even just interested in these industries will reap innumerable benefits from the exciting journey ahead of them in The Complete Guide to Greener Meetings and Events.


Table of Contents
Foreword: Tamara L. Kennedy-Hill, CMP vii
Series Editor Foreword: Dr. Joe Goldblatt, CSEP ix
Preface xi
Acknowledgments xvii
PART ONE Innovation
CHAPTER 1 The Theory and Practice of Greener Meetings and Events 3
CHAPTER 2 Event Pollution 23
CHAPTER 3 Planning the Greener Event 37
CHAPTER 4 Measuring "Green" 59
PART TWO Conservation
CHAPTER 5 Green Light: Sustainable Transportation 83
CHAPTER 6 Waste Management 101
CHAPTER 7 Energy and Water 123
CHAPTER 8 Green Cuisine and Eco-Chic Decor 153
CHAPTER 9 Greener Hotels, Venues, and Vendors 179
PART THREE Education
CHAPTER 10 Social Sustainability 211
CHAPTER 11 Greener Meeting and Event Marketing 233
CHAPTER 12 Greener Events in Practice 259
APPENDICES
APPENDIX 1 References and Resources 279
APPENDIX 2 Model Greener Events, Venues, Organizations, and Associations 284
APPENDIX 3 Greener Supplier Directory 287
APPENDIX 4 Sustainable Menu 291
APPENDIX 5 Greener Artist Rider 292
Index 295
Author Information
Dr. Joe Goldblatt, FRSA served as the founding president of the International Special Events Society (ISES), the author of the first international certification examination for the special events industry and is the author, co author and editor of twenty books in the field of events management education including the first published text book in the field. He has received life time achievement awards from the International Special Events Society and Special Events Magazine. He was one of the first inductees into the Special Events Industry Hall of Fame. Russia awarded him the Silver Medal for lifetime creative contributions to the events industry. He was selected as the Event Educator of the Year by the Professional Convention Management Association and honored as the distinguished alumnus by his undergraduate college. He was the first educator to be inducted into the International Festivals and Events Association Hall of Fame.
Hallmark Features
The book is divided into three parts, which reflect defining principles of greener meetings and events: Innovation, Conservation, and Education.

Broad topical coverage with hundreds of practical outcomes teach you how to:

Create a strategic green plan

Measure your carbon footprint and source renewable energy

Create delicious sustainable menus and save money with energy-efficient products

Use web-based social media to attract new audiences

Each chapter ends with a Summary, definitions of Key Terms, suggested further reading or viewing (Renewable Resources) and an activity called "Blue Sky Thinking", which will help you put your learning into practice.

Web sites of model greener meetings and events are provided throughout the book.
Available Versions