Textbook
Hospitality Law: Managing Legal Issues in the Hospitality Industry, 4th Edition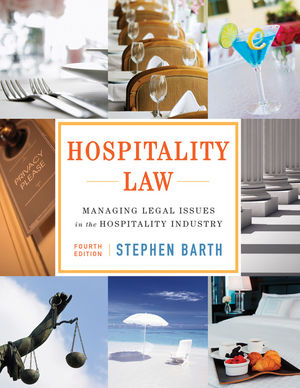 When faced with the possibility of paying substantial legal fees, astute hospitality managers recognize the alternative – managing their businesses responsibility to avoid litigation.
With prevention and compliance at its core, Hospitality Law, Fourth Edition, shows students and practicing hospitality managers how to effectively manage their legal environment. By learning to think proactively, readers consider how their actions will be viewed in a legal context, thereby precluding many legal difficulties.  
This practical text familiarizes readers with hospitality legalities, provides relevant exercises, and applies lessons learned to real-world hospitality management situations.
See More
PREFACE
xi
ACKNOWLEDGMENTS xvii
C H A P T E R 1 PREVENTION PHILOSOPHY 1
1.1 THE FUTURE HOSPITALITY MANAGER AND THE LEGAL ENVIRONMENT 2
1.2 THE HOSPITALITY MANAGER AND LEGAL MANAGEMENT 3
1.3 ETHICS AND THE LAW 9
C H A P T E R 2 GOVERNMENT AGENCIES THAT IMPACT THE HOSPITALITY INDUSTRY 19
2.1 FEDERAL REGULATORY AND ADMINISTRATIVE AGENCIES 21
2.2 STATE REGULATORY AND ADMINISTRATIVE AGENCIES 33
2.3 LOCAL REGULATORY AND ADMINISTRATIVE AGENCIES 39
2.4 REGULATORY INTERACTION AND OVERSIGHT IMPACTING TRAVEL AND TOURISM 42
2.5 MANAGING CONFLICTING REGULATIONS 55
2.6 RESPONDING TO AN INQUIRY 57
2.7 MONITORING REGULATORY CHANGE 60
C H A P T E R 3 HOSPITALITY BUSINESS STRUCTURES 67
3.1 THE IMPORTANCE OF BUSINESS STRUCTURE 68
3.2 COMMON HOSPITALITY ORGANIZATIONAL STRUCTURES 70
3.3 COMMON HOSPITALITY OPERATING STRUCTURES 76
3.4 THE AGENCY RELATIONSHIP 82
C H A P T E R 4 CONTRACT BASICS 91
4.1 INTRODUCTION TO CONTRACTS 92
4.2 COMPONENTS OF AN ENFORCEABLE CONTRACT 96
4.3 THE UNIFORM COMMERCIAL CODE 100
4.4 PREVENTATIVE LEGAL MANAGEMENT AND CONTRACTS 102
C H A P T E R 5 SIGNIFICANT HOSPITALITY CONTRACTS 117
5.1 SPECIFIC CONTRACT CLAUSES 118
5.2 FRANCHISE CONTRACTS 129
5.3 MANAGEMENT CONTRACTS 138
5.4 CONFERENCE SERVICES CONTRACTS 143
C H A P T E R 6 LEGALLY MANAGING PROPERTY 157
6.1 INTRODUCTION TO PROPERTY 159
6.2 PURCHASING PROPERTY 161
6.3 FINANCING THE PURCHASE OF PROPERTY 168
6.4 LEASING PROPERTY 171
6.5 RESPECTING INTELLECTUAL
C H A P T E R 7 LEGALLY SELECTING EMPLOYEES 189
7.1 EMPLOYEE SELECTION 191
7.2 DISCRIMINATION IN THE SELECTION PROCESS 202
7.3 VERIFICATION OF ELIGIBILITY TO WORK 208
7.4 THE EMPLOYMENT RELATIONSHIP 213
C H A P T E R 8 LEGALLY MANAGING EMPLOYEES 223
8.1 EMPLOYMENT RELATIONSHIPS 225
8.2 WORKPLACE DISCRIMINATION AND SEXUAL HARASSMENT 227
8.3 FAMILY AND MEDICAL LEAVE ACT 237
8.4 COMPENSATION 238
8.5 MANAGING EMPLOYEE
8.6 UNEMPLOYMENT CLAIMS 254
8.7 EMPLOYMENT RECORDS AND RETENTION 259
8.8 EMPLOYMENT POSTERS 261
8.9 WORKPLACE SURVEILLANCE 261
C H A P T E R 9 YOUR RESPONSIBILITIES AS A HOSPITALITY OPERATOR 269
9.1 DUTIES AND OBLIGATIONS OF A HOSPITALITY OPERATOR 270
9.2 THEORIES OF LIABILITY 272
9.3 LEGAL DAMAGES 278
9.4 ANATOMY OF A PERSONAL INJURY LAWSUIT 278
9.5 RESPONDING TO AN INCIDENT 284
C H A P T E R 1 0 YOUR RESPONSIBILITIES AS A HOSPITALITY OPERATOR TO GUESTS 295
10.1 ACCOMMODATING GUESTS 297
10.2 GUEST PRIVACY 303
10.3 FACILITY MAINTENANCE 305
10.4 RESPONSIBILITIES TO NONGUESTS 312
10.5 REMOVAL OF GUESTS 314
C H A P T E R 1 1 YOUR RESPONSIBILITIES FOR GUESTS' PROPERTY 321
11.1 LIABILITY FOR GUESTS' PROPERTY 322
11.2 BAILMENTS 326
11.3 PROPERTY WITH UNKNOWN OWNERSHIP 331
C H A P T E R 1 2 YOUR RESPONSIBILITIES WHEN SERVING FOOD AND BEVERAGES 339
12.1 SERVING FOOD 340
12.2 TRUTH IN MENU LAWS 345
12.3 SERVING ALCOHOL 351
C H A P T E R 1 3 LEGAL RESPONSIBILITIES IN TRAVEL AND TOURISM 367
13.1 TRAVEL 369
13.2 TRAVEL AGENTS AND TOUR OPERATORS 375
13.3 TRANSPORTATION AND COMMON CARRIERS 384
13.4 TOURISM 392
13.5 ONLINE TRAVEL SALES 400
C H A P T E R 1 4 SAFETY AND SECURITY ISSUES 411
14.1 THE IMPORTANCE OF A PROTECTED ENVIRONMENT 413
14.2 SAFETY AND SECURITY PROGRAMS: FOUR-STEP SAFETY AND SECURITY MANAGEMENT METHOD 417
14.3 CRIMES AGAINST HOSPITALITY BUSINESSES 431
14.4 CRISIS MANAGEMENT PROGRAMS 437
C H A P T E R 1 5 MANAGING INSURANCE 453
15.1 INTRODUCTION TO INSURANCE 454
15.2 TYPES OF COVERAGE 457
15.3 SELECTING AN INSURANCE CARRIER 462
15.4 SELECTING THE INSURANCE POLICY 463
15.5 POLICY ANALYSIS 464
GLOSSARY 471
INDEX 479
See More
Enhanced coverage of travel and tourism, with an increased international perspective

Added information on tipping and social media policies

Updates on safety and security, including Payment Card Industry compliance and guest privacy

Increased coverage of the civil litigation process, including evolving issues like bed bugs and the revised Americans with Disabilities Act

Updated legal case studies, with additional cases available through HospitalityLawyer.com
See More
Provides coverage of legal issues in travel and tourism, including those associated with transportation, travel agents, tour operators, gaming, mixed-use, and timeshare properties

Only Hospitality Law textbook that stresses an interactive, applied approach to learning

Familiarizes students with technology through the use of searches on the Internet, and references to hospitality cases

Short examples stress real-life situations, not extensive legal citations

Features real-world legal case summaries that illustrate the practical application of hospitality laws in actual hospitality operations.

Strong pedagogical features - opening vignettes, chapter objectives, integrated legal definitions, situational exercises, web exercises and extensive end of chapter materials provide readers with a solid base to learn how to make effective decisions in a hospitality operation
See More
Instructors Resources
Request a print evaluation copy
Contact us

Contact your Wiley Representative
Find Your Rep

See More
See Less
Purchase Options
Wiley E-Text

Hospitality Law: Managing Legal Issues in the Hospitality Industry, 4th Edition
ISBN : 978-1-118-21530-2
512 pages
December 2011, ©2012
Hardcover
Hospitality Law: Managing Legal Issues in the Hospitality Industry, 4th Edition
ISBN : 978-1-118-08563-9
512 pages
November 2011, ©2012

Information about Wiley E-Texts:
Wiley E-Texts are powered by VitalSource and accessed via the VitalSource Bookshelf reader, available online and via a downloadable app.
Wiley E-Texts are accessible online and offline, and can be read on a variety of devices, including smartphones and tablets.
Wiley E-Texts are non-returnable and non-refundable.
Wiley E-Texts are protected by DRM. For specific DRM policies, please refer to our FAQ.
WileyPLUS registration codes are NOT included with any Wiley E-Text. For informationon WileyPLUS, click here .
To learn more about Wiley E-Texts, please refer to our FAQ.

Information about e-books:
E-books are offered as e-Pubs or PDFs. To download and read them, users must install Adobe Digital Editions (ADE) on their PC.
E-books have DRM protection on them, which means only the person who purchases and downloads the e-book can access it.
E-books are non-returnable and non-refundable.
To learn more about our e-books, please refer to our FAQ.