Textbook
Visualizing Physical Geography, 2nd Edition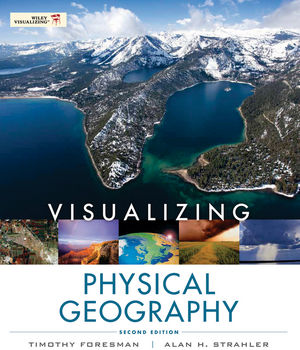 With its unique approach, Visualizing Physical Geography 2nd Edition captures the reader's attention and demonstrates why physical geography is relevant to them. It relies heavily on the integration of National Geographic and other visuals with narrative to explore key concepts. New emphasis is placed on environmental issues, such as climate change, overpopulation and deforestation, from a geographical perspective. Readers will appreciate this approach because it vividly illustrates the interconnectedness of physical processes that weave together to create our planet's dynamic surface and atmosphere.
See More
Preface
1 Discovering the Earth's Dimensions
2 The Earth's Global Energy Balance
3 Air Temperature
4 Atmospheric Moisture and Precipitation
5 Global Atmospheric and Oceanic Circulation
6 Weather Systems
7 Global Climates and Climate Change
8 Earth from the Inside Out
9 Plate Tectonics, Earthquakes, and Volcanoes
10 Weathering and Mass Wasting
11 Fresh Water of the Continents
12 Landforms Made by Running Water
13 Landforms Made by Wind and Waves
14 Glacial and Periglacial Landforms
15 Global Soils
16 Biogeographic Processes
17 Global Biogeography
Appendix:
Answers to Self-Tests
Glossary
References
Text, Table and Line Art Credits
Photo Credits
Index
See More
New emphasis on climate change.
Expanded coverage of important topics. Throughout, this edition contains new or expanded discussions of important and relevant topics.
Enhanced visuals.
New Science Tools feature.
New Where Geographers Click feature.
New Video Explorations feature.
More opportunities for critical thinking. In every chapter, select figures are paired with new critical thinking questions. Ask Yourself questions test student comprehension of the figure. Put It Together questions ask students to combine information from the figure with previously learned material. Think Critically questions require students extend their knowledge by applying what they've learned to new situations.
See More
"From the Field" examine a specific place, its location, what the issues are, geographers' field research and what the authors found in their own observations.
"Applying geographic knowledge" sections at the end of each chapter, address the key concepts used within the chapter and force students to apply geographic concepts.
All geographic concepts are shown and explained with the most up-to-date photos, illustrations and maps.
MAP strengths known to all de Blij titles (Maps, Accuracy, and Photos).
"Key questions" are listed after the opening field note of each chapter and serve as the outline for the chapter.
"Thinking Geographically" questions ask the reader to apply a geographic concept to a real life example.
See More
Instructors Resources
Digital evaluation copy available for this title
Request Copy

Contact your Wiley Representative
Find Your Rep

See More
See Less
Purchase Options
Visualizing Physical Geography, 2nd Edition
ISBN : 978-1-118-32697-8
624 pages
January 2012, ©2012
Loose-leaf
Visualizing Physical Geography, Binder Ready Version, 2nd Edition
ISBN : 978-1-118-12658-5
624 pages
January 2012, ©2012
Paperback
Visualizing Physical Geography, 2nd Edition
ISBN : 978-0-470-62615-3
624 pages
January 2012, ©2012

Information about Wiley E-Texts:
Wiley E-Texts are powered by VitalSource and accessed via the VitalSource Bookshelf reader, available online and via a downloadable app.
Wiley E-Texts are accessible online and offline, and can be read on a variety of devices, including smartphones and tablets.
Wiley E-Texts are non-returnable and non-refundable.
Wiley E-Texts are protected by DRM. For specific DRM policies, please refer to our FAQ.
WileyPLUS registration codes are NOT included with any Wiley E-Text. For informationon WileyPLUS, click here .
To learn more about Wiley E-Texts, please refer to our FAQ.

Information about e-books:
E-books are offered as e-Pubs or PDFs. To download and read them, users must install Adobe Digital Editions (ADE) on their PC.
E-books have DRM protection on them, which means only the person who purchases and downloads the e-book can access it.
E-books are non-returnable and non-refundable.
To learn more about our e-books, please refer to our FAQ.