Textbook
Global Warming: Understanding the Forecast, 2nd Edition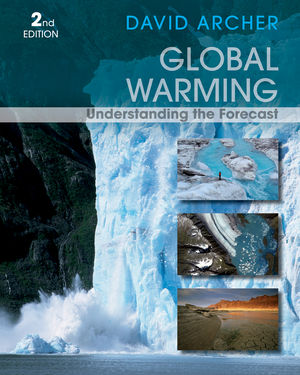 Based on the author's highly successful undergraduate course taught at the University of Chicago, Global Warming presents the processes of climate change and climate stability. Drawing on a wide range of disciplines, this Second Edition not only summarizes scientific evidence, but also presents economic and political issues related to global warming.


Table of Contents
Online Models.
Preface.
1 Humankind and Climate.
Part I The Greenhouse Effect.
2 Blackbody Radiation.
3 The Layer Model.
4 Greenhouse Gases.
5 What Holds the Atmosphere Up?
6 Weather and Climate.
7 Feedbacks.
Part II The Carbon Cycle.
8 Carbon on Earth.
9 Fossil Fuels and Energy.
10 The Perturbed Carbon Cycle.
Part III The Forecast.
11 The Smoking Gun.
12 Potential Climate Impacts.
13 Decisions, Decisions.
Glossary.
Index.
New To This Edition
The 2nd edition has been updated throughout, reflecting results from the fourth Intergovernmental Panel on Climate Change Scientific Assessment Report, published in 2007.
Hallmark Features
Provides a comprehensive introduction to all aspects of global warming, from the distant past to the distant future.
Assumes no specialist scientific knowledge.
Gives a detailed examination of the greenhouse effect, the carbon cycle and discussion of what the future holds for the global climate.
Available Versions