Textbook
Electronics with Discrete Components, 1st Edition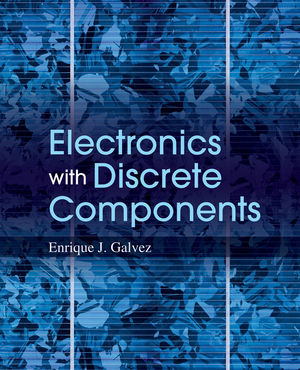 Designed for a one semester course on electronics for physics and science majors, this text offers a comprehensive, up-to-date alternative to currently available texts by providing a modern approach to the course. It includes the mix of theory and practice that matches the typical electronics course syllabus with balanced coverage of both digital and analog electronics.
See More
1 The Basics.
2 Introduction to Digital Electronics.
3 Combinational Logic.
4 Advanced Combinational Devices.
5 Sequential Logic.
6 AC Signals.
7 Filters and the Frequency Domain.
8 Diodes.
9 Transistors.
10 Operational Amplifiers.
11 Connecting Digital to Analog and to the World.
Appendix A Logic Board.
Appendix B If the Circuit Does Not Work.
Appendix C Curve Tracker.
Index.
See More
• Up-to-date and comprehensive coverage of both digital and analog electronics.
• A central emphasis that electronics is hands-on; that the objective is to build something; and that no black-boxes should be left unopened.
• A focus on discrete components so that students can build their understanding of more complex integrated devices and their specifications.
• Student friendly writing style
• Lab Projects section at the end of most chapters which contain many interesting circuits that have been proven to work well for instruction.
• Accompanying Lab Manual as well as an online component that allows for regular updates to contemporary equipment.
See More
Students Resources
Wiley Student Companion Site
Coming Soon!
View Sample content below:
See More
See Less
Purchase Options

Information about Wiley E-Texts:
Wiley E-Texts are powered by VitalSource technologies e-book software.
With Wiley E-Texts you can access your e-book how and where you want to study: Online, Download and Mobile.
Wiley e-texts are non-returnable and non-refundable.
WileyPLUS registration codes are NOT included with the Wiley E-Text. For informationon WileyPLUS, click here .
To learn more about Wiley e-texts, please refer to our FAQ.

Information about e-books:
E-books are offered as e-Pubs or PDFs. To download and read them, users must install Adobe Digital Editions (ADE) on their PC.
E-books have DRM protection on them, which means only the person who purchases and downloads the e-book can access it.
E-books are non-returnable and non-refundable.
To learn more about our e-books, please refer to our FAQ.