Textbook
Managerial Accounting: Tools for Business Decision-Making, 3rd Canadian Edition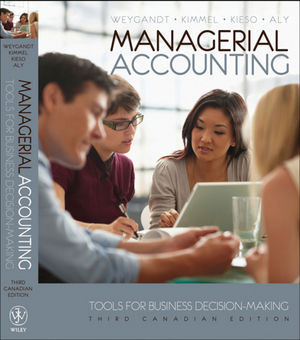 Weygandt's Managerial Accounting, Third Canadian Edition retains the same features that made it popular in the previous editions: it gives students all the necessary techniques and concepts of managerial accounting in a focused, concise framework with an excellent pedagogy that's been praised by instructors. It does this by focusing on the tools students need to succeed, whether as accountants or in other career paths. Incorporating the unique Decision Toolkit learning system, and developed around a framework of decision-making, Weygandt Managerial is the perfect fit for any one-semester undergraduate managerial accounting course. However, the authors understand that many students in this course are not accounting majors and will need to understand how managerial accounting is used as a management tool. Therefore, Weygandt Managerial focuses on building decision-making skills, understanding how to use accounting information to make quality business decisions, and developing tools that can be used by future managers.
See More
Chapter 1 Managerial Accounting
Chapter 2 Managerial Cost Concepts and Cost Behaviour Analysis
Chapter 3 Job Order Costing
Chapter 4 Process Costing
Chapter 5 Activity-Based-Costing
Chapter 6 Cost-Volume-Profit
Chapter 7 Incremental Analysis
Chapter 8 Variable Costing: A Decision-Making Perspective
Chapter 9 Pricing
Chapter 10 Budgetary Planning
Chapter 11 Budgetary Control and Responsibility Accounting
Chapter 12 Standard Costs and Balanced Scorecard
Chapter 13 Planning for Capital Investments
See More
Service company coverage: The Canadian economy is increasingly comprised of service companies and many students will eventually work in a service rather than manufacturing environment. We have expanded our emphasis on service companies in this edition to demonstrate that managerial accounting is equally relevant to both service companies and manufacturers.

New Comprehensive and Review Do it! problems: Following the same model of the widely used Do it! mini demonstration exercises and review problems have been added to provide another opportunity for students to determine whether they have mastered the content in the chapter. Comprehensive Do it! problems offer a review of the major concepts discussed in the chapter before students begin assignment materials.

Enhanced homework material: In each chapter we have expanded the number of self-study questions and have added additional new exercises. At the end of the Problem section, we have updated the new Waterways Corporation continuing problem set. This problem applies the topics covered in each chapter and aims to capture student interest in a realistic entrepreneurial situation.

New managerial accounting video series: These 5-6 minute videos showcase a real company like Starbucks, Jones Soda, and Zappos and highlight an important managerial accounting topic like budgeting. Available on book companion site, in WileyPLUS, and DVD.

WileyPLUS: A research-based online teaching and learning environment, WileyPLUS, builds students? confidence because it takes the guesswork out of studying by providing students with a clear roadmap: what to do, how to do it, and if they did it right. It offers interactive resources along with a complete digital textbook that help students learn more. With WileyPLUS, students take more initiative so instructors have greater impact on their achievement in the classroom and beyond.
See More
The Decision Toolkit System highlights for students key managerial decision tools that are useful for analyzing and solving business problems, and is integrated throughout the text. This unique system allows students to focus on key decision-making concepts.

The All About You feature: this high-interest feature links a specific aspect of the chapter's topic to students' personal lives. Each All About You feature presents a topic, offers some facts about it, poses a situation for students to think about, and offers alternative answers as a starting place for further discussion. The related All About You activity revisits the topic discussed in a homework assignment.

The end-of-chapter assignment materials contain assignment materials from professional examinations that are designed to test students' ability in integrating multiple concepts and techniques in solving assignments and allowing students to expand their research and skills beyond the classroom. The Third Edition has a greater variety and more problem material and also includes assignment material adapted from the CMA and CGA's. This provides instructors with unprecedented flexibility in selecting assignments for their courses. Selected problem material is also available in Excel format on the website and in WileyPLUS.

Case material: Managerial Accounting, Third Canadian Edition has an exhaustive set of cases to complement the problem material, and includes a wide variety of cases to provide instructors with unparalleled opportunity for active learning, in-class discussion, and precision in selecting assignment material.

Active Learning: The text employs several unique pedagogical tools designed to enhance active learning in students. These include the Navigator which pulls all of the book's learning aids together into one integrated learning system; brief and comprehensive Do it! problems with Action Plan that show students how to tackle solving problems; and Before You Go On sections throughout chapters that ensure students understand key concepts before continuing on through the chapter.
See More
Instructors Resources
ENHANCE YOUR COURSE
Contact your Wiley Representative
Find Your Rep

See More
See Less
Purchase Options

Information about Wiley E-Texts:
Wiley E-Texts are powered by VitalSource and accessed via the VitalSource Bookshelf reader, available online and via a downloadable app.
Wiley E-Texts are accessible online and offline, and can be read on a variety of devices, including smartphones and tablets.
Wiley E-Texts are non-returnable and non-refundable.
Wiley E-Texts are protected by DRM. For specific DRM policies, please refer to our FAQ.
WileyPLUS registration codes are NOT included with any Wiley E-Text. For informationon WileyPLUS, click here .
To learn more about Wiley E-Texts, please refer to our FAQ.

Information about e-books:
E-books are offered as e-Pubs or PDFs. To download and read them, users must install Adobe Digital Editions (ADE) on their PC.
E-books have DRM protection on them, which means only the person who purchases and downloads the e-book can access it.
E-books are non-returnable and non-refundable.
To learn more about our e-books, please refer to our FAQ.
This title is also available on :