Textbook
Festival and Special Event Management 5th Edition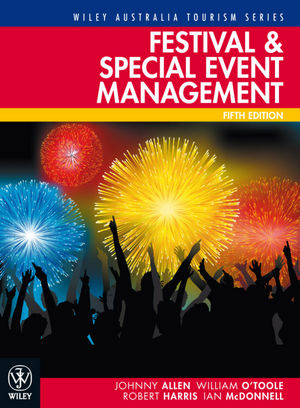 Festival and Special Event Management, 5th edition
continues the comprehensive overview of the theory and procedures associated with festivals and special events established in previous editions. The new edition of this market-leading text introduces developments and professional tools, and considers the globalisation and subsequent internationalisation of event management.
The role of marketing and communication, environmental planning, the increasing role of governments through the creation of event strategies, and the different perspectives of event management are all discussed. This edition aims to embrace and extend the growing body of knowledge relating to event management by tracking many of the recent changes and developments in the field. This offers students a current, relevant textbook for their study and professional reference.
See More
Preface.
Acknowledgements.
Examples at a glance.
PART 1: EVENT CONTEXT.
Chapter 1 An overview of the event field.
Chapter 2 Perspectives on events.
Chapter 3 Event impacts and legacies.
PART 2 PLANNING.
Chapter 4 The strategic planning function.
Chapter 5 Conceptualising the event.
Chapter 6 Project management for events.
Chapter 7 Financial management and events.
Chapter 8 Human resource management and events.
Chapter 9 Marketing planning for events.
Chapter 10  Promotion: integrated marketing communication for events.
Chapter 11  Sponsorship of special events.
Chapter 12  Sustainable event management.
Chapter 13  Event tourism planning.
PART 3 EVENT OPERATIONS AND EVALUATION.
Chapter 14  Staging events.
Chapter 15  Logistics.
Chapter 16  Event evaluation and research.
PART 4 LEGAL, RISK AND OHS MANAGEMENT AND EVALUATION.
Chapter 17  Legal issues of event management.
Chapter 18  Risk management.
Index.
See More
Johnny Allen
 was the foundation director of the Australian Centre for Event Management (ACEM) at the University of Technology, Sydney where he is now associate director, business development. He was event manager for the Darling Harbour Authority from 1989 to 1996, and has an extensive career in event planning. Prior to his position at the ACEM, he was the special event manager for Tourism New South Wales. Johnny is now semi-retired but continues his involvement with event management and event education.
William O'Toole is an international events development specialist. He assists councils, cities, regions, countries and companies to grow their events portfolio and write their strategies. For five years he advised the Supreme Commission forTourism in the Kingdom of Saudi Arabia on the development of their tourism event program in the thirteen provinces. Bill trains and assists the United Nations event organisers in places such as the Sudan and Uganda and is facilitating the development of the event industry in Kenya. He is a founding director of the Event Management Body of Knowledge and key adviser to the International Event Management Competency Standard. From Scotland to Johannesburg, he has trained events staff in the application of project and risk management to their events. Bill has been involved in events innovation, creation, operations, management and strategy in over 30 countries. He is currently writing a textbook on events feasibility and development.
Rob Harris has been involved in event management, education and research for over 10 years and has developed undergraduate, postgraduate and TAFE programs in the area. Rob teaches programs in event management in a number of countries around the world including England, Scotland, Singapore, China, Malaysia and New Zealand. He is a founding Director of the New South Wales Festivals and Events Association and is a member of the editorial board of the journals Event Management and International Journal of Event Management Research . He is currently completing his doctoral studies in the use of events as tools in driving the ecologically sustainable development agenda of the places where they take place.
Ian McDonnell is a senior lecturer in the Faculty of Business's School of Leisure, Sport and Tourism at the University of Technology, Sydney (UTS) where he teaches management and marketing of leisure and tourism services. He, along with Johnny Allen, constructed the very fi rst academic course in event management in Australia and perhaps the world – the Executive Certifi cate in Event Management held at UTS in 1996. He soon discovered that there was no useful text book for a course of this type, hence the origin of the this text, now in its fi fth edition. He continues to research in event management, particularly the sponsorship of events.
See More
75% new and updated Event Profiles
90% new Case Studies
Expanded coverage of event sponsorship and its role in event creation, sustainability, and environmental planning
Expanded coverage of risk management to include political and terrorist risks and OH&S
Statistics and examples have been updated
Trends and Issues have been integrated throughout
End-of-chapter questions have been revised and updated with new questions to reflect new content.
See More
End-of-chapter case studies profile staged events to illustrate various concepts
Event profile vignettes feature the diversity of events, the individuals who work within the industry and the process of formulating and organising an event.
See More
Instructors Resources
Request a print evaluation copy
Contact us

Contact your Wiley Representative
Find Your Rep

See More
See Less
Purchase Options
Paperback
Festival and Special Event Management, 5th Edition
ISBN : 978-1-74216-461-8
606 pages
November 2010, ©2010

Information about Wiley E-Texts:
Wiley E-Texts are powered by VitalSource and accessed via the VitalSource Bookshelf reader, available online and via a downloadable app.
Wiley E-Texts are accessible online and offline, and can be read on a variety of devices, including smartphones and tablets.
Wiley E-Texts are non-returnable and non-refundable.
Wiley E-Texts are protected by DRM. For specific DRM policies, please refer to our FAQ.
WileyPLUS registration codes are NOT included with any Wiley E-Text. For informationon WileyPLUS, click here .
To learn more about Wiley E-Texts, please refer to our FAQ.

Information about e-books:
E-books are offered as e-Pubs or PDFs. To download and read them, users must install Adobe Digital Editions (ADE) on their PC.
E-books have DRM protection on them, which means only the person who purchases and downloads the e-book can access it.
E-books are non-returnable and non-refundable.
To learn more about our e-books, please refer to our FAQ.