Textbook
Tourism Management, 4th Edition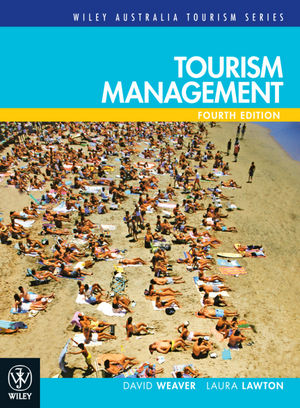 Tourism is increasingly widespread and complex, and sophisticated and adaptive management is therefore required to realise its full potential as a positive and sustainable economic, ecological, social and cultural force. This textbook gives students an introductory exposure to tourism that provides a foundation for further informed engagement with the sector, first in the remainder of their tertiary studies and then in their capacity as managers.
This fourth edition has been updated with recent industry and research developments and retains the thoroughness of content and application that had been established in the previous editions.
The twelve chapters in this book have been carefully arranged so that together they constitute a logical and sequential introductory tourism management subject that can be delivered over the course of a normal university semester.
See More
Preface.
Acknowledgements.
Real-world examples at a glance.
CHAPTER 1 Introduction to tourism management.
CHAPTER 2 The tourism system.
CHAPTER 3 The evolution and growth of tourism.
CHAPTER 4 Destinations.
CHAPTER 5 The tourism product.
CHAPTER 6 Tourist markets.
CHAPTER 7 Tourism marketing.
CHAPTER 8 Economic impacts of tourism.
CHAPTER 9 Sociocultural and environmental impacts of tourism.
CHAPTER 10 Destination development.
CHAPTER 11 Sustainable tourism.
CHAPTER 12 Tourism research.
Appendix 1.
Appendix 2.
Appendix 3.
References.
Index.
See More
Enhancements to the Instructors Reources. A Testbank will be available with this new edition, alongside Lecture Slides and an Instructors Resource Guide.
See More
Increased coverage of Chinese and other Asian tourism systems
Current Australian and international examples, statistics and information
Inclusion of a chapter on sustainable tourism including ecotourism, sustainable mass tourism and industry responses and practices
A thorough discussion of the economic, sociocultural and environmental impacts of tourism
Inclusion of a chapter on tourism research which introduces students to the important role of research in tourism  
Four practical features in each chapter to illustrate and reinforce the theory:

The 'Managing Tourism' feature focuses on situations related to the chapter theme that have important implications for the management of the tourism sector.
The 'Contemporary issue' feature examines a broader current theme or trend relevant to the chapter that has significant management implications.
The 'Breakthrough tourism' feature identifies new developments that could have an important influence on tourism management.
The 'Technology in Tourism' feature considers the actual or potential role of technological innovations in shaping the tourism sector and its management.

Chapter review summarises the key points of each chapter and contains a summary of key concepts arranged to show the links between concepts and their sub-concepts 
Discussion questions and practical exercises in each chapter
Appendices giving basic tourism statistics for all countries as well as information on tourism journals and organizations
New case studies in all chapters illustrate the themes presented in the chapters.  These case studies present real-life experiences; examples include the issues of pursuing research on climate change and tourism in Australia, pushing the boundaries of Indigenous tourism, identifying the green consumer and attracting Chinese tourists to Australia.
See More
Instructors Resources
Wiley Instructor Companion Site
See More
See Less
Purchase Options
Paperback&nbsp&nbsp&nbsp
Tourism Management, 4th Edition
ISBN : 978-0-470-82022-3
432 pages
November 2009, ©2009

Information about Wiley E-Texts:
Wiley E-Texts are powered by VitalSource technologies e-book software.
With Wiley E-Texts you can access your e-book how and where you want to study: Online, Download and Mobile.
Wiley e-texts are non-returnable and non-refundable.
WileyPLUS registration codes are NOT included with the Wiley E-Text. For informationon WileyPLUS, click here .
To learn more about Wiley e-texts, please refer to our FAQ.

Information about e-books:
E-books are offered as e-Pubs or PDFs. To download and read them, users must install Adobe Digital Editions (ADE) on their PC.
E-books have DRM protection on them, which means only the person who purchases and downloads the e-book can access it.
E-books are non-returnable and non-refundable.
To learn more about our e-books, please refer to our FAQ.