Textbook
Psychology Around Us, Canadian Edition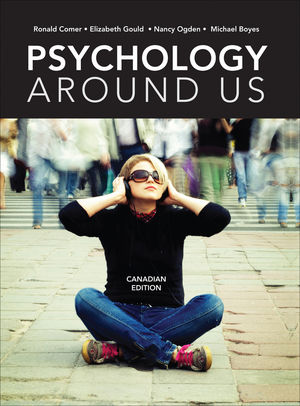 Psychology Around Us 1ce is the first introductory psychology textbook to successfully present psychology as an integrated discipline. Every chapter not only offers a thorough presentation of the nature, explanations, applications and research of that area but also includes examples from neuroscience, development, dysfunctions, individual differences and research methods that illustrate how each of these key areas literally tie together the discipline as a whole. This feature serves to engage students for the duration of course, and presents psychology as a united and integrated discipline. This feature combined with a balance of Canadian and global research, rigorous scientific content and engaging applications, make this text a valuable resource for your Canadian Introductory Psychology students.

for
Psychology Around Us, Canadian Edition
. Learn more at
WileyPLUS.com

Table of Contents
1: Psychology: Yesterday and Today
2: Psychology as a Science
3: Human Development
4: Neuroscience
5: Sensation and Perception
6: Consciousness
7: Learning
8: Memory
9: Language and Thought
10: Intelligence
11: Motivation
12: Emotion
13: Personality
14: Social Psychology
15: Stress, Coping, and Health
16: Psychological Disorders
17: Treatment of Psychological Disorders

Hallmark Features
Tying It Together Every chapter ends with a Tying It Together summary section, which reinforces the integrated nature of psychology by reiterating how material from other areas of psychology tie-in to the chapter s topic. This feature summarizes the key points from the highlighted sections on brain functioning, individual differences, abnormal functioning, and development throughout the chapter.
Before You Go On follows each chapter section that helps students check their mastery of the important concepts covered. What Do You Know? questions prompt students to stop and review the key concepts just presented; What Do You Think? questions encourage students to think critically on key aspects of the chapter.
Learning Objectives for each chapter section identifies the most important material for students to understand while reading that section.
New feature: Things Students Want to Know. Students ask great questions. The Things Students Want to Know feature answers some of these questions introductory students often ask or wonder about.
Practically Speaking boxes emphasize the practical application of everyday psychology. It allows students to apply the psychology they are learning in an active, meaningful way.
Tying It Together: Your Brain and Behaviour The Tying It Together two-page art spreads demonstrate exactly how our brain works when we engage in everyday activities such as eating pizza, studying a second language, or speaking in public. Three to four review and critical thinking questions are included with each spread.
WileyPLUS media including video lab activities, concept video series, high quality test bank
Psychology Around Us feature provides examples that demonstrate the enormous relevance of psychology to student s lives. More than 100 examples of real-world happenings appear throughout the text, each showing the psychological principles under discussion are, indeed, all around us.
Available Versions