Textbook
Human Geography, Canadian Edition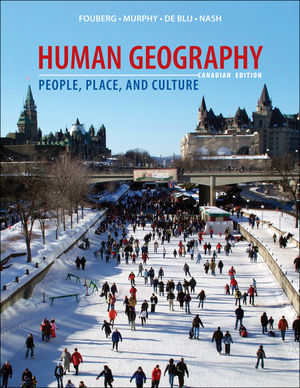 Human Geography: People, Place, and Culture Canadian edition is an engaging presentation of the dynamic and complex relationship between peoples and the worlds they inhabit. Each chapter is organized around five key themes and begins with a set of core questions that will keep students focused on the foundational concepts of this exciting field. Set within a global context and written with today's students in mind, we have included several unique topics that make this text the most up to date and relevant offering currently available for Canadian Human Geography classrooms.
See More

Chapter 1 Introduction to Human Geography
Chapter 2 Globalization and Geographies
Chapter 3 Political Geography
Chapter 4 Population
Chapter 5 Migration
Chapter 6 Human-Environment Relations
Chapter 7 Social Geographies?Identities and Place
Chapter 8 Cultural Geography
Chapter 9 Agriculture
Chapter 10 Urban Geography
Chapter 11 Development
Chapter 12 Transportation
Chapter 13 Industry and Services

See More
The text draws from the five major themes of location, region, place, landscape, and movement.
Each chapter contains a Guest Field Note by a new Canadian scholar. The authors explain how they came to be geographers and why they are interested in a particular area of research as well as a discussion of the research itself.
Substantial glossary of key terms by chapter and quick definitions in the margins for easy reference.
Key Concepts are summarized at the end of each section for review.
Up-to-date Canadian examples are geared to engage a first year audience.
See More
Purchase Options

Information about Wiley E-Texts:
Wiley E-Texts are powered by VitalSource technologies e-book software.
With Wiley E-Texts you can access your e-book how and where you want to study: Online, Download and Mobile.
Wiley e-texts are non-returnable and non-refundable.
WileyPLUS registration codes are NOT included with the Wiley E-Text. For informationon WileyPLUS, click here .
To learn more about Wiley e-texts, please refer to our FAQ.

Information about e-books:
E-books are offered as e-Pubs or PDFs. To download and read them, users must install Adobe Digital Editions (ADE) on their PC.
E-books have DRM protection on them, which means only the person who purchases and downloads the e-book can access it.
E-books are non-returnable and non-refundable.
To learn more about our e-books, please refer to our FAQ.