Textbook
Child Psychology Third Canadian Edition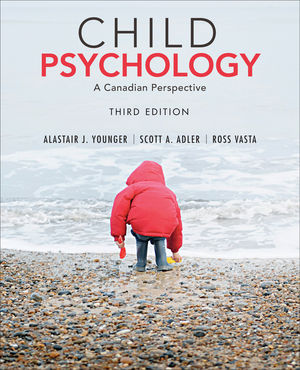 Younger, Adler, and Vasta?s Child Psychology, 3e is a topically ordered child development textbook known for its strong research focus, balanced theoretical presentation and pedagogical framework designed to assist students in understanding course material without compromising the depth of coverage. This third edition features a new chapter on brain development, the most up-to-date theory and research in child psychology as well as up-to-date references and research woven seamlessly throughout the text.
See More
1: Background and Theories
2: Research Methods
3: Genetics: The Biological Context of Development
4: Prenatal Development
5: Physical Development: Birth, Motor Skills, and Growth
6: Neural and Brain Development
7: Sensory and Perceptual Development
8: Cognitive Development: Piagetian and Vygotskian Approaches
9: Cognitive Development: The Information-Processing Approach
10: Intelligence and Schooling
11: Language Development
12: Early Social and Emotional development
13: Development of the Self
14: Moral Development
15: Families and Peers
16: Gender-Role Development and Sex Differences

See More
New chapter on brain development
Substantially more up-to-date with new and updated references in each chapter
Learning Objectives - Each major section in each chapter opens with a learning objective and ends with a series of short-answer questions, intended to test students? mastery of the material in the section
Key Terms - Key terms and their definitions are provided in the margin, next to where the term occurs in the text. Key terms are listed with the appropriate page numbers at the end of each chapter. All key terms and their definitions are listed in a glossary at the end of the book
For Thought and Discussion Questions - We provide comments and questions in the margin about the material being discussed. This material is designed to stimulate thinking and in-class discussion.
Links to Related Material - Throughout each chapter we provide links to related material, reminding students of related information they have read in earlier chapters, or alerting them to related material they will encounter in later chapters. This serves to tie together the different chapters in the book where related material is discussed.
See More
Purchase Options
Hardcover&nbsp&nbsp&nbsp
Child Psychology: A Canadian Perspective, 3rd Edition
ISBN : 978-1-118-03391-3
800 pages
April 2012, ©2012

Information about Wiley E-Texts:
Wiley E-Texts are powered by VitalSource technologies e-book software.
With Wiley E-Texts you can access your e-book how and where you want to study: Online, Download and Mobile.
Wiley e-texts are non-returnable and non-refundable.
WileyPLUS registration codes are NOT included with the Wiley E-Text. For informationon WileyPLUS, click here .
To learn more about Wiley e-texts, please refer to our FAQ.

Information about e-books:
E-books are offered as e-Pubs or PDFs. To download and read them, users must install Adobe Digital Editions (ADE) on their PC.
E-books have DRM protection on them, which means only the person who purchases and downloads the e-book can access it.
E-books are non-returnable and non-refundable.
To learn more about our e-books, please refer to our FAQ.