Textbook
Microsoft Office 2010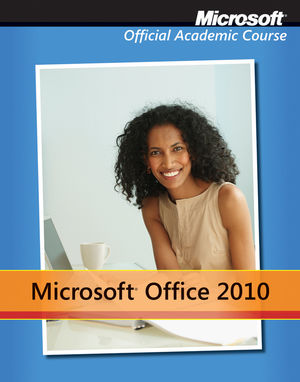 This Microsoft Office 2010 text introduces students to the various applications included in Microsoft Office. The program is based upon the same curriculum as the Microsoft Office Specialist Exam to build the skills students need to succeed at work. The Microsoft Official Academic Courseware (MOAC) Office 2010 Series is the only Official Academic Course program.  Automated grading via OfficeGrader saves instructors time and enables consistent grading. Furthermore, the latest edition's use of color in screen captures allows users to follow on screen much easier, as screen captures will look the exact same as the application. Additional projects throughout the book help users comprehend how a task is applied on the job. OfficeGrader helps instructors offer immediate feedback on all homework, assignments, and projects and additional animated tutorials on key Office tasks provides additional help on difficult topics.
See More
PART I Microsoft® W indows® 7
LESSON 1: WINDOWS BASICS 3
LESSON 2: WORKING WITH FILES AND FOLDERS 27
Part II Microsoft® Word® 2010
LESSON 1: UNDERSTANDING WORD 55
LESSON 2: BASIC EDITING 85
LESSON 3: CHARACTER FORMATTING 114
LESSON 4: PARAGRAPH FORMATTING 133
LESSON 5: MANAGING TEXT FLOW 163
LESSON 6: CREATING TABLES 183
LESSON 7: USING ILLUSTRATIONS AND GRAPHICS 202
LESSON 8: WORKING WITH THEMES, QUICK PARTS, PAGE
BACKGROUNDS, AND HEADERS AND FOOTERS 231
LESSON 9: APPLYING REFERENCES AND HYPERLINKS 256
LESSON 10: ADVANCED FEATURES 276
PART III Microsoft® Excel® 2010
LESSON 1: OVERVIEW 303
LESSON 2: USING BACKSTAGE 324
LESSON 3: WORKING WITH MICROSOFT EXCEL 2010 343
LESSON 4: FORMATTING CELLS AND RANGES 368
LESSON 5: FORMATTING WORKSHEETS 405
LESSON 6: MANAGING WORKSHEETS 437
LESSON 7: WORKING WITH DATA 459
LESSON 8: USING BASIC FORMULAS AND FUNCTIONS 483
LESSON 9: USING ADVANCED FORMULAS AND SECURING
WORKBOOKS 521
LESSON 10: CREATING AND MODIFYING CHARTS 540
PART IV Microsoft® PowerPoint® 2010
LESSON 1: POWERPOINT ESSENTIALS 569
LESSON 2: PRESENTATION BASICS 603
LESSON 3: WORKING WITH TEXT 641
LESSON 4: DESIGNING A PRESENTATION 692
LESSON 5: ADDING TABLES, CHARTS, AND SMARTART GRAPHICS
TO SLIDES 724
LESSON 6: ADDING GRAPHICS AND MULTIMEDIA
TO A PRESENTATION 752
LESSON 7: DELIVERING A PRESENTATION 799
PART V Microsoft® Outlook® 2010
LESSON 1: GETTING TO KNOW OUTLOOK 837
LESSON 2: E-MAIL BASICS 867
LESSON 3: MANAGING E-MAIL MESSAGES 931
LESSON 4: WORKING WITH CONTACTS 961
LESSON 5: OUTLOOK CALENDAR 995
PART VI Microsoft® Access® 2010
LESSON 1: DATABASE ESSENTIALS 1027
LESSON 2: CREATE DATABASE TABLES 1056
LESSON 3: WORK WITH TABLES AND DATABASE RECORDS 1075
LESSON 4: MODIFY TABLES AND FIELDS 1104
LESSON 5: CREATE FORMS 1128
LESSON 6: CREATE REPORTS 1150
LESSON 7: CREATE AND MODIFY QUERIES 1171
APPENDIX 1194
GLOSSARY 1195
CREDITS 1203
INDEX TK
See More
Now in full-color for enhanced learning!
Instructors: Save hours grading Office documents with OfficeGrader for automated grading of spreadsheets, presentations and documents.
Color tabs make finding each section easier.
See More
180 day trial version of Microsoft Office Professional 2010 packaged with corresponding textbook in select markets
Task based approach to learning software uses, features, and commands
See More
Instructors Resources
ENHANCE YOUR COURSE
Request a print evaluation copy
Contact us

Contact your Wiley Representative
Find Your Rep

See More
See Less
Students Resources
See More
See Less
Purchase Options

Information about Wiley E-Texts:
Wiley E-Texts are powered by VitalSource and accessed via the VitalSource Bookshelf reader, available online and via a downloadable app.
Wiley E-Texts are accessible online and offline, and can be read on a variety of devices, including smartphones and tablets.
Wiley E-Texts are non-returnable and non-refundable.
Wiley E-Texts are protected by DRM. For specific DRM policies, please refer to our FAQ.
WileyPLUS registration codes are NOT included with any Wiley E-Text. For informationon WileyPLUS, click here .
To learn more about Wiley E-Texts, please refer to our FAQ.

Information about e-books:
E-books are offered as e-Pubs or PDFs. To download and read them, users must install Adobe Digital Editions (ADE) on their PC.
E-books have DRM protection on them, which means only the person who purchases and downloads the e-book can access it.
E-books are non-returnable and non-refundable.
To learn more about our e-books, please refer to our FAQ.
This title is also available on :
Learn more about