Textbook
98-374 Gaming Development Fundamentals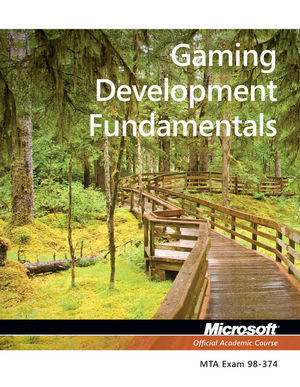 The Microsoft Technology Associate certification (MTA) curriculum helps instructors teach and validate fundamental technology concepts with a foundation for students' careers as well as the confidence they need to succeed in advanced studies. Through the use of MOAC MTA titles you can help ensure your students future success in and out of the classroom.This MTA text covers the following Gaming Development vital fundamental skills: 
• Understand Game Design
• Understand Hardware
• Understand Graphics
• Understand Animation
Click here to learn more about the Microsoft Technology Associate (MTA)
, a new and innovative certification track designed to provide a pathway for future success in technology courses and careers.
See More
Lesson 1: Ideating and Conceptualizing a Game 1
Lesson 2: Identifying and Managing Game Requirements 27
Lesson 3: Creating the Game Output Design 47
Lesson 4: Designing Specific Game Components 84
Lesson 5: Developing the Game User Interface (UI) 146
Lesson 6: Developing the Game Functionality 187
Appendix 208
Index 209
See More
Covers all aspects of creating a video game - from idea-creation to designing a virtual world through to developing characters and plotlines. Covers all platforms: from Xbox to PC to handheld gaming devises.
Designed for classroom use; perfect for adding game programming to an existing programming course.
Covers everything required to earn the Microsoft Technology Associate certification.
See More
Purchase Options

Information about Wiley E-Texts:
Wiley E-Texts are powered by VitalSource technologies e-book software.
With Wiley E-Texts you can access your e-book how and where you want to study: Online, Download and Mobile.
Wiley e-texts are non-returnable and non-refundable.
WileyPLUS registration codes are NOT included with the Wiley E-Text. For informationon WileyPLUS, click here .
To learn more about Wiley e-texts, please refer to our FAQ.

Information about e-books:
E-books are offered as e-Pubs or PDFs. To download and read them, users must install Adobe Digital Editions (ADE) on their PC.
E-books have DRM protection on them, which means only the person who purchases and downloads the e-book can access it.
E-books are non-returnable and non-refundable.
To learn more about our e-books, please refer to our FAQ.
Learn more about