Textbook
Investigating Culture: An Experiential Introduction to Anthropology, 2nd Edition
February 2011, ©2011, Wiley-Blackwell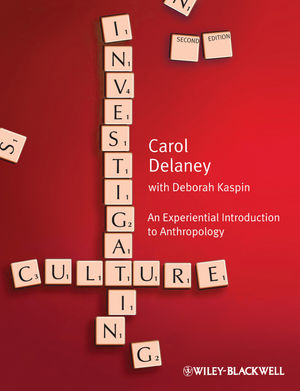 In its new Second Edition, the innovative and ever-popular
Investigating Culture
has been updated and revised to incorporate new teacher and student feedback. Carol Delaney and Deborah Kaspin provide an expanded introduction to cultural anthropology that is even more accessible to students.
Revised and enhanced new edition that incorporates additional material and classroom feedback
Accessible to a wider range of students and educational settings
Provides a refreshing alternative to traditional textbooks by challenging students to think in new ways and to apply  ideas of culture to their own lives
Focuses on the ways that humans orient themselves, e.g., in space and time, according to language, food, the body, and the symbols provided by public myth and ritual
Includes chapters that frame the central issues and provide examples from a range of cultures, with selected readings, additional suggested readings, and student exercises


Table of Contents
Preface to Second Edition.
Acknowledgments.
1 Disorientation and Orientation.
Introduction; how culture provides orientation in the world; what is culture and how do anthropologists investigate it? Learning to think anthropologically.
Exercises.
Reading: Laura Bohannan, "Shakespeare in the Bush".
2 Spatial Locations.
How do we situate or locate ourselves in space? Are notions of space "universal" or are they shaped by culture? This chapter explores these questions from macro to micro contexts, including discussion of maps, nations, segregation, public spaces, invisible spaces, and that space that is no place: cyberspace.
Exercises.
Reading: Sue Bridwell Beckham, "The American Front Porch: Women's Liminal Space".
3 All We Have Is Time.
Time is another major way we orient ourselves. What does it mean to be on time, out of time, or in time? This chapter discusses different cultural notions of time, the development of measuring time and clocks, the construction of the Western calendar and its rootedness in a sacred worldview, and birthdays and other markers of time.
Exercises.
Reading: Ellen Goodman, "Time Is for Savoring".
4 Language: We Are What We Speak.
Is language quintessentially human or do some other animals possess it? Communication versus language. Writing. The symbolic function and metaphor: different languages, different worlds? The social function: what information do you obtain from a person's speech? How are race, class, and gender infl ected in language?
Exercises.
Reading: Ursula LeGuin, "She Unnames Them".
Reading: Alan Dundes, "Seeing Is Believing".
5 Relatives and Relations.
Notions of kinship and kinship theory: to whom are we related and how? Is there any truth to the idea that "blood is thicker than water"? What constitutes a family? This chapter also discusses different meanings of friendship, romantic relationships, and parent–child relationships.
Exercises.
Reading: Penelope Eckert, "Symbols of Category Membership".
Reading: A. M. Hocart, "Kinship Systems".
6 Our Bodies, Our Selves.
Are we our bodies or do we have bodies? Different concepts of the body, the gendered body, the physical body, the social body. Techniques and modifications of the body. Tattoos. Body parts and organ transplants. Traffic in body parts. Body image, advertisements, and eating disorders. Bodies before and after death.
Exercises.
Reading: Horace Miner, "Body Ritual among the Nacirema".
7 Food for Thought.
What constitutes food? What makes a meal? What does it mean to say that "food is love"? Relation of food to the environment. Fast food, slow food, genetically modifi ed food ("Frankenfood"). Food and sex. Food and civility. Food and religion. Cooking.
Exercises.
Reading: Jill Dubisch, "You Are What You Eat: Religious Aspects of the Health Food Movement".
8 Clothing Matters.
Clothing does more than cover the body; it is also a cultural index of age, gender, occupation, and class. Is it then true that "clothes make the man"? Haute couture, sweat shops, clothing, and the economy.
Exercises.
Reading: Julio Ramón Ribeyro, "Alienation (An Instructive Story with a Footnote)".
9 VIPs: Very Important People, Places, and Performances.
Certain people, places, events, and cultural practices become iconic; they embody cultural myths or epitomize cultural values. Jesse Owens. Princess Diana. Why are certain people described as "larger than life"? The Statue of Liberty. The Beatles. The global circulation of such icons.
Exercises.
Reading: Clifford Geertz, "The Impact of the Concept of Culture on the Concept of Man".
Index.
Author Information
Carol Delaney
is Associate Professor Emerita of Cultural and Social Anthropology at Stanford University. She is author of
The Seed and the Soil: Gender and Cosmology in Turkish Village Society
(1991) and
Abraham on Trial: The Social Legacy of Biblical Myth
(1998), and is co–editor of
Naturalizing Power: Essays in Feminist Cultural Analysis
(1995, with Sylvia Yanagisako).
Deborah Kaspin is an Adjunct Professor of Anthropology at Rhode Island College and has taught at University of Virginia, Yale University, Wheaton College, and Rhode Island College.
Reviews
"Using an innovative and novel framework, Delaney's
Investigating Culture
moves students through a series of anthropological concepts and demonstrates the ways in which universal human concepts- time, space, family, status and gender are reformulated across the breadth of human cultural diversity. This book draws from classical and contemporary ethnographic texts providing students a week-by week journey through the study of human culture- pedagogically brilliant, easy to teach and well structured, this work provides students with engaging assignments, topics for discussion and advanced questions for those interested in more advanced research. I use it every year..."'
Michael Wilcox, Stanford University
PRAISE FOR FIRST EDITION
"Engaging, intelligent, and intellectually generous, Investigating Culture introduces students to cultural anthropology --- and reintroduces all of us to our everyday worlds as seen through ethnographic eyes. Delaney brings together acute observation, revelatory projects, telling and appropriate comparisons, and an imaginative and stimulating range of readings. A book I'm eager to teach!"
Don Brenneis, University of California, Santa Cruz
"A splendid achievement. Carol Delaney has written an absorbing and strikingly original introduction to anthropology. Investigating Culture takes students on a self-reflexive journey around the world and back home again. Courageous, conversational, scholarly, and engaging."
Carol Stack, University of California, Berkeley
Available Versions