Textbook
Professional Food Manager, 3rd Edition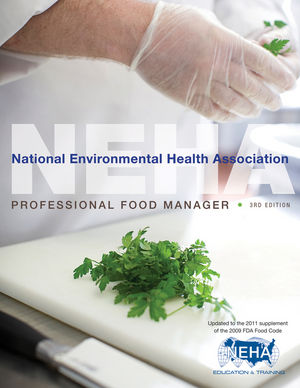 Professional Food Manager was created by the food safety experts at The National Environmental Health Association (NEHA), and has been updated to the 2011 supplement of the 2009 FDA Food Code. This well-written text prepares candidates to successfully pass any of the Conference for Food Protection (CFP)/American National Standards Institute (ANSI) accredited food protection manager exams. The well-priced, easily understood material is ideal for teaching soon-to-be managers what they need to know to become certified in food safety, and more importantly, it helps them retain information to maintain a high level of proficiency on the job. This follows NEHA's seventy-five year tradition of providing top of the line educational materials for foodservice industry and ensuring that safe food practices are followed throughout the industry.
NEHA, MindLeaders, and Prometric, the leading global provider of comprehensive testing and assessment services, together provide a total solution for your food manager training needs, approved by regulatory agencies across the nation
Print Book + Print Exam Answer Sheet : 978-1-118-38104-5
Print Book + Online Exam Voucher : 978-1-118-38105-2
Online Course + Print Exam Answer Sheet : 978-1-118-38109-0
Online Course + Online Exam Voucher : 978-1-118-38111-3
See More
Chapter 1 Managing Food Safety and Training
Chapter 2 Biological Contamination
Chapter 3 Other Sources of Contamination
Chapter 4 Handling Food Safely
Chapter 5 From Purchase to Service
Chapter 6 Facilities and Equipment
Chapter 7 Cleaning and Sanitizing
Chapter 8 Pest Control
Chapter 9 Legal Requirements, HACCP and Inspections
See More
NEHA's Professional Food Manager materials prepare students for the Certified Professional Food Manager exam (CPFM) offered by Prometric.
Crosses all foodservice and grocery segments in its examples
SME validated content
Concise treatment of what students need to know
Can be packaged with Online or Print Version of Prometric Exam
In addition, we offer the NEHA/ MindLeaders  online Food Safety course
See More
Purchase Options

Information about Wiley E-Texts:
Wiley E-Texts are powered by VitalSource technologies e-book software.
With Wiley E-Texts you can access your e-book how and where you want to study: Online, Download and Mobile.
Wiley e-texts are non-returnable and non-refundable.
WileyPLUS registration codes are NOT included with the Wiley E-Text. For informationon WileyPLUS, click here .
To learn more about Wiley e-texts, please refer to our FAQ.

Information about e-books:
E-books are offered as e-Pubs or PDFs. To download and read them, users must install Adobe Digital Editions (ADE) on their PC.
E-books have DRM protection on them, which means only the person who purchases and downloads the e-book can access it.
E-books are non-returnable and non-refundable.
To learn more about our e-books, please refer to our FAQ.
This title is also available on :
Learn more about