Textbook
Radiation Detection and Measurement, 4th Edition, Student Solutions Manual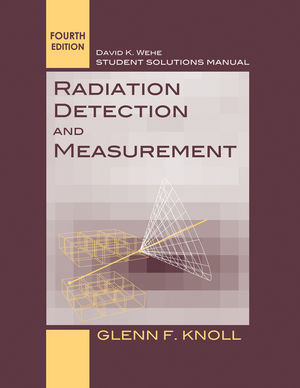 Contains solutions to odd-numbered problems from the textbook by Glenn Knoll, Radiation Detection and Measurement, 4th edition, as well as solutions for additional Supplemental Problems, developed by David Wehe.
New To This Edition
Covers many new materials that are emerging as scintillators that can achieve energy resolution that is better by a factor of two compared with traditional materials (Chapters 8 and 10)
New coverage on the increasing use of digital techniques in the processing of pulses from detectors (Chapters 16, 17, and 18).
New coverage on ROC curves (Chapter 3)
Discussion on micropattern gas detectors (Chapter 6).
New sensors for scintillation light, thick film semiconductors (Chapter 9)
Revised discussions are also included on
o TLDs and cryogenic spectrometers (Chapter 19),
o radiation backgrounds (Chapter 20), and
o the VME standard added to Appendix A.
Hallmark Features
Comprehensive coverage of the techniques and instruments that are important in the detection and spectroscopy of ionizing radiation
Written by the authority in radiation detection in the world, Dr. Glenn F. Knoll
This text is used in the following fields/ways:
o Classroom textbook, or for professional users who want to remain current in the field.
o For Nuclear Engineering/Nuclear Engineering Departments. Course: Radiation Measurements (often a lab course) taught at either the undergrad or graduate level.
o Physics Departments
o Medical Physics Departments
o Bioengineering Departments (courses covering use of radiation in medicine)
o Medical professionals (may be a reference in select courses in a Medical program)
Nuclear medicine units
Radiology departments
Radiation therapy
Radiochemistry
Available Versions