Textbook
Cell Biology: A Short Course, 3rd Edition
May 2011, ©2011, Wiley-Blackwell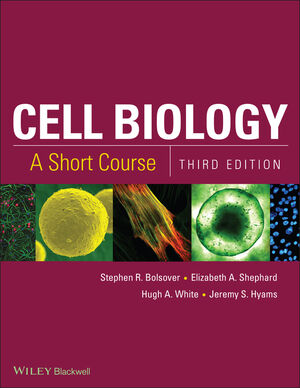 This text tells the story of cells as the units of life in a colorful and student-friendly manner, taking an "essentials only" approach. By using the successful model of previously published "Short Courses," this text succeeds in conveying the key points without overburdening the reader with secondary information. The authors (all active researchers and educators) skillfully present concepts by illustrating them with clear diagrams and examples from current research. Special boxed sections focus on the importance of cell biology in medicine and industry today. This text is completely updated from the successful "Cell Biology, A Short Course, 2e," includes new chapters and now has a supporting website with tests and animations for students and power point slides and supplemental material for instructors:
http://www.wileyshortcourse.com/cellbiology/default.asp
See More
Preface xiii
1 CELLS AND TISSUES, 1
2 WATER AND MACROMOLECULES, 17
3 MEMBRANES AND ORGANELLES, 43
4 DNA STRUCTURE AND THE GENETIC CODE, 53
5 DNA AS A DATA STORAGE MEDIUM, 67
6 TRANSCRIPTION AND THE CONTROL OF GENE EXPRESSION, 81
7 RECOMBINANT DNA AND GENETIC
ENGINEERING, 99
8 MANUFACTURING PROTEIN, 123
9 PROTEIN STRUCTURE, 137
10 INTRACELLULAR PROTEIN TRAFFICKING, 157
11 HOW PROTEINS WORK, 175
12 ENERGY TRADING WITHIN THE CELL, 191
13 METABOLISM, 207
14 IONS AND VOLTAGES, 229
15 INTRACELLULAR SIGNALING, 251
16 INTERCELLULAR COMMUNICATION, 269
17 MECHANICAL MOLECULES, 283
18 CELL CYCLE AND THE CONTROL OF CELL NUMBER IN EUKARYOTES, 297
19 THE CELL BIOLOGY OF THE IMMUNE SYSTEM, 315
20 CASE STUDY: CYSTIC FIBROSIS, 329
Appendix, 339
Glossary, 343
Answers to Review Questions, 381
Index, 395
See More
"This is a great introduction to cell biology, and it includes valuable sections on research methods and experimental findings. I highly recommend this for undergraduate and graduate students in the life sciences. Students interested in the health professions will appreciate the emphasis on topics of medical significance." (Doody's, 10 February 2012)
"Principally aimed at students of biology and pre-med courses it can be recommended for students of health sciences. Senior clinicians who have been witnessing recent developments but may not have had the benefit of structured instruction will find the book instructive, particularly the chapter on Recombinant DNA and Genetic Engineering." (Journal of Tropical Pediatrics, 2011)
See More
Purchase Options
Cell Biology: A Short Course, 3rd Edition
ISBN : 978-1-118-00874-4
432 pages
October 2011
Paperback
Cell Biology: A Short Course, 3rd Edition
ISBN : 978-0-470-52699-6
432 pages
May 2011
Cell Biology: A Short Course, 3rd Edition
ISBN : 978-1-118-29883-1
432 pages
March 2012

Information about Wiley E-Texts:
Wiley E-Texts are powered by VitalSource and accessed via the VitalSource Bookshelf reader, available online and via a downloadable app.
Wiley E-Texts are accessible online and offline, and can be read on a variety of devices, including smartphones and tablets.
Wiley E-Texts are non-returnable and non-refundable.
Wiley E-Texts are protected by DRM. For specific DRM policies, please refer to our FAQ.
WileyPLUS registration codes are NOT included with any Wiley E-Text. For informationon WileyPLUS, click here .
To learn more about Wiley E-Texts, please refer to our FAQ.

Information about e-books:
E-books are offered as e-Pubs or PDFs. To download and read them, users must install Adobe Digital Editions (ADE) on their PC.
E-books have DRM protection on them, which means only the person who purchases and downloads the e-book can access it.
E-books are non-returnable and non-refundable.
To learn more about our e-books, please refer to our FAQ.