Textbook
Shaping Our World: Engineering Education for the 21st Century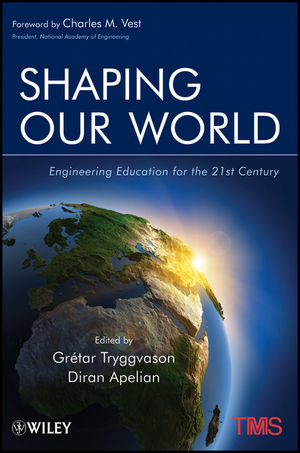 A look at engineering education today— with an eye to tomorrow
Engineering education is in flux. While it is increasingly important that engineers be innovative, entrepreneurial, collaborative, and able to work globally, there are virtually no programs that prepare students to meet these new challenges. Shaping Our World: Engineering Education for the 21st Century seeks to fill this void, exploring revolutionary approaches to the current engineering curriculum that will bring it fully up to date and prepare the next generation of would-be engineers for real and lasting professional success.
Comprised of fourteen chapters written by respected experts on engineering education, the book is divided into three parts that address the need for change in the way engineering is taught; specific innovations that have been tested, why they matter, and how they can be more broadly instituted; and the implications for further changes. Designed to aid engineering departments in their transition towards new modes of learning and leadership in engineering education, the book describes how to put into practice educational programs that are aligned with upcoming changes, such as those proposed in the NAE's Engineer of 2020 reports.
Addressing the need to change engineering education to meet the demands of the 21st century head on, Shaping Our World condenses current discussions, research, and trials regarding new methods into specific, actionable calls for change.
See More
FOREWORD ix
Charles M. Vest
PREFACE xiii
CONTRIBUTORS xvii
PART I THE NEED AND CONTEXT 1
1. MEETING NEW CHALLENGES: TRANSFORMING ENGINEERING EDUCATION 3
Grétar Tryggvason and Diran Apelian
2. ONE WORLD: PREPARING ENGINEERS FOR THE GLOBAL ECONOMY 19
Michael J. Dolan
3. ENGINEERS: LEADERS, INNOVATORS, AND BUILDERS 27
Diran Apelian
4. HOLISTIC EDUCATION: LEARNING AND DOING IN CONTEXT 39
Dennis D. Berkey
PART II EFFECTIVE PRACTICES 53
5. IGNITION: THE GREAT PROBLEMS SEMINARS 55
Arthur C. Heinricher and Kristin Wobbe
6. GLOBAL CITIZENSHIP: STUDENTS SOLVING REAL PROBLEMS AROUND THE WORLD 77
Richard F. Vaz, Natalie A. Mello, and David DiBiasio
7. FOSTERING CITIZENSHIP AND ADVOCACY THROUGH THE HUMANITIES AND ARTS 107
Svetlana Nikitina and David Spanagel
8. THE CAPSTONE PROJECT: AN INTEGRATED EXPERIENCE 123
Fred J. Looft and Yiming (Kevin) Rong
9. TECHNICAL EDUCATION IN THE INNOVATION ECONOMY 151
Curtis R. Carlson and Jerome J. Schaufeld
10. A NEW DISCIPLINE FOR A NEW CENTURY: ROBOTICS ENGINEERING 179
Michael A. Gennert, Fred J. Looft, and Grétar Tryggvason
11. GRADUATE EDUCATION FOR THE PROFESSIONAL ENGINEER 201
Richard D. Sisson and Nikolaos A. Gatsonis
12. HOLISTIC GRADUATE EDUCATION: FIRE PROTECTION ENGINEERING 225
Kathy A. Notarianni
PART III OUTCOMES AND IMPLICATIONS 241
13. FORTY YEARS OF OUTCOMES-BASED PROJECT CENTRIC EDUCATION: LESSONS LEARNED 243
John Orr
14. SO MUCH ACCOMPLISHED: SO MUCH TO BE DONE 265
Eli Fromm
BIOSKETCHES 283
See More
Grétar Tryggvason was the head of the Department of Mechanical Engineering at Worcester Polytechnic Institute (WPI), before accepting his present position as the Viola D. Hank Professor of Aerospace and Mechanical Engineering at the University of Notre Dame. He is well known for his contributions to computational fluid dynamics, particularly the development of methods for multiphase flows and for direct numerical simulations of such flows. He is the Editor in Chief of the Journal of Computational Physics, and a Fellow of the APS and ASME.
Diran Apelian is the Howmet Professor of Engineering and Director of the Metal Processing Institute at WPI. He is well known for his contributions to the field of solidification processing of light metals. During the past decade, he has focused on sustainable development, and is the founding director of the NSF Center for Resource Recovery and Recycling. He is past president of TMS, an NAE member, and a Fellow of TMS, APMI, and ASM.
See More
Purchase Options
Shaping Our World: Engineering Education for the 21st Century
ISBN : 978-1-118-13824-3
300 pages
October 2011
Paperback
Shaping Our World: Engineering Education for the 21st Century
ISBN : 978-0-470-92974-2
320 pages
November 2011
Shaping Our World: Engineering Education for the 21st Century
ISBN : 978-1-118-30574-4
320 pages
March 2012

Information about Wiley E-Texts:
Wiley E-Texts are powered by VitalSource and accessed via the VitalSource Bookshelf reader, available online and via a downloadable app.
Wiley E-Texts are accessible online and offline, and can be read on a variety of devices, including smartphones and tablets.
Wiley E-Texts are non-returnable and non-refundable.
Wiley E-Texts are protected by DRM. For specific DRM policies, please refer to our FAQ.
WileyPLUS registration codes are NOT included with any Wiley E-Text. For informationon WileyPLUS, click here .
To learn more about Wiley E-Texts, please refer to our FAQ.

Information about e-books:
E-books are offered as e-Pubs or PDFs. To download and read them, users must install Adobe Digital Editions (ADE) on their PC.
E-books have DRM protection on them, which means only the person who purchases and downloads the e-book can access it.
E-books are non-returnable and non-refundable.
To learn more about our e-books, please refer to our FAQ.