Textbook
Guest Service in the Hospitality Industry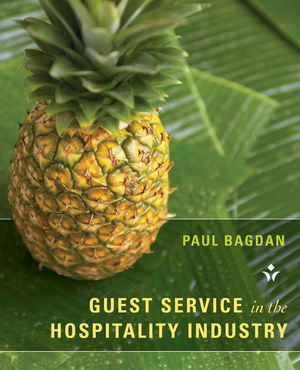 Taking care of the customer is the heart of the hospitality business. Doing so means understanding and anticipating what the customer needs and then knowing how to meet and exceed those needs. Adopting an approach with insights from all areas of hospitality, Guest Service in the Hospitality Industry explores the intricacies of quality guest service with solid and proven concepts across the industry. By providing several frameworks for thought, this book opens readers' minds to the idea of taking care of the guest.
Integrating quality service into the identity and individual operations of the overall business is the key to success in the hospitality industry. Guest Service in the Hospitality Industry prepares hospitality managers to meet and exceed guests' expectations through quality service that is evident in all of the operation, its people, and its plan.
See More
Preface xiii
Acknowledgments xvii
Section I: Introduction, History, and Basics of Guest Service 1
Chapter 1: The Basics of Guest Service 3
Introduction 4
A Science and an Art 4
Integration of Customer Service 4
Meeting Guests' Expectations 4
Overview of Hospitality—How It Relates to Customer Service 5
Examples of Bad Service 5
Excuses for Bad Service 6
Reasons Why Customers Do Not Complain 7
Good Service Can Make Up for Bad Food 7
Competitive Advantage of Service 9
Bad News Travels Fast 10
The Value of a Returning Customer 11
History of Service in the United States 12
Background of Service 14
Legends in Service Management 16
Case Studies 19
Chapter 2: Defining Guest Service 23
Defining Quality Guest Service 24
Aspects of Guest Service 24
Perishability of Service 25
Media Reports of Customer Service 25
Types of Service 26
Tangibles and Intangibles 27
Meeting Guests' Expectations 28
Levels of Expectations 29
Order of Expectations 29
Inputs That Set Expectations 30
Scenario A: Fast-Food Restaurant 31
Scenario B: Fine-Dining Restaurant 32
Issues with Exceeding Expectations 34
Case Studies 36
Chapter 3: Problem Solving for Guest Service 39
Considering Different Points of View 40
What Do People Really Want? 40
Dealing with Guest Issues 40
How to Handle Complaints 40
G.U.E.S.T. 42
Types of Customers 44
Level I—Require Least Work 44
Level II—Require Moderate Work 46
Level III—Require Substantial Work 47
Handling Angry Customers 49
Staff Expectations 53
Is the Guest Always Right? 53
Can You Say No? 54
It's All the Little Things 55
Watching for Red Flags 55
"Miss" Versus "Ma'am" Titles 56
Remembering Names 56
Psychological Theories 57
Transactional Analysis 57
Temperaments 58
Keirsey Temperament Sorter 58
Emotional Intelligence (EI) 58
Case Studies 59
Section II: Relating Service to the Sectors of the Hospitality Industry 67
Chapter 4: The Guest Service of Food 69
Introduction: About the Service of Food 70
Positions 71
Front of House 71
Back of House 72
BOH Staff Comparison 73
FOH Service Staff 74
Wares and Settings 75
Place Settings 75
Mise en place 78
Service Styles 80
American Dinner Service 80
Service Style Overview 84
Related Points 90
Volume 90
Technology 90
Case Studies 92
Chapter 5: The Guest Service of Beverages 95
Introduction 96
Beverage Positions 96
Wares 98
Beverages and Their Service 101
Knowing Wines 101
Serving Wines 103
Knowing Cocktails 104
Cocktail-Ordering Terminology 106
Knowing Beer 107
Knowing Coffees, Teas, and Waters 108
Corkage Fee 110
Final Thought 110
Case Studies 111
Chapter 6: The Guest Service of Lodging 115
Introduction 116
Service Positions 116
Porter 116
Front Desk 117
Rates 118
Checking-In a Guest 118
Checking Out 119
Podiums/Pods 121
Dealing with Front-Desk Issues 121
Back Office 123
Concierge 123
Housekeeping 123
Case Studies 128
Chapter 7: The Guest Service of Events 131
Introduction: Special Pressure from Events 132
Pre-Event Services: Setting up the Event 132
Assess the Environment 133
Managing Touch Points 135
Predict the Outcomes 137
Plan Success 139
Monitoring the Weaknesses 142
Assessing the Quality 144
Case Studies 147
Chapter 8: The Guest Service of Travel and Tourism 151
Introduction 152
Definition of Tourism: The World 152
Step 1: Know the Product 153
Step 2: Know the Client—Understanding the Guest 156
Step 3: Know Yourself—The Travel Professional 158
Step 4: Blend the Goals to Best Meet the Desired Goals of All 159
Case Studies 162
Chapter 9: The Guest Service of Casinos 165
Introduction 166
Types of Casinos 166
From Criminal to Respectable 166
Complex Entities 166
Floor Positions 167
Unique Environmental Characteristics 168
Main Goal 168
High-Tech 168
Free Drinks 168
Food and Beverage 169
Rooms 169
VIPs 169
Meetings and Events 170
Atmosphere 170
Other Activities 171
Security 171
Out-of-Town Gamblers Versus Local Gamblers 171
Case Studies 174
Section III: Assessments and Planning 179
Chapter 10: Research and Tools 181
Introduction 182
Setting Up for Research 182
Why: Collect Background Information 182
What: Determine What to Measure 183
Who: Choose the Population 183
How: Chose the Method and Measurement 183
Tools and Techniques 184
Affinity Diagram 185
Benchmarking 186
Brainstorming 187
Check Sheets 188
Control Chart 189
Cost-Benefit Analysis 190
Cost of Error 191
Delphi Method 192
Fishbone Diagram 193
Flow Chart 194
Focus Group 195
Force-Field Analysis 196
Gantt Chart 197
Multi-voting 198
Pareto Chart 199
Poka-Yoke 200
Process Reengineering 201
Pros-Cons Sheet 201
Root-Cause Analysis 202
Scatter Diagram 203
Secret Shoppers 204
SERVQUAL 206
Six Sigma 207
Surveys 207
External Awards, Certifications, and Recognitions 210
J.D. Power Award 210
Malcolm Baldrige Quality Award 210
International Standards Organization (ISO) 211
Forbes–Mobil Guide Ratings 211
AAA Ratings 212
Case Studies 214
Chapter 11: Strategic Planning for Service 219
Introduction to Service Strategy 220
Strategy Defined 220
Strategy is Natural 221
Importance of Strategy 221
Lack of Strategy 222
Strategy Applied to the Customer Mindset 222
Continuous Improvement 222
Analyzing Position and Market 224
SWOT Analysis 224
Identifying Your Competition 227
Integration: Implementing a Service Strategy 228
The Strategic Service System: Purpose, Product, Plan, People 229
Resource Viewpoint 233
Case Studies 234
Chapter 12: Developing a Staff 239
Introduction 240
Hiring 240
What Do Hospitality Companies Look for? 240
Communication 242
Visual 243
Body Language 243
Vocal 244
Answering the Telephone 246
Training, Managing, and Developing 247
Demonstrate Personal and Procedural Expectations 248
Integrate and Initiate into the Culture 249
Internal Customers 249
Demonstrate Service Standards 251
Monitor, Assess, Support, and Reward 253
Team Management 255
Types of Teams 256
Team Stages 258
Types of Team Members 258
How to Make Teams Work 259
Conclusion 260
Case Studies 261
Chapter 13: Marketing and Establishing an Image for Service 265
Introduction to Service Marketing 266
Marketing and Customer Service 266
Marketing Defined 266
Changes in Marketing 267
Everyone Has Customer Service 268
The Four Steps of Marketing for Quality Guest Service 268
Step 1: Analysis and Identification of Wants and Needs 268
Step 2: Establishment of a Marketing Plan 273
Step 3: Implementation of Controls to Position—The 4 Ps 276
Step 4: Follow-Up—Service After the Sale 281
Case Studies 282
Glossary 285
Index 293
See More
Industry interviews with some of the leading hospitality managers from a wide variety of businesses
Covers all areas of hospitality for future managers
"Service Insights"—tips incorporated throughout the text that provides extra guest-service–related information to build and support points.
Real-life case studies that reinforce learning.
Provides a history and overview of guest service, and then goes further by exploring problem-solving techniques, quality tools and assessments, staffing, marketing, and strategic planning in guest service.
See More
Instructors Resources
Digital evaluation copy available for this title
Request Copy

Contact your Wiley Representative
Find Your Rep

See More
See Less
Purchase Options

Information about Wiley E-Texts:
Wiley E-Texts are powered by VitalSource and accessed via the VitalSource Bookshelf reader, available online and via a downloadable app.
Wiley E-Texts are accessible online and offline, and can be read on a variety of devices, including smartphones and tablets.
Wiley E-Texts are non-returnable and non-refundable.
Wiley E-Texts are protected by DRM. For specific DRM policies, please refer to our FAQ.
WileyPLUS registration codes are NOT included with any Wiley E-Text. For informationon WileyPLUS, click here .
To learn more about Wiley E-Texts, please refer to our FAQ.

Information about e-books:
E-books are offered as e-Pubs or PDFs. To download and read them, users must install Adobe Digital Editions (ADE) on their PC.
E-books have DRM protection on them, which means only the person who purchases and downloads the e-book can access it.
E-books are non-returnable and non-refundable.
To learn more about our e-books, please refer to our FAQ.