Textbook
Chocolates and Confections: Formula, Theory, and Technique for the Artisan Confectioner, 2nd Edition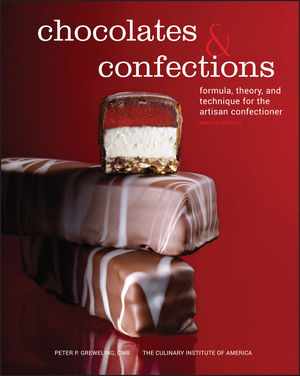 Chocolates & Confections, 2e offers a complete and thorough explanation of the ingredients, theories, techniques, and formulas needed to create every kind of chocolate and confection.  It is beautifully illustrated with 250 full-color photographs of ingredients, step-by-step techniques, and finished chocolates and confections.  From truffles, hard candies, brittles, toffee, caramels, and taffy to butter ganache confections, fondants, fudges, gummies, candied fruit, marshmallows, divinity, nougat, marzipan, gianduja, and rochers, Chocolates & Confections 2e offers the tools and techniques for professional mastery.
See More
Chapter 1: Confectionery Ingredients and Equipment
Chapter 2: Cacao and Chocolate
Chapter 3: Packaging and Storage
Chapter 4: Fundamental Techniques
Chapter 5: Cream Ganache
Chapter 6: Butter Ganache
Chapter 7: Noncrystalline Confections
Chapter 8: Crystalline Confections
Chapter 9: Jellies
Chapter 10: Aerated Confections
Chapter 11: Nut Centers
Chapter 12: Candy Bars
Appendix A: Sugar Densities
Appendix B: Confectionery Work Areas
See More
Peter P. Greweling is a professor of baking and pastry arts at The Culinary Institute of America and is a Certified Master Baker (CMB) and Certified Hospitality Educator (CHE). Prior to his 20-plus-year teaching career, Chef Greweling worked as a pastry chef at numerous restaurants and hotels in the New York City metropolitan area. A graduate of the New England Culinary Institute, he has further education in confectionery technology from the RCA, IFT, RCI, and Richardson Researches. Chef Greweling has published articles in Manufacturing Confectioner magazine, presented numerous times at the Philadelphia Candy Show, and is the author of Chocolates and Confections at Home with the Culinary Institute of Americaca.
Founded in 1946, The Culinary Institute of America is an independent, not-for-profit college offering bachelor's and associate degrees in culinary arts and baking and pastry arts, as well as certificate programs in Latin cuisines and wine and beverage studies. A network of more than 44,000 alumni has helped the CIA earn its reputation as the world's premier culinary college. The CIA, which also offers courses for professionals and food enthusiasts, as well as consulting services for the foodservice and hospitality industry, has campuses in Hyde Park, New York; St. Helena, California; San Antonio, Texas; and Singapore.
See More
Features helpful charts that pinpoint common candy-making pitfalls – and how to avoid them
200 formulas, 250 photographs, and nearly 30 illustrations offer information on ingredients, techniques, and finished chocolates and confections
Features new sections on   packaging and selling chocolates and confections, and on creating American-style layered candy bars
See More
200 formulas for classic confections and contemporary variations 
250 full-color photographs of ingredients, step-by-step techniques, and finished chocolates and confections 
Written by master confectioner  Peter Greweling, professor at The Culinary Institute of America    
See More
Purchase Options
Hardcover&nbsp&nbsp&nbsp
Chocolates and Confections: Formula, Theory, and Technique for the Artisan Confectioner, 2nd Edition
ISBN : 978-0-470-42441-4
544 pages
November 2012, ©2013

Information about Wiley E-Texts:
Wiley E-Texts are powered by VitalSource technologies e-book software.
With Wiley E-Texts you can access your e-book how and where you want to study: Online, Download and Mobile.
Wiley e-texts are non-returnable and non-refundable.
WileyPLUS registration codes are NOT included with the Wiley E-Text. For informationon WileyPLUS, click here .
To learn more about Wiley e-texts, please refer to our FAQ.

Information about e-books:
E-books are offered as e-Pubs or PDFs. To download and read them, users must install Adobe Digital Editions (ADE) on their PC.
E-books have DRM protection on them, which means only the person who purchases and downloads the e-book can access it.
E-books are non-returnable and non-refundable.
To learn more about our e-books, please refer to our FAQ.