Textbook
Bread: A Baker's Book of Techniques and Recipes, 2nd Edition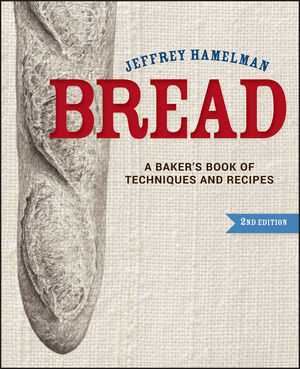 When Bread was first published in 2004, it received the Julia Child Award for best First Book and became an instant classic.  Hailed as a "masterwork of bread baking literature," Jeffrey Hamelman's Bread features 140 detailed, step-by-step formulas for versatile sourdough ryes; numerous breads made with pre-ferments; and simple, straight dough loaves.  Here, the bread baker and student will discover a diverse collection of flavors, tastes, and textures; hundreds of drawings that vividly illustrate techniques; and four-color photographs of finished and decorative breads.
See More
List of Recipes
Acknowledgments
Changes to the Second Edition
Foreword by Raymond Calvel
Preface
Part One: Ingredients and Techniques
1              The Bread-Making Process from Mixing through Baking
2             Ingredients and Their Function
3              Hand Techniques
Part Two: Formulas and Decorative Breads
4             Breads Made with Yeasted Pre-Ferments
5             Levain Breads
6             Sourdough Rye Breads
7              Straight Doughs
8             Miscellaneous Breads
9             Braiding Techniques
10           Decorative and Display Projects
Appendix
Glossary
Bibliography
About the Author
See More
Jeffrey Hamelman is one of the very few Certified Master Bakers in the United States. He is the bakery director at the King Arthur Flour Company and teaches professional-level classes at King Arthur's Baking Education Center. He has taught in baking and pastry schools around the world and is the 2005 recipient of the Golden Baguette Award, the highest individual honor bestowed by the Bread Bakers Guild of America.
Chiho Kaneko is a fine artist whose work has been exhibited in both the United States and Japan. She also works as a translator and interpreter. She is a native of Japan with a background in landscape architecture, agronomy, and art.
See More
Features 140 bread formulas (including 30 new breads)
252 illustrations of step-by-step techniques
41 full-color photographs
Updated information on working with locally grown whole grains, understanding trends in milling technology, and teaching hand mixing techniques
See More
Jeffrey Hamelman, winner of the 1996 Coupe du Monde, provides bakers with the appropriate tools to master bread making, with hundreds of drawings and many color photographs.
Bread contains 140 detailed, step-by-step formulas for a vast array of breads, including Swiss Farmhouse Bread, German Farmer's Bread, and Baguettes de Tradition.  
Sidebars accompany each recipe and section with valuable tips, from the subtle art of tasting and evaluating breads.
See More
Instructors Resources
Digital evaluation copy available for this title
Request Copy

Contact your Wiley Representative
Find Your Rep

See More
See Less
Purchase Options

Information about Wiley E-Texts:
Wiley E-Texts are powered by VitalSource and accessed via the VitalSource Bookshelf reader, available online and via a downloadable app.
Wiley E-Texts are accessible online and offline, and can be read on a variety of devices, including smartphones and tablets.
Wiley E-Texts are non-returnable and non-refundable.
Wiley E-Texts are protected by DRM. For specific DRM policies, please refer to our FAQ.
WileyPLUS registration codes are NOT included with any Wiley E-Text. For informationon WileyPLUS, click here .
To learn more about Wiley E-Texts, please refer to our FAQ.

Information about e-books:
E-books are offered as e-Pubs or PDFs. To download and read them, users must install Adobe Digital Editions (ADE) on their PC.
E-books have DRM protection on them, which means only the person who purchases and downloads the e-book can access it.
E-books are non-returnable and non-refundable.
To learn more about our e-books, please refer to our FAQ.