Textbook
¡Con brío! Beginning Spanish, 3rd Edition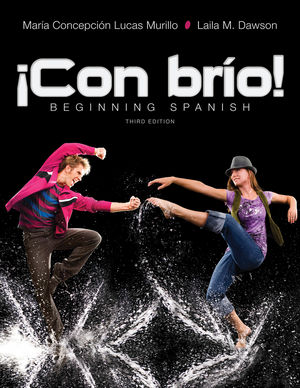 Con brio: Beginning Spanish, 3rd Edition makes beginning learners beginning speakers, it provides a solid footing in the basics of Spanish and broad cultural awareness that allows beginners to use their Spanish immediately with each other, with Spanish-speaking friends, neighbors and co-workers, and with Spanish speakers around the world. The 12-chapter introductory program takes a highly practical approach with a simple chapter structure, activities that students find relevant and reflective of everyday conversations, easy access to media including new video segments, a wealth of teaching, learning, and practice resources in WileyPLUS, and an online live language coaching option. ACTFLs recent release of its revised Proficiency Guidelines is a reminder of what beginning speakers can and will do with the language. This third edition of ¡Con brío! is keenly focused on helping them do it with confidence and gusto. WileyPLUS sold separately from text.
See More
Capítulo 1 Primeros pasos, p. 1
Capítulo 2 La universidad y el trabajo, p. 33
Capítulo 3 La familia y los amigos, p. 71
Capítulo 4 El tiempo libre, p. 107
Capítulo 5 La comida, p. 145
Capítulo 6 En casa, p. 183
Capítulo 7 La ciudad, p. 217
Capítulo 8 De compras, p. 257
Capítulo 9 La salud y las emergencias, p. 293
Capítulo 10 El barrio, p. 329
Capítulo 11 En el trabajo, p. 367
Capítulo 12 Nuevos horizontes, p. 399
See More
•A more detailed Scope and Sequence lists all of the grammar concepts covered and connects the text book with the accompanying Grammar Handbook in WileyPLUS.
•A completely revised Tu mundo en vivo section, at the end of each chapter, targets different learning styles, draws on all four language skills, and provides specific strategies for developing those skills.
•Videos en acción includes several new segments, and the Mientras ves el video activity can be completed online in WileyPLUS. Each chapter now grabs students' attention with video right from the beginning .
•Expanded instructors' annotations in the Tu mundo cultural and Tu mundo en vivo sections indicate the ACTFL standards met, and the modes of communication practiced through the various readings, realia, and activities.
•Comic strips provide a contextualized introduction for every major grammar point, and many of them are new or revised in the third edition. Example sentences of grammar in use drawn from the comic strip stories link grammar explanations right back to the illustrations.
•Further revisions include updated ¿Sabes qué? information, revised PowerPoints, Activities Manual, Grammar Handbook, and Testing Program. Autoprueba y repaso is now available in WileyPLUS.
See More
Focuses on building a strong foundation in everyday vocabulary, the basic grammar beginning speakers need, and Hispanic cultural perspectives on everyday life.
Develops the confidence and skills needed to use Spanish in everyday conversations
Unique approach to grammar maximizes flexibility and scalability.
See More
Instructors Resources
ENHANCE YOUR COURSE
Digital evaluation copy available for this title
Request Copy

Contact your Wiley Representative
Find Your Rep

See More
See Less
Students Resources
See More
See Less
Purchase Options

Information about Wiley E-Texts:
Wiley E-Texts are powered by VitalSource and accessed via the VitalSource Bookshelf reader, available online and via a downloadable app.
Wiley E-Texts are accessible online and offline, and can be read on a variety of devices, including smartphones and tablets.
Wiley E-Texts are non-returnable and non-refundable.
Wiley E-Texts are protected by DRM. For specific DRM policies, please refer to our FAQ.
WileyPLUS registration codes are NOT included with any Wiley E-Text. For informationon WileyPLUS, click here .
To learn more about Wiley E-Texts, please refer to our FAQ.

Information about e-books:
E-books are offered as e-Pubs or PDFs. To download and read them, users must install Adobe Digital Editions (ADE) on their PC.
E-books have DRM protection on them, which means only the person who purchases and downloads the e-book can access it.
E-books are non-returnable and non-refundable.
To learn more about our e-books, please refer to our FAQ.
This title is also available on :
Learn more about