Textbook
Visualizing Psychology, 3rd Edition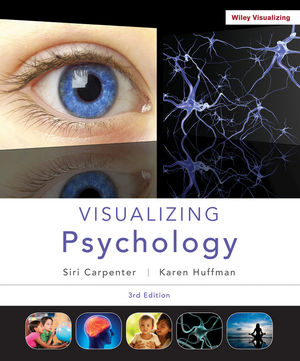 Visualizing Psychology, Third Edition helps students examine their own personal studying and learning styles with several new pedagogical aids--encouraging students to apply what they are learning to their everyday lives while offering ongoing study tips and psychological techniques for mastering the material. Most importantly, students are provided with numerous opportunities to immediately access their understanding.

for
Visualizing Psychology, 3rd Edition
. Learn more at
WileyPLUS.com


Table of Contents
Chapter 1: Introduction and Research Methods.
Chapter 2: Neuroscience and Biological Foundations.
Chapter 3: Stress and Health Psychology.
Chapter 4: Sensation and Perception.
Chapter 5: States of Consciousness.
Chapter 6: Learning.
Chapter 7: Memory.
Chapter 8: Thinking, Language, and Intelligence.
Chapter 9: Life Span Development I.
Chapter 10: Life Span Development II.
Chapter 11: Motivation and Emotion.
Chapter 12: Personality.
Chapter 13: Psychological Disorders.
Chapter 14: Therapy.
Chapter 15: Social Psychology.
New To This Edition
Myth Busters sections now open each chapter. While studying the myths about psychology, students easily learn some of the most important terms and concepts while honing critical thinking skills.
Psychological Science boxed readings now include self-testing exercises asking students to identify the methodology and s tructure within the presented research project.
The third edition of Visualizing Psychology's interior design has been entirely revamped, making the book more functional and engaging to the student reader.
Chapter 6 Learning and Chapter 15 Social Psychology have been thoroughly revised based on user feedback with new expanded coverage of key topics.
The Visualizing Psychology learning program has been enhanced by the inclusion of the Author Tutorial Videos (featuring Karen Huffman) and Virutual Field Trip Videos in the WileyPLUS course.
Hallmark Features
Chapter Introductions: Featured alongside compelling photographs, these chapter openers illustrate certain psychological concepts with concise stories to pique the reader's interest in what's to come. Also included in the chapter opener is an outline listing the main sections and features of the chapter.
Process Diagrams: a series of figures or a combination of figures and photos that illustrate a complex process, allowing students to observe, follow, and understand the demonstrated topic.
Psychology InSight: specifically designed multipart spreads that focus on a key concept in a chapter using a combination of figures and photos to present concepts in a broader context
What a Psychologist Sees: Highlights in photos and figures a phenomenon that would stand out to a professional in the field, increasing a student's observational skills.
What is happening in this picture?: an end-of-chapter feature that shows students a picture relevant to the chapter topics, paired with critical thinking questions to stimulate creative thought.
Learning Objectives: offered at the beginning of each section explains what students must be able to do to demonstrate mastery of the material in the chapter.
Marginal Glossary Terms: introduce the chapter's most important terms in green boldface type.
Tables and Graphs: complete with source citations, summarize the important information at the end of the text.
Available Versions