Textbook
Financial Accounting, IFRS Edition: 2nd Edition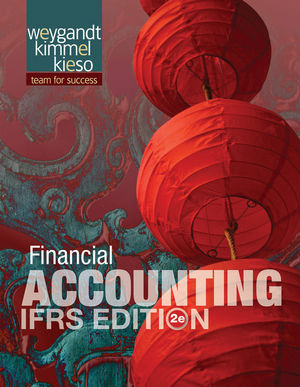 For colleges and universities around the world, Financial Accounting IFRS, 2nd Edition by Jerry J. Weygandt, Paul D. Kimmel, and Donald E. Kieso, is designed to assist students learning accounting topics under the rules of IFRS. The book addresses every accounting topic from the perspective of IFRS and includes examples based on international companies. Following the reputation for accuracy, comprehensiveness, and currency, this highly anticipated new edition retains key features, such as the table of contents, comprehensive problem sets, and accuracy, on which users of Weygandt Financial Accounting IFRS have come to rely. The focus of this text in on international companies, discussing financial accounting principles and procedures within the context of IFRS, and providing end-of-chapter exercises and problems that present students with foreign currency examples such as the yen or euro.
Students using WileyPLUS do real accounting, get real results. WileyPLUS is a student-centered learning and assessment online environment, where students complete automatically graded homework, get feedback on their answers, and access learning materials like the eText at the point of learning. Students come to class prepared because the program is a designed to meet the needs of today's accounting classroom with an innovative question design that facilitates effective learning of accounting concepts, skills, and procedures.
WileyPLUS sold separately from text.
See More
1 Accounting in Action
2 The Recording Process
3 Adjusting the Accounts
4 Completing the Accounting Cycle
5 Accounting for Merchandising Operations
6 Inventories
7 Fraud, Internal Control, and Cash
8 Accounting for Receivables
9 Plant Assets, Natural Resources, and Intangible Assets
10 Liabilities
11 Corporations: Organization, Share Transactions, Dividends, and Retained Earnings
12 Investments
13 Statement of Cash Flows
14 Financial Statement Analysis
APPENDICES
A Specimen Financial Statements: Samsung Electronics Co., Ltd. A-1
B Specimen Financial Statements: Nestle´ S.A. B-1
C Specimen Financial Statements: Zetar plc C-1
D Specimen Financial Statements: Tootsie Roll Industries, Inc. D-1
E Time Value of Money E-1
F Payroll Accounting F-1
*G Subsidiary Ledgers and Special Journals G-1
H Other Significant Liabilities H-1
*Available online
See More
Content updated to include recent developments in accounting rules and to provide additional explanation where needed.

Chp 2: Rewrote Debits and Credit section, to provide additional instruction/explanation to students.
Most end of chapter material has been updated with new names, amounts, and dates, while the Financial Reporting Problem is now based on Samsung Electronics and Comparative Analysis Problem on Nestlé versus Zetar.
Significantly increased use of international companies and currencies throughout textbook, especially in the new Feature Stories and in-text examples.
Chp 3: Updated revenue recognition discussion to reflect the proposed new accounting standard, hereby
revenue should be recognized in the accounting period in which services are performed (formerly when revenue was earned).
Chp 3: Updated discussion of The Basics of Adjusting Entries section, including new transaction analysis format (Basic Analysis, Equation Analysis, Debit-Credit Analysis, Journal Entry, and Posting) for adjusting entries examples, providing continuity from Chapters 1 and 2.
Chp 5: Added additional explanation to Sales Returns and Allowances section, to increase student understanding.
Chp 6: Expanded discussion in Cost Flow Assumptions section, to ensure student understanding of accounting requirements for cost flow assumption chosen.
Chp 8: Rewrote Types of Receivables section, to include more general discussion of receivables.
Chp 8: Added new material on recent home foreclosures in section on Valuing Accounts Receivable.
Chp 8: Expanded discussion of Disposing of Notes Receivable section, to include a timeline illustration to increase student understanding.
Chp 10: Added more general discussion in Accounting for Bond Issues section, to ensure student understanding.
Chp 12: Updated Categories of Securities section, to reflect proposed new classifications for debt and  share investments.

New Another Perspective section at end of each chapter includes differences between GAAP and IFRS (Key Points), IFRS/GAAP convergence efforts (Looking to the Future), and GAAP Practice (GAAP Self-Test Questions plus answers, GAAP Exercises, and GAAP Financial Reporting Problem based on Tootsie Roll Industries, Inc.
New sustainability coverage throughout the book introduces students to green business practices called People, Planet, Profit is reinforced with a People Planet Profit end of chapter question
Anatomy of a Fraud Boxes: Now included in all relevant chapters (previously just in Chapter 7, Fraud, Internal Control, and Cash).
See More
First US based financial accounting text designed to assist  students learning accounting topics under the rules of IFRS.
Comprehensive coverage of IFRS based introductory financial accounting that prepares students for further study in the business or accounting.
Focus on real international companies, international examples, and international currencies.  The basics of financial accounting principles and procedures are presented within the context of IFRS while also providing exercises and problems that present students with international currency examples such as the Yen and the Euro.
Includes Authoritative literature references (IASB/IFRS) so students become more familiar with the original sources.
Explains key differences between IFRS and US GAAP while offering information about how the systems are converging. 
Students need to do accounting to get accounting.  Throughout each chapter Do It's!, which give students an opportunity to see a detailed example problem with a solution before they do their homework.
Making the study of accounting relevant to the business major, Accounting Across the Organization highlights the important role of accounting information to other business students studying management, information systems, finance, and marketing.
See More
Instructors Resources
ENHANCE YOUR COURSE
Digital evaluation copy available for this title
Request Copy

Contact your Wiley Representative
Find Your Rep

See More
See Less
Students Resources
See More
See Less
Purchase Options

Information about Wiley E-Texts:
Wiley E-Texts are powered by VitalSource and accessed via the VitalSource Bookshelf reader, available online and via a downloadable app.
Wiley E-Texts are accessible online and offline, and can be read on a variety of devices, including smartphones and tablets.
Wiley E-Texts are non-returnable and non-refundable.
Wiley E-Texts are protected by DRM. For specific DRM policies, please refer to our FAQ.
WileyPLUS registration codes are NOT included with any Wiley E-Text. For informationon WileyPLUS, click here .
To learn more about Wiley E-Texts, please refer to our FAQ.

Information about e-books:
E-books are offered as e-Pubs or PDFs. To download and read them, users must install Adobe Digital Editions (ADE) on their PC.
E-books have DRM protection on them, which means only the person who purchases and downloads the e-book can access it.
E-books are non-returnable and non-refundable.
To learn more about our e-books, please refer to our FAQ.
This title is also available on :