Textbook
Managing and Using Information Systems: A Strategic Approach, 5th Edition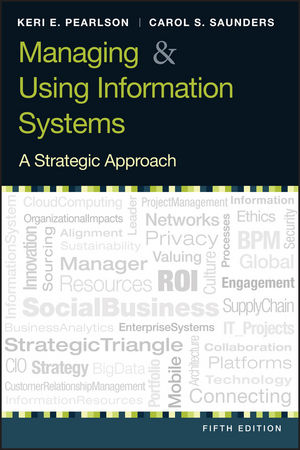 Pearlson and Saunders', Managing and Using Information Systems: A Strategic Approach, Fifth Edition, conveys the insights and knowledge MBA students need to become knowledgeable and active participants in information systems decisions. This text is written to help managers begin to form a point of view of how information systems will help, hinder, and create opportunities for their organizations. It is intended to provide a solid foundation of basic concepts relevant to using and managing information.
See More
Introduction 1
The Case for Participating in Decisions about Information Systems 3
What If a Manager Doesn't Participate? 6
Social Business Lens 8
Skills Needed to Participate Effectively in Information
Technology Decisions 9
Basic Assumptions 11
Economics of Information Versus Economics of Things 17
Summary 19
Key Terms 20
Discussion Questions 20
Case Study I-1: Terry Cannon, MBA 20
Case Study I-2: Anyglobal Company Inc. 22
CHAPTER 1 The Information Systems Strategy Triangle 23
Brief Overview of Business Strategy Frameworks 26
Brief Overview of Organizational Strategies 33
Social Business Lens: Building a Social Business Strategy 34
Brief Overview of Information Systems Strategy 36
Summary 37
Key Terms 38
Discussion Questions 39
Case Study 1-1: Lego 39
Case Study 1-2: Google 41
CHAPTER 2 Strategic Use of Information Resources 44
Evolution of Information Resources 45
Information Resources as Strategic Tools 47
How Can Information Resources Be Used Strategically? 51
Social Business Lens: Social Capital 64
Strategic Alliances 64
Risks 66
Co-Creating IT and Business Strategy 68
Summary 69
Key Terms 70
Discussion Questions 70
Case Study 2-1: Groupon 71
Case Study 2-2: Zipcar 72
CHAPTER 3 Organizational Strategy and Information Systems 74
Information Systems and Organizational Design 78
Social Business Lens: Social Networks 85
Information Systems and Management Control Systems 85
Information Systems and Culture 89
Summary 95
Key Terms 96
Discussion Questions 96
Case Study 3-1: The Merger of AirTran by Southwest Airlines:
Will the Organizational Cultures Merge? 97
Case Study 3-2: The FBI 98
CHAPTER 4 Information Systems and the Design of Work 100
Work Design Framework 102
How Information Technology Supports Communication and Collaboration 104
How Information Technology Changes the Nature of Work 104
Social Business Lens: Activity Streams 113
How Information Technology Changes Where and When Work Is
Done and Who Does It 116
Gaining Acceptance for IT-Induced Change 128
Summary 130
Key Terms 131
Discussion Questions 132
Case Study 4-1: Trash and Waste Pickup Services, Inc. 132
Case Study 4-2: Social Networking: How does IBM Do It? 133
CHAPTER 5 Information Systems for Managing Business Processes 135
Silo Perspective versus Business Process Perspective 137
Building Agile and Dynamic Business Processes 142
Changing Business Processes 143
Workflow and Mapping Processes 145
Enterprise Systems 148
Social Business Lens: Crowdsourcing Changes Innovation Processes 161
Summary 162
Key Terms 163
Discussion Questions 163
Case Study 5-1: Santa Cruz Bicycles 164
Case Study 5-2: Boeing 787 Dreamliner 165
CHAPTER 6 Architecture and Infrastructure 167
From Vision to Implementation 168
The Leap from Strategy to Architecture to Infrastructure 170
From Strategy to Architecture to Infrastructure: An Example 177
Architectural Principles 180
Enterprise Architecture 180
Virtualization and Cloud Computing 183
Other Managerial Considerations 185
Social Business Lens: Building Social-Mobile Applications 192
Summary 192
Key Terms 193
Discussion Questions 193
Case Study 6-1: Enterprise Architecture at American Express 194
Case Study 6-2: The Case of Extreme Scientists 195
CHAPTER 7 The Business of IT 197
Organizing to Respond to Business Demand: A Maturity Model 198
Understanding the IT Organization 199
What a Manager Can Expect from the IT Organization 199
Managing IT Activities Globally 203
What the IT Organization Does Not Do 205
Chief Information Officer 206
Social Business Lens: Community Management 208
Building a Business Case 209
IT Portfolio Management 213
Valuing IT Investments 215
Monitoring IT Investments 218
Funding IT Resources 222
How Much Does IT Cost? 226
Summary 231
Key Terms 233
Discussion Questions 233
Case Study 7-1: Troon Golf 234
Case Study 7-2: Balanced Scorecards at BIOCO 235
CHAPTER 8 Governance of the Information Systems Organization 236
IT Governance 237
IT Governance and Security 244
Social Business Lens: The Consumerization of Technology 248
Decision-Making Mechanisms 248
Governance Frameworks for Control Decisions 251
Summary 257
Key Terms 257
Discussion Questions 257
Case Study 8-1: IT Governance at University of the Southeast 258
Case Study 8-2: The Big Fix at Toyota Motor Sales (TMS) 259
CHAPTER 9 Information Systems Sourcing 261
Sourcing Decision Cycle Framework 262
Social Business Lens: iCloud 274
Outsourcing and Strategic Networks 283
Summary 284
Key Terms 285
Discussion Questions 285
Case Study 9-1: Crowdsourcing at AOL 285
Case Study 9-2: Altia Business Park 286
CHAPTER 10 Managing IT Projects 288
What Defines a Project? 290
What is Project Management? 292
Project Elements 295
IT Projects 301
IT Project Development Methodologies and Approaches 303
Social Business Lens: Mashups 311
Managing IT Project Risk 312
Summary 319
Key Terms 320
Discussion Questions 320
Case Study 10-1: Implementing Enterprise Change Management at Southern Company 321
Case Study 10-2: Dealing with Traffic Jams in London 322
CHAPTER 11 Knowledge Management, Business Intelligence, and Analytics 325
Knowledge Management, Business Intelligence, and Business Analytics 327
Data, Information, and Knowledge 330
Knowledge Management Processes 335
Business Intelligence 335
Competing with Business Analytics 336
Components of Business Analytics 338
Big Data 340
Social Analytics 342
Social Business Lens: Social Graphs 344
Caveats for Managing Knowledge and Business Intelligence 345
Summary 345
Key Terms 346
Discussion Questions 346
Case Study 11-1: Stop & Shop's Scan It! App 347
Case Study 11-2: Business Intelligence at CKE Restaurants 348
CHAPTER 12 Using Information Ethically 350
Responsible Computing 352
Corporate Social Responsibility 356
PAPA: Privacy, Accuracy, Property, and Accessibility 359
Social Business Lens: Personal Data 363
Security and Controls 369
Summary 371
Key Terms 372
Discussion Questions 372
Case Study 12-1: Ethical Decision Making 372
Case Study 12-2: Midwest Family Mutual Goes Green 375
Glossary 377
Index 387
See More
About the Authors
DR. KERI E. PEARLSON is president of KP Partners, a CIO advisory services firm specializing in executive education and management coaching in the area of strategic use of information systems and organizational design. A former faculty member of the Graduate School of Business at the University of Texas at Austin, Dr. Pearlson is the co-author of Zero Time: Providing Instant Customer Value—Every Time, All the Time (John Wiley & Sons, 2000). Dr. Pearlson holds a Doctorate in Business Administration (DBA) in Management Information Systems from the Harvard Business School and both a Master's Degree in Industrial Engineering Management and a Bachelor's Degree in Applied Mathematics from Stanford University.
DR. CAROL S. SAUNDERS is professor of Management at the University of Central Florida in Orlando, Florida and Schoeller Senior Fellow (2012) at the University of Erlangen-Nuremburg. She served as General Conference Chair of the International Conference on Information Systems (ICIS) in 1999 and Telecommuting '96. She was editor-in-chief of MIS Quarterly from 2005-2007. She has received the Association of Information Systems (AIS) LEO award for lifetime accomplishments and is a Fellow of the AIS. Dr. Saunders holds a Ph.D. in Organizational Behavior and Management from the University of Houston and an MBA from the University of North Carolina at Chapel Hill. In addition to her academic positions, Dr. Saunders has worked for IBM and EXXON Company, U.S.A.
See More
Each chapter now features a new textbox called Social Business Lens, which presents a topic related to the chapter that has enabled, or is fundamental to using, social tools in the enterprise.
Many chapters also feature a Geographic Lens textbox, which relates a current global issue to the topic of the chapter.
Food For Thought sections are now integrated into the chapter or moved to the book's companion website.
Significant revisions to both the Business of IT chapter and the Governance chapter.
For Instructors: The Pearlson and Saunders Faculty Hub, a community website and collaboration space, facilitates connections among instructors and offers a place to share teaching materials, ideas, and creative projects.
See More
Designed as an MBA-level foundational book on IS concepts from which professors can build in their own selection of cases and readings.
Covers the key, fundamental issues that managers need to be knowledgeable and active participants in information systems decisions. 
Uses the IS Strategy Triangle as a unifying theme to show the strategic context of all topics.
See More
Instructors Resources
Request a print evaluation copy
Contact us

Contact your Wiley Representative
Find Your Rep

See More
See Less
Purchase Options
Paperback
Managing and Using Information Systems: A Strategic Approach, 5th Edition
ISBN : 978-1-118-28173-4
416 pages
August 2012, ©2013

Information about Wiley E-Texts:
Wiley E-Texts are powered by VitalSource and accessed via the VitalSource Bookshelf reader, available online and via a downloadable app.
Wiley E-Texts are accessible online and offline, and can be read on a variety of devices, including smartphones and tablets.
Wiley E-Texts are non-returnable and non-refundable.
Wiley E-Texts are protected by DRM. For specific DRM policies, please refer to our FAQ.
WileyPLUS registration codes are NOT included with any Wiley E-Text. For informationon WileyPLUS, click here .
To learn more about Wiley E-Texts, please refer to our FAQ.

Information about e-books:
E-books are offered as e-Pubs or PDFs. To download and read them, users must install Adobe Digital Editions (ADE) on their PC.
E-books have DRM protection on them, which means only the person who purchases and downloads the e-book can access it.
E-books are non-returnable and non-refundable.
To learn more about our e-books, please refer to our FAQ.