Textbook
Contemporary Business, 15th Edition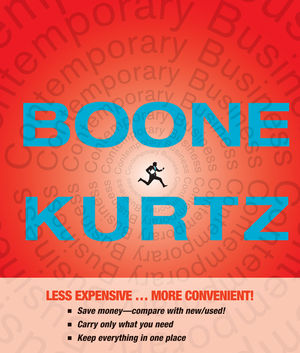 Boone and Kurtz, Contemporary Business 15th Edition delivers solutions at the speed of business.
Solutions designed to help you improve critical thinking—from the Boone and Kurtz Student Case Videos to the Weekly Updates news blog—will get students thinking, talking, connecting and making decisions—at the speed of business.
Experience a textbook program that supports your goals to stimulate curiously, show relevance, promote creativity and prepare students for what's ahead, in their academic and business careers.

for
Contemporary Business, 15th Edition
. Learn more at
WileyPLUS.com


Table of Contents
PART 1 Business in a Global Environment 2
Chapter 1 The Changing Face of Business 2
Chapter 2 Business Ethics and Social Responsibility 30
Chapter 3 Economic Challenges Facing Contemporary Business 64
Chapter 4 Competing in World Markets 96
PART 2 Starting and Growing Your Business 132
Chapter 5 Forms of Business Ownership and Organization 132
Chapter 6 Starting Your Own Business: The Entrepreneurship Alternative 168
PART 3 Management: Empowering People to Achieve Business 200
Chapter 7 Management, Leadership, and the Internal Organization 200
Chapter 8 Human Resource Management: From Recruitment to Labor Relations 230
Chapter 9 Top Performance through Empowerment, Teamwork, and Communication 260
Chapter 10 Production and Operations Management 288
PART 4 Marketing Management 320
Chapter 11 Customer-Driven Marketing 320
Chapter 12 Product and Distribution Strategies 354
Chapter 13 Promotion and Pricing Strategies 390
PART 5 Managing Technology and Information 428
Chapter 14 Using Technology to Manage Information 428
PART 6 Managing Financial Resources 456
Chapter 15 Understanding Accounting and Financial Statements 456
Chapter 16 The Financial System 488
Chapter 17 Financial Management 520
Appendix A Business Law A-1
Appendix B Insurance and Risk Management A-18
Appendix C Personal Financial Planning A-30
Appendix D Developing a Business Plan A-43
Appendix E Careers in Contemporary Business A-52
New To This Edition
NEW Boone and Kurtz Student Case Videos: This new case video series features six recent business graduates in the workplace as they share their experiences, career goals, and thoughts about how business education shaped the first stages of their career journey. Each of the six students illustrates the central theme of the six parts of Boone and Kurtz, Contemporary Business 15th Edition.
The ZOOM Business Simulation™ Game allows your students to sit in the driver's seat of a new automobile company as they make all the relevant sales, marketing, operational, and financial decisions necessary for the company to succeed. Student teams compete against each other as they learn core business principles and how to make good business decisions.
NEW Companies and Professionals: Thoroughly revised opening vignettes, features, cases, and examples reflect the most relevant and timely businesses and the people who make them successful.
Hallmark Features
Annotated Instructor's Edition: The best teaching tips from the Instructor's Manual are incorporated in the margins to assist with course prep and in-class discussions.
Currency: Boone and Kurtz Contemporary Business 15th Edition features the most current content and relevant examples to illustrate business concepts.
Boone and Kurtz Case Videos: High-definition, documentary-style video clips profile companies like Zipcar, Seventh Generation, and Comet Skateboards to reinforce key concepts, and expose students to innovative business practices.
Contemporary Business Weekly Updates: Wiley's Weekly Updates news site sparks classroom debate around current events that apply to your business course topics. We save you time by emailing you—every Monday—the most relevant news articles and videos tagged to the textbook and complemented by discussion questions.
Comprehensive Resource Package: Annotated Instructor's Edition, WileyPLUS, complete Instructor's Manual, extensive Test Bank, Interactive PowerPoints, Video Cases, simulations, and more make up the leading suite of teaching materials.
Available Versions