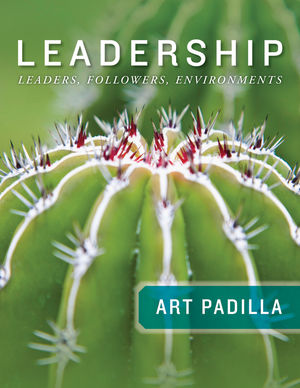 Leadership is a "process," not a person. In Leadership, author Art Padilla asserts that the dynamics of leadership involve leaders, followers and their environments—the organizational contexts within which leading and following take place. This triangle approach illustrates a more holistic and comprehensive view of leadership by focusing on all three dynamics.
While infused with the most contemporary research and latest theories, material comes to life through chapter inserts and mini cases featuring themes that leaders and followers regularly encounter, such as: mentoring and developing talent, ethics, integrity and credibility, teams, and toxic leadership.
Using the most current examples to demonstrate concepts, the author encourages students to perceive instances of leadership, and the leaders, followers and environments that make them relevant.


Table of Contents
CHAPTER 1 Prologue 2
CHAPTER 2 On Leadership 10
CHAPTER 3 Self-Awareness and Skill Development 38
CHAPTER 4 The Leaders 72
CHAPTER 5 The Followers 114
CHAPTER 6 The Environments 148
CHAPTER 7 Toxic Leadership 192
CHAPTER 8 Epilogue 228
Glossary 240
Name Index 245
Subject Index 255
Hallmark Features
Leadership presented as a process through the "triangle" approach, including the leader, a group of followers, and the organizational settings where the leader-follower interactions occur.
Presentation and development of themes that leaders and followers encounter daily and through which, relevant research, theories and scholarly literature are illustrated.
Coverage of leadership and team results discusses the effectiveness and outcomes of the entire leadership process—including attracting and retaining talented colleagues and the impact of organizational environments on group outcomes.
Unique and innovative chapter on Toxic Leadership examines the axiom that "people quit bad managers; they don't quit organizations" while integrating all of the concepts in the book.
Available Versions