Textbook
Management Information Systems, 2nd Edition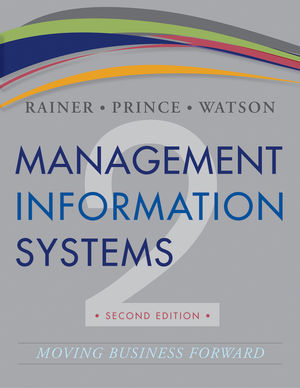 From best-selling author Kelly Rainer, and coauthors, Brad Prince and Hugh Watson, the Second Edition of Management Information Systems promotes active learning like no other text on the market. Each chapter is comprised of tightly coupled concepts and section-level student activities that transport your students from passively learning about IS to doing IS in a realistic context. The integration of Microsoft Excel and Access exercises at the end of every chapter enables students to practice their Microsoft application skills in the context of the chapter material. Through WileyPLUS, each small section of concept and the accompanying activities can be assigned separately, which provides a uniquely flexible offering for instructors.

WileyPLUS sold separately from text.
See More
Chapter 1 Introduction to Information Systems 2
1.1 Why Should I Study Information Systems? 5
1.2 Overview of Computer-Based Information Systems 12
1.3 How Does IT Impact Organizations? 22
1.4 Why Are Information Systems Important to Society? 25
Chapter 2 Organizational Strategy, Competitive Advantage, and Information Systems 42
2.1 Business Pressures, Organizational Responses, and IT Support 45
2.2 Competitive Advantage and Strategic Information Systems 56
2.3 Business–IT Alignment 63
Chapter 3 Data and Knowledge Management 78
3.1 Managing Data 81
3.2 The Database Approach 85
3.3 Database Management Systems 91
3.4 Data Warehouses and Data Marts 97
3.5 Knowledge Management 105
Chapter 4 Telecommunications and Networking 122
4.1 What Is a Computer Network? 125
4.2 Network Fundamentals 128
4.3 The Internet and the World Wide Web 134
4.4 Network Applications 140
Chapter 5 Business Intelligence 168
5.1 Managers and Decision Making 171
5.2 What Is Business Intelligence? 176
5.3 Business Intelligence Applications for Data Analysis 180
5.4 Business Intelligence Applications for Presenting Results 183
5.5 Business Intelligence in Action: Corporate
Performance Management 190
Chapter 6 Ethics and Privacy 202
6.1 Ethical Issues 204
6.2 Privacy 209
Chapter 7 Information Security 226
7.1 Introduction to Information Security 229
7.2 Unintentional Threats to Information Systems 231
7.3 Deliberate Threats to Information Systems 235
7.4 What Organizations Are Doing to Protect Information Resources 243
7.5 Information Security Controls 245
Chapter 8 Social Computing 272
8.1 Web 2.0 275
8.2 Fundamentals of Social Computing in Business 283
8.3 Social Computing in Business: Shopping 286
8.4 Social Computing in Business: Marketing 293
8.5 Social Computing in Business: Customer
Relationship Management 301
8.6 Social Computing in Business: Human Resource Management 303
8.7 Crowdsourcing 307
Chapter 9 E-Business and E-Commerce 324
9.1 Overview of E-Business and E-Commerce 328
9.2 Business-to-Consumer (B2C) Electronic Commerce 335
9.3 Business-to-Business (B2B) Electronic Commerce 346
9.4 Ethical and Legal Issues in E-Business 348
Chapter 10 Wireless, Mobile Computing, and Mobile Commerce 364
10.1 Wireless Technologies 367
10.2 Wireless Computer Networks and Internet Access 374
10.3 Mobile Computing and Mobile Commerce 383
10.4 Pervasive Computing 390
10.5 Wireless Security 395
Chapter 11 Information Systems Within the Organization 408
11.1 Transaction Processing Systems 410
11.2 Functional Area Information Systems 412
11.3 Enterprise Resource Planning Systems 419
11.4 Reports 424
Chapter 12 Extending the Organization to Customers 436
12.1 Defining Customer Relationship Management 439
12.2 Operational Customer Relationship Management Systems 443
12.3 Analytical Customer Relationship Management Systems 449
12.4 Other Types of Customer Relationship Management Systems 450
Chapter 13 Extending the Organization Along the Supply Chain 466
13.1 Supply Chains 468
13.2 Supply Chain Management 471
13.3 Information Technology Support for Supply Chain Management 476
Chapter 14 Acquiring Information Systems and Applications 490
14.1 Planning for and Justifying IT Applications 493
14.2 Strategies for Acquiring IT Applications 497
14.3 The Traditional Systems Development Life Cycle 503
14.4 Alternative Methods and Tools for Systems Development 511
14.5 Vendor and Software Selection 517
Plug IT In 1 Business Processes and Business Process Management 530
PI1.1 Business Processes 530
PI1.2 Business Process Reengineering and Business Process Management 535
Plug IT In 2 Hardware and Software 539
PI2.1 Introduction to Hardware 540
PI2.2 Introduction to Software 551
Plug IT In 3 Cloud Computing 561
PI3.1 Introduction 562
PI3.2 What Is Cloud Computing? 563
PI3.3 Different Types of Clouds 568
PI3.4 Cloud Computing Services 569
PI3.5 Cloud Computing Benefits 573
PI3.6 Concerns and Risks with Cloud Computing 576
PI3.7 Web Services and Service-Oriented Architecture 579
Plug IT In 4 Intelligent Systems 586
PI4.1 Introduction to Intelligent Systems 586
PI4.2 Expert Systems 589
PI4.3 Neural Networks 593
PI4.4 Fuzzy Logic 595
PI4.5 Genetic Algorithms 595
PI4.6 Intelligent Agents 596
Plug IT In 5 Project Management 601
PI5.1 Project Management for Information Systems Projects 601
PI5.2 The Project Management Process 603
PI5.3 The Project Management Body of Knowledge 605
Plug IT In 6 Protecting Your Information Assets 612
PI6.1 How to Protect Your Assets: The Basics 612
PI6.2 Behavioral Actions to Protect Your Information Assets 613
PI6.3 Computer-Based Actions to Protect Your Information Assets 616
Photo Credits 635
Index 636
See More
Current Cases: 80% of the cases have been updated or replaced to keep the book extremely current.
New IT's Personal boxes--IT's Personal boxes engage the student by highlighting technology and issues with which they have direct experience.
Team Exercises have been changed to Collaboration Exercisesto further enhance student engagement and activity by simulating a business environment with different personnel roles.
The introduction of a new co-author, Brad Prince, of the University of West Georgia, and former student of Professor Rainer, adds a new voice and an innovative teaching and learning focus to the book. 
"Student Activities" have been changed to "Apply the Concepts" and redesigned to be more streamlined and easy to use.
See More
Tested pedagogical Learning Unit structure comprised of tightly coupled concepts and Student- Activities for every section of the chapter (3-5 Learning Units per chapter)
Student activities include links to online videos and articles and Excel and Access exercises all with automatically graded assessment
Plug IT In Learning Extensions—Comprising additional material of interest, Plug IT In's enable a high degree of syllabus flexibility by providing extra content the instructor may add at their discretion
What's in IT for Me? —This instructor-praised feature demonstrates how IT topics relate to students in each business major including Accounting, Finance, Marketing, Operations Management, MIS, and Human Resource Management.
WileyPLUS —Text and web-based learning blend seamlessly as students read concepts and then immediately apply concepts using Wiley's powerful online learning environment, WileyPLUS.
Superior supplements include author-created Media-enhanced Slides and a Testbank that includes "Apply the Concept" questions to support the applied, active approach of the text.
See More
Instructors Resources
ENHANCE YOUR COURSE
Digital evaluation copy available for this title
Request Copy

Contact your Wiley Representative
Find Your Rep

See More
See Less
Purchase Options
Management Information Systems, 2nd Edition
ISBN : 978-1-118-54781-6
672 pages
December 2012, ©2013
Loose-leaf
Management Information Systems, 2nd Edition Binder Ready Version
ISBN : 978-1-118-47768-7
672 pages
January 2013, ©2013
Paperback
Management Information Systems, 2nd Edition
ISBN : 978-1-118-44359-0
672 pages
January 2013, ©2013

Information about Wiley E-Texts:
Wiley E-Texts are powered by VitalSource and accessed via the VitalSource Bookshelf reader, available online and via a downloadable app.
Wiley E-Texts are accessible online and offline, and can be read on a variety of devices, including smartphones and tablets.
Wiley E-Texts are non-returnable and non-refundable.
Wiley E-Texts are protected by DRM. For specific DRM policies, please refer to our FAQ.
WileyPLUS registration codes are NOT included with any Wiley E-Text. For informationon WileyPLUS, click here .
To learn more about Wiley E-Texts, please refer to our FAQ.

Information about e-books:
E-books are offered as e-Pubs or PDFs. To download and read them, users must install Adobe Digital Editions (ADE) on their PC.
E-books have DRM protection on them, which means only the person who purchases and downloads the e-book can access it.
E-books are non-returnable and non-refundable.
To learn more about our e-books, please refer to our FAQ.