Textbook
Information Technology for Management: Advancing Sustainable, Profitable Business Growth, 9th edition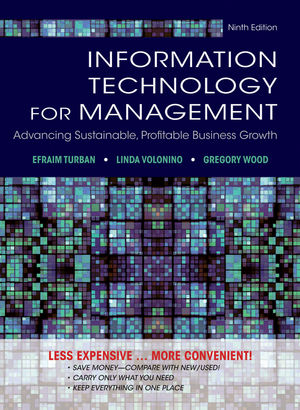 Information Technology for Management by Turban, Volonino & Wood engages students with up-to-date coverage of the most important IT trends today.  Over the years, this leading IT textbook had distinguished itself with an emphasis on illustrating the use of cutting edge business technologies for achieving managerial goals and objectives.  The 9th ed continues this tradition with coverage of emerging trends in Mobile Computing and Commerce, IT virtualization, Social Media, Cloud Computing and the Management and Analysis of Big Data along with advances in more established areas of Information Technology.
The book prepares students for professional careers in a rapidly changing and competitive environment by demonstrating the connection between IT concepts and practice more clearly than any other textbook on the market today.
Each chapter contains numerous case studies and real world examples illustrating how businesses increase productivity, improve efficiency, enhance communication and collaboration, and gain competitive advantages through the use of Information Technologies. 
See More
Part I Maximizing the Value of Data and Information Technology
1 A Look Toward the Future of Information Technology 1
1.1 IT and Management Opportunities and Challenges 4
1.2 Top Management Concerns and Influential ITs 7
1.3 IT Agility, Consumerization, and Competitive Advantage 13
1.4 Strategic Planning and Competitive Models 15
1.5 Why IT is Important to Your Career, and IT Careers 20
2 Information Management and IT Architecture 28
2.1 Information Management in the 2010s 32
2.2 IT Architecture 36
2.3 Information Systems and IT Infrastructure 38
2.4 Cloud Computing and Services 47
2.5 Virtualization and VM (Virtual Machines) 50
3 Database, Data Warehouse, and Data Mining 56
3.1 Database Technology 60
3.2 Data Warehouse and Data Mart Technologies 69
3.3 Data and Text Mining 72
3.4 Business Intelligence (BI) and Analytics 75
3.5 Digital and Physical Document Management 78
4 Networks, Collaboration, and Sustainability 85
4.1 Business IT Networks and Components 88
4.2 Wireless Network Applications and Mobile Infrastructure 93
4.3 Network Management and Search 96
4.4 Collaboration and Communication Technologies 102
4.5 Sustainability and Ethical Issues 104
5 CyberSecurity, Compliance, and Business Continuity 112
5.1 Up Close Look at Cybercrimes, Criminals, and Motivations 116
5.2 IT Vulnerabilities and Threats 122
5.3 Defending Against Fraud 130
5.4 Information Assurance and Risk Management 131
5.5 Network Security 134
5.6 Internal Control and Compliance 137
5.7 Business Continuity and Auditing 139
Part II Digital, Mobile and Social Commerce
6 E-Business & E-Commerce Models and Strategies 145
6.1 E-Business Challenges and Strategies 156
6.2 Business to Consumer (B2C) E-Commerce 166
6.3 Business to Business (B2B) E-Commerce and E-Procurement 169
6.4 E-Government and Public Sector IT Trends 172
6.5 E-Commerce Support Services and Digital Marketing Communications 174
6.6 E-Business Ethics and Legal Issues 182
7 Mobile Technologies and Commerce 191
7.1 Mobile Computing Technology 194
7.2 Mobile Commerce 199
7.3 Mobile Transactions and Financial Services 206
7.4 Location-Based Services and Commerce 210
7.5 Mobile Enterprise Applications 214
8 Web 2.0 and Social Media 225
8.1 Web 2.0 and Social Media 229
8.2 Virtual Communities and Social Networking Services 237
8.3 Enterprise 2.0—Social Networks and Tools for Business 245
8.4 Social Media Metrics 250
8.5 The Future: Web 3.0 256
Part III Enterprise Systems and Analytics
9 Functional Area and Compliance Systems 269
9.1 Management Levels and Functional Systems 272
9.2 Manufacturing, Production, and Transportation Systems 276
9.3 Sales and Marketing Systems 282
9.4 Accounting, Finance, and Compliance Systems 285
9.5 Human Resources Systems, Compliance, and Ethics 292
10 Enterprise Systems and Applications 301
10.1 Enterprise Systems 304
10.2 Enterprise Resource Planning (ERP) Systems 307
10.3 Supply Chain Management (SCM) Systems 315
10.4 Collaborative Planning, Forecasting, and Replenishment (CPFR) Systems 320
10.5 Customer Relationship Management (CRM) Systems 324
11 Performance Management using Data Visualization, Mashups, and Mobile Intelligence 333
11.1 Data Visualization and Data Discovery 338
11.2 Enterprise Data Mashups 343
11.3 Business Dashboards 347
11.4 Mobile Dashboards and Intelligence 349
Part IV IT Planning, Strategy, and Ethics
12 IT Strategy, Sourcing, and Vendor Relationships 355
12.1 IT Strategy and the Strategic Planning Process 358
12.2 IT Governance 367
12.3 Aligning IT with Business Strategy 369
12.4 IT Operating Plans and Sourcing Strategies 373
12.5 IT Vendor Relationships 380
13 Business Process and Project Management 387
13.1 Business Process Management (BPM) 390
13.2 Software Architecture and IS Design 399
13.3 IT Project Management 405
13.4 Systems Development 408
14 IT Ethics and Responsible Conduct 418
14.1 Can IT Cut its Global Carbon Footprint? Can Users? 422
14.2 Responsible Conduct 428
14.3 Connectivity Overload and a Culture of Distraction 431
14.4 On the Verge of a New Tech Revolution 433
Glossary G-1
Organizational Index O-1
Name Index N-1
Subject Index S-1
See More
New business, healthcare, government, and small-to-medium business case studies and the latest real-world experiences.
Four new forward-looking chapters:

Chapter 1, Chapter 4, Chapter 11, Chapter 14

All chapters are updated with new material and cases that discuss both IT's importance to business today and in the near-future, including:

Social Media, social metrics, and ROI
Big Data and Analytics
Virtualization in Information Systems Management
Rapid Evolution of Mobile Computing and Commerce
Environment and Sustainability issues
Cloud Computing for Increased Mobility and Productivity
The most serious IT security risks: Hacktivism, Advanced Persistent Threats (APT), and Fraud.

Budget and economic justification, ROI, and contracts:  Coverage of various cost factors, including making a business case for IT investments, total cost of ownership, and service level agreements.
Updated coverage of traditional IT topics such as networking, data management, e-commerce and e-business processes, enterprise systems and much more.
See More
Solid Theoretical Backing — Includes foundations ranging from Moore's Law to Porter's competitiveness models, including his latest e-strategy adaptation.
Includes coverage of "how to do" things and explanation at both the operational and strategic levels so students are exposed to both sides.
Data Analysis & Decisions Making activities in every chapter require students to do intriguing and challenging hands-on work; for example, estimating cost-savings from switching to the cloud.
Private and public sector Business cases, a video case, and "IT at Work" boxes in every chapter illustrate how businesses increase productivity, enhance communication and collaboration, and gain a competitive edge through innovative use of information technologies and insights gleaned from big data.
In-depth coverage of topics like IT governance, connectivity blurring public and private lives, sustainability, enterprise social media, and viral and social media marketing.
See More
Instructors Resources
ENHANCE YOUR COURSE
Digital evaluation copy available for this title
Request Copy

Contact your Wiley Representative
Find Your Rep

See More
See Less
Purchase Options
Information Technology for Management: Advancing Sustainable, Profitable Business Growth, 9th Edition
ISBN : 978-1-118-54786-1
480 pages
December 2012, ©2013
Loose-leaf
Information Technology for Management: Advancing Sustainable, Profitable Business Growth, 9th Edition Binder Ready Version
ISBN : 978-1-118-45324-7
480 pages
January 2013, ©2013
Hardcover
Information Technology for Management: Advancing Sustainable, Profitable Business Growth, 9th Edition
ISBN : 978-1-118-35704-0
480 pages
January 2013, ©2013

Information about Wiley E-Texts:
Wiley E-Texts are powered by VitalSource and accessed via the VitalSource Bookshelf reader, available online and via a downloadable app.
Wiley E-Texts are accessible online and offline, and can be read on a variety of devices, including smartphones and tablets.
Wiley E-Texts are non-returnable and non-refundable.
Wiley E-Texts are protected by DRM. For specific DRM policies, please refer to our FAQ.
WileyPLUS registration codes are NOT included with any Wiley E-Text. For informationon WileyPLUS, click here .
To learn more about Wiley E-Texts, please refer to our FAQ.

Information about e-books:
E-books are offered as e-Pubs or PDFs. To download and read them, users must install Adobe Digital Editions (ADE) on their PC.
E-books have DRM protection on them, which means only the person who purchases and downloads the e-book can access it.
E-books are non-returnable and non-refundable.
To learn more about our e-books, please refer to our FAQ.