Textbook
Turner, Accounting Information Systems: The Processes and Controls, 2E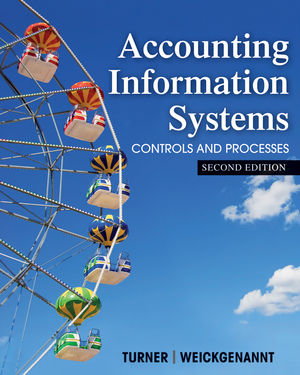 Recognizing the importance of accounting information systems and internal controls in today's business environment, the 2nd edition of Accounting Information Systems makes the world of systems and controls accessible to today's student.  It enhances opportunities for learning about AIS and its day-to-day operation and is written for the business or accounting major required to take an AIS course. Keeping the student in mind, this textbook focuses on the business processes and the related controls, as well as the important topics of ethics and corporate governance.
See More
MODULE 1 INTRODUCTION
CHAPTER 1 Introduction to AIS 1
CHAPTER 2 Foundational Concepts of the AIS 39
(Including an REA Appendix)
MODULE 2 CONTROL ENVIRONMENT
CHAPTER 3 Fraud, Ethics, and Internal Control 83
(Including appendices for the history of internal control standards and control objectives for information technology (COBIT))
CHAPTER 4 Internal Controls and Risks in IT Systems 127
CHAPTER 5 Corporate Governance and the Sarbanes-Oxley Act 179
CHAPTER 6 IT Governance 211
CHAPTER 7 Auditing Information Technology–Based Processes 253
MODULE 3 BUSINESS PROCESSES
CHAPTER 8 Revenue and Cash Collection Processes and Controls 299
CHAPTER 9 Expenditures Processes and Controls—Purchases 363
CHAPTER 10 Expenditures Processes and Controls—Payroll and Fixed Assets 425
CHAPTER 11 Conversion Processes and Controls 473
CHAPTER 12 Administrative Processes and Controls 509
MODULE 4 IT INFRASTRUCTURE TO ENABLE PROCESSES
CHAPTER 13 Data and Databases 541
CHAPTER 14 E-Commerce and E-Business 577
CHAPTER 15 IT Infrastructure for E-Business 615
Index 649
See More
Cloud Computing topics added in several chapters.
Enhanced presentation of the components of internal control in Chapter 3 for consistency with proposed updates to the COSO framework.
More emphasis on continuous auditing in Chapter 7.
Updates in chapter 7 pertaining to the impact of IFRS on audit risk and the AICPA's new framework on service organization controls (including cloud providers).
Expanded discussion of data in Chapter 13, including the use of unstructured data and its impact on the size of databases.
Updated presentations of e-business, internet EDI, and XBRL in Chapter 14.
Increased coverage of segregation of duties in ERP systems and ERP control reports in Chapter 15.
Enhanced and updated "Real World" vignettes in most chapters.
See More
Writing Style: Designed to give students an appreciation for internal controls, this textbook introduces only the technology most necessary and the authors write in a style that makes these technical concepts easy to understand.
Process Maps: In addition to data flow diagrams and document flowcharts, Turner AIS introduces Process Maps which are a tool used in the real world that presents business processes in a clear, simple manner
Business Process Approach: Understanding that all systems are influenced by business process, this text emphasizes the "business" in business process so students have more context for the systems.
Continuing Case: Found at the end of all chapters.
Microsoft Dynamics GP screen shots illustrate AIS via a real computer system.
See More
Instructors Resources
Request a print evaluation copy
Contact us

Contact your Wiley Representative
Find Your Rep

See More
See Less
Purchase Options
Wiley E-Text

Accounting Information Systems: The Processes and Controls, 2nd Edition
ISBN : 978-1-118-54697-0
672 pages
December 2012, ©2013
Hardcover
Accounting Information Systems: The Processes and Controls, 2nd Edition
ISBN : 978-1-118-16230-9
688 pages
January 2013, ©2013

Information about Wiley E-Texts:
Wiley E-Texts are powered by VitalSource and accessed via the VitalSource Bookshelf reader, available online and via a downloadable app.
Wiley E-Texts are accessible online and offline, and can be read on a variety of devices, including smartphones and tablets.
Wiley E-Texts are non-returnable and non-refundable.
Wiley E-Texts are protected by DRM. For specific DRM policies, please refer to our FAQ.
WileyPLUS registration codes are NOT included with any Wiley E-Text. For informationon WileyPLUS, click here .
To learn more about Wiley E-Texts, please refer to our FAQ.

Information about e-books:
E-books are offered as e-Pubs or PDFs. To download and read them, users must install Adobe Digital Editions (ADE) on their PC.
E-books have DRM protection on them, which means only the person who purchases and downloads the e-book can access it.
E-books are non-returnable and non-refundable.
To learn more about our e-books, please refer to our FAQ.