Textbook
Event Marketing: How to Successfully Promote Events, Festivals, Conventions, and Expositions, 2nd Edition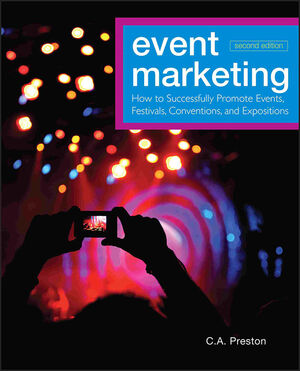 A modern, completely updated guide to effective event marketing
As the events market becomes increasingly saturated, it is essential for a successful event professional to understand the use of strategic marketing plans. Events are everywhere—in the U.S. alone, there are more than 2,500 music festivals a year, for example, while the UK hosts over 70 different beer festivals each year. In such a crowded market, how can the event planner ensure that his or her event stands out? Marketing expert Chris Preston has the answers in this second edition of Event Marketing. From the basics of promoting an event to the use of events as marketing strategies themselves, Preston provides straightforward advice and information on all the latest event marketing techniques. The book begins with sections on what "event marketing" really means, and how the field has evolved throughout time. Preston then explores event marketing strategies from both a conceptual and practical standpoint, and provides information on sponsorship and corporate branding. The book covers marketing for all types of events, including festivals, corporate and association events, and social functions, and a full chapter on digital event marketing covers all the latest e-marketing strategies. Case studies provide real-world examples of successful marketing efforts, while Discussion Questions for each chapter provide opportunities for further exploration of key concepts. As marketing becomes an increasingly important skill for event management professionals, this completely revised second edition of Event Marketing will be a must-have for working professionals, students, and aspiring event planners everywhere.
See More
Foreword—Liz Bigham viii
Series Editor Foreword—Dr. Joe Goldblatt, CSEP ix
Preface xi
In Appreciation Of xviii
1 What Is an Event and What Is Event Marketing? 1
2 The Evolution of Event Marketing 27
3 The Theory and Practice of Event Marketing 49
4 Sponsorship and Cause-Related Event Marketing 87
5 E-Event Marketing 111
6 Entertainment and Festival Event Marketing 137
7 Corporate Event Marketing 163
8 Association, Convention, and Exhibition Event Marketing 185
9 Social Event Marketing 211
10 Future Forces and Trends in Event Marketing 231
11 Event Marketing Case Studies 255
12 Resources 273
Index 294
See More
CHRIS PRESTON is the program leader of marketing for Queen Margaret University's School of Business, Enterprise and Management, in Edinburgh, Scotland. He has extensive experience in the academic world of marketing and events as well as a commercial marketing background at the corporate level.
The late Leonard Hoyle Jr., CAE, CMP, authored the first edition of this book. He was the dean of the American Society of Association Executives' School of Management, served as chairman of the Convention Industry Council, and was an adjunct professor at The George Washington University.
See More
Purchase Options
Wiley E-Text

Event Marketing: How to Successfully Promote Events, Festivals, Conventions, and Expositions, 2nd Edition
ISBN : 978-1-118-51384-2
320 pages
August 2012, ©2012
Hardcover
Event Marketing: How to Successfully Promote Events, Festivals, Conventions, and Expositions, 2nd Edition
ISBN : 978-0-470-89107-0
320 pages
March 2012, ©2012

Information about Wiley E-Texts:
Wiley E-Texts are powered by VitalSource and accessed via the VitalSource Bookshelf reader, available online and via a downloadable app.
Wiley E-Texts are accessible online and offline, and can be read on a variety of devices, including smartphones and tablets.
Wiley E-Texts are non-returnable and non-refundable.
Wiley E-Texts are protected by DRM. For specific DRM policies, please refer to our FAQ.
WileyPLUS registration codes are NOT included with any Wiley E-Text. For informationon WileyPLUS, click here .
To learn more about Wiley E-Texts, please refer to our FAQ.

Information about e-books:
E-books are offered as e-Pubs or PDFs. To download and read them, users must install Adobe Digital Editions (ADE) on their PC.
E-books have DRM protection on them, which means only the person who purchases and downloads the e-book can access it.
E-books are non-returnable and non-refundable.
To learn more about our e-books, please refer to our FAQ.