Textbook
Contested Knowledge: Social Theory Today, 5th Edition
August 2012, ©2012, Wiley-Blackwell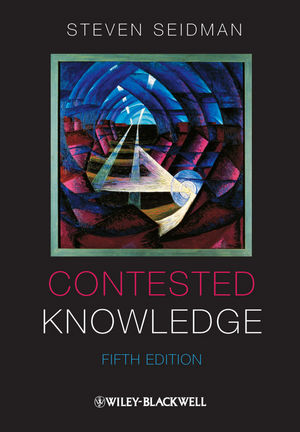 In the fifth edition
Contested Knowledge,
social theorist Steven Seidman presents the latest topics in social theory and addresses the current shift of 'universalist theorists' to networks of clustered debates.
Responds to current issues, debates, and new social movements
Reviews sociological theory from a contemporary perspective
Reveals how the universal theorist and the era of rival schools has been replaced by networks of clustered debates that are relatively 'autonomous' and interdisciplinary
Features updates and in-depth discussions of the newest clustered debates in social theory—intimacy, postcolonial nationalism, and the concept of 'the other'
Challenges social scientists to renew their commitment to the important moral and political role social knowledge plays in public life
Accompanied by a companion website for students at www.wiley.com/go/seidman featuring chapter outlines and useful web links; an instructor site can also be accessed which features password-protected PowerPoint teaching slides
See More
Preface vii
Acknowledgments x
Introduction 1
Part I The Rise of the Classical Tradition 7
Introduction to Part I 9
1 The Idea of a Science of Society: The Enlightenment and Auguste Comte 11
2 The Revolutionary Theory of Karl Marx 22
3 The Promise of Sociology: Emile Durkheim 36
4 The Ironic Social Theory of Max Weber 48
Afterword to Part I 61
Part II Rethinking the Classical Tradition: American Sociology 65
Introduction to Part II 67
5 The Grand Theory of Talcott Parsons, Peter Berger, and Thomas Luckmann 70
6 The Scientific Theory of Randall Collins and Peter Blau 86
7 The Moral Sociology of C. Wright Mills and Robert Bellah 97
Afterword to Part II 113
Part III Rethinking the Classical Tradition: European Theory 115
Introduction to Part III 117
8 The Critical Theory of Jürgen Habermas 119
9 Stuart Hall and British Cultural Studies 132
10 The Critical Sociology of Anthony Giddens and Pierre Bourdieu 140
Afterword to Part III 152
Part IV Revisions and Revolts: The Postmodern Turn 155
Introduction to Part IV 157
11 The Postmodern World of Jacques Derrida, Jean-François Lyotard, and Jean Baudrillard 159
12 Michel Foucault's Disciplinary Society 175
13 Zygmunt Bauman's Sociology of Postmodernity 188
Afterword to Part IV 197
Part V Revisions and Revolts: Identity Politics and Theory 201
Introduction to Part V 203
14 Feminist Theory/Masculinity Studies 205
15 Critical Race Theory/White Studies 226
16 Lesbian, Gay, and Queer Theory/Heterosexual Studies 239
17 Colonial Discourse Studies 254
Afterword to Part V 263
Part VI Revisions and Revolts: Theories of World Order 267
Introduction to Part VI 269
18 From Nation to Globe: David Held and Mary Kaldor 271
19 Global Capitalism: Immanuel Wallerstein and Manuel Castells 281
20 The Return of Empire? Michael Hardt and Antonio Negri, David Harvey and Michael Mann 290
Afterword to Part VI 300
Part VII The Rise of Postdisciplinary Theory 303
Introduction to Part VII 305
21 Theories of "the Other" 307
22 Intimate Life in the "West" 318
23 Nationalism and the Crisis of Postcolonial Nations 330
Afterword to Part VII 342
Index 345
See More
Steven Seidman is Professor of Sociology at State University of New York at Albany. He is a world-renowned social theorist working in the areas of social theory, culture, sexuality, comparative sociology, theory of democracy, nationalism, and globalization. He is the author and editor of several books, including Embattled Eros: Sexual Politics and Ethics in Contemporary America (1992), The Postmodern Turn: New Perspectives on Social Theory (editor, 1995), Queer Theory/Sociology (Blackwell, 1996), The New Social Theory Reader: Contemporary Debates (edited with Jeffrey C. Alexander, 2001), and Beyond the Closet: The Transformation of Gay and Lesbian Life (2002).
See More
"In this tour de force, Steven Seidman surveys social theory from Auguste Comte to Zygmunt Bauman via feminism, world systems theory, queer theory, post-colonialism and much more. It is not just a survey, but rather a plea for a public sociology that is relevant, committed and morally challenging. In a style of writing that is at once direct, personal and engaging, Seidman provides a penetrating overview of the state of sociology that is critical but optimistic. Contested Knowledge now in its fifth edition gets better with age."—Bryan S. Turner, The City University of New York 
"A very valuable update to this superb and exceptionally readable book. The new chapters are a significant contribution in their own right: the chapter on 'the Other' is a major achievement."—William Outhwaite, Newcastle University 
"In his spirited defense of theory as a moral enterprise, Steven Seidman offers insightful, penetrating, critical, but always fair assessments of the theoretical contributions of a wide range of theorists past and present.... Written with an enviable clarity, in a style that is at once lucid and engaging."—Peter Kivisto, Augustana College and University of Turku
See More
Purchase Options
Wiley E-Text

Contested Knowledge: Social Theory Today, 5th Edition
ISBN : 978-1-118-23186-9
368 pages
August 2012

Information about Wiley E-Texts:
Wiley E-Texts are powered by VitalSource and accessed via the VitalSource Bookshelf reader, available online and via a downloadable app.
Wiley E-Texts are accessible online and offline, and can be read on a variety of devices, including smartphones and tablets.
Wiley E-Texts are non-returnable and non-refundable.
Wiley E-Texts are protected by DRM. For specific DRM policies, please refer to our FAQ.
WileyPLUS registration codes are NOT included with any Wiley E-Text. For informationon WileyPLUS, click here .
To learn more about Wiley E-Texts, please refer to our FAQ.

Information about e-books:
E-books are offered as e-Pubs or PDFs. To download and read them, users must install Adobe Digital Editions (ADE) on their PC.
E-books have DRM protection on them, which means only the person who purchases and downloads the e-book can access it.
E-books are non-returnable and non-refundable.
To learn more about our e-books, please refer to our FAQ.