Textbook
The Science of Intimate Relationships
January 2013, ©2013, Wiley-Blackwell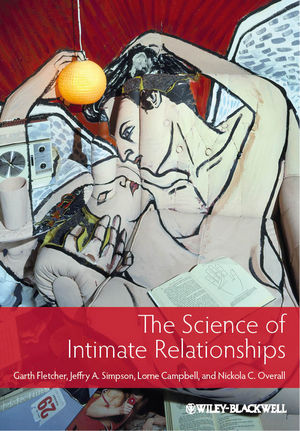 The Science of Intimate Relationships represents the first interdisciplinary approach to the latest scientific findings relating to human sexual relationships.
Offers an unusual degree of integration across topics, which include intimate relationships in terms of both mind and body; bonding from infancy to adulthood; selecting mates; love; communication and interaction; sex; passion;  relationship dissolution; and more
Summarizes the links among human nature, culture, and intimate relationships
Presents and integrates the latest findings in the fields of social psychology, evolutionary psychology, human sexuality, neuroscience and biology, developmental psychology, anthropology, and clinical psychology.
Authored by four leading experts in the field
Instructor materials are available at www.wiley.com/go/fletcher
See More
About the Authors xv
Preface xvi
Part One: Introduction 1
1 The Science of Intimate Relationships 3
2 Intimate Relationships in Context: Key Theories, Concepts, and Human Nature 14
Part Two: The Relationship Animal 39
3 The Intimate Relationship Mind 41
4 The Intimate Relationship Body 69
Part Three: Beginning Relationships: Att achment and Mate Selection 97
5 Born to Bond: from Infancy to Adulthood 99
6 Selecting Mates 125
Part Four: Maintaining Relationships:the Psychology of Intimacy 155
7 Love, Sweet Love 157
8 Reading Minds, Partners, and Relationships 184
9 Communication and Interaction 210
10 Sex and Passion 236
11 Relationship Violence 259
Part Five: Ending Relationships: the Causes and Consequences of Relationship Dissolution 285
12 Relationship Dissolution 287
Part Six: Conclusion 313
13 Assembling the Relationship Jigsaw 315
Glossary 327
References 338
Author Index 383
Subject Index 390
See More
Garth Fletcher is Professor of Psychology at Victoria University Wellington. He is a fellow of five societies including the Royal Society of New Zealand, the Association for Psychological Science, and the Society for Personality and Social Psychology, and has been associate editor of both Personal Relationships and Journal of Personality and Social Psychology. Fletcher has published over 100 articles and book chapters, and has authored and edited 6 books.   
Jeffry A. Simpson is Professor of Psychology and Director of the Doctoral Minor in Interpersonal Relationships (IREL) at the University of Minnesota. He has been the editor of the journal Personal Relationships and is currently the editor of Journal of Personality and Social Psychology: Interpersonal Relations and Group Processes (JPSP-IRGP). Simpson is the incoming president of the International Association for Relationship Research, and has published nearly 200 articles and chapters along with several edited books.
Lorne Campbell is Associate Professor of Psychology the University of Western Ontario. He has published over 40 articles and book chapters, serves on the editorial board of Journal of Personality and Social Psychology and Personality and Social Psychology Bulletin, and has been the editor of the journal Personal Relationships.
Nickola Overall
is Senior Lecturer of Psychology at the University of Auckland, New Zealand. She has published over 35 articles and book chapters, serves on the editorial board of the
Journal of Personality and Social Psychology
, and is currently associate editor for
Personal Relationships
.
See More
"This textbook would work well for a college class."  (Metapsychology Online Reviews, 29 July 2014)
"The text can be used academically at an advanced baccalaureate or graduate level. There is an equally well-organized e-study guide available as a Kindle download that highlights concepts to facilitate the memorization of terms. The book can also be drawn upon in arenas outside of academia. The busy clinician, for example, may find that the work is simply a good read while also encouraging currency with scientific domains falling outside of his or her immediate field."  (Journal of Sex & Marital Therapy, 22July 2014)
"Overall, The Science of Intimate Relationshipsserves as an important contribution to the array of books available in the field of relationship science. Its breadth of coverage would make it an excellent choice for college courses in intimate relationships, as noted above, as well as make it of interest to anyone wishing to have a good background in the science of romantic relationships."  (PsycCRITIQUES, 11 September 2013)
"…An essential read for budding relationships experts."  (Psychology Today, 30 April 2013)
"Fletcher and colleagues do an excellent job simplifying (but not oversimplifying) the sometimes very complex scientific literature on intimate relationships…The book succeeds in addressing relationships from several different perspectives, most notably social psychological, evolutionary, and neuroscientific. This produces a much broader approach than is seen in most other books on relationships. The book is highly interdisciplinary and foreshadows an emerging integrative science of intimate relationships."—Dr. Jon Maner, Director, Florida State University
"What makes this book distinctive is its strong, integrative theoretical underpinning and its coherent narrative style. The authors' approach is unabashedly scientific and the text makes it very clear that relationship science is exactly that. However, the text is also perfectly pitched for non-scientists, with each chapter telling a lucid, thought-provoking and deeply informative story – science writing at its most graceful and engaging. This is a truly great text that will stand as a benchmark for many years to come."—Professor Julie Fitness, Macquarie University
See More
Instructors Resources
Digital evaluation copy available for this title
Request Copy

Contact your Wiley Representative
Find Your Rep

See More
See Less
Purchase Options

Information about Wiley E-Texts:
Wiley E-Texts are powered by VitalSource and accessed via the VitalSource Bookshelf reader, available online and via a downloadable app.
Wiley E-Texts are accessible online and offline, and can be read on a variety of devices, including smartphones and tablets.
Wiley E-Texts are non-returnable and non-refundable.
Wiley E-Texts are protected by DRM. For specific DRM policies, please refer to our FAQ.
WileyPLUS registration codes are NOT included with any Wiley E-Text. For informationon WileyPLUS, click here .
To learn more about Wiley E-Texts, please refer to our FAQ.

Information about e-books:
E-books are offered as e-Pubs or PDFs. To download and read them, users must install Adobe Digital Editions (ADE) on their PC.
E-books have DRM protection on them, which means only the person who purchases and downloads the e-book can access it.
E-books are non-returnable and non-refundable.
To learn more about our e-books, please refer to our FAQ.