Textbook
Christian History
March 2013, ©2013, Wiley-Blackwell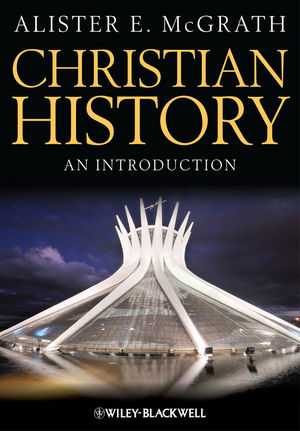 A major new introduction to the global history of Christianity, written by one of the world's leading theologians and author of numerous bestselling textbooks. 
Provides a truly global review by exploring the development of Christianity and related issues in Asia, Latin America and Africa, and not just focusing on Western concerns
Spanning more than two millennia and combining elements of theology, history, and culture, it traces the development of all three branches of Christianity – Catholic, Protestant, and Orthodox – providing context to Christianity's origins and its links to Judaism
Looks beyond denominational history at Christianity's impact on individuals, society, politics, and intellectual thought, as well as on art, architecture, and the natural sciences
Combines McGrath's acute historical sensibility with formidable organizational skill, breaking the material down into accessible, self-contained historical periods
Offers an accessible and student-oriented text, assuming little or no advance theological or historical knowledge on the part of the reader
See More
List of Maps and Illustrations xiii
How to Use This Book xv
1. The Early Church, 100–500 1
2. The Middle Ages and Renaissance, c. 500–c. 1500 71
3. Competing Visions of Reform, c. 1500–c. 1650 150
4. The Modern Age, c. 1650–1914 214
5. The Twentieth Century, 1914 to the Present 285
Where Next? 349
A Glossary of Christian Terms 351
Index 361
See More
Alister E. McGrath is Professor of Theology, Ministry and Education at King's College London, UK, and head of its Centre for Theology, Religion, and Culture. Prior to his current post, he was Professor of Historical Theology at Oxford University, UK. One of the world's leading theologians, he is the author of some of the most widely used textbooks on theology, including the bestselling Christian Theology: An Introduction (Wiley-Blackwell, 2010), now in its fifth edition, and Historical Theology, second edition (Wiley-Blackwell, 2012). He is much in demand as a speaker at conferences around the world.
See More
"As a work giving an introductory overview of historical theology and lived Christianity in a wider social and intellectual context, the work is excellent —useful for introductory orientation to specific topics (with a meticulously subdivided table of contents and subheads throughout)—and helpful for seeing longer through-lines and deeper continuities than one would see in more narrowly focused works." (Journal of Religious History, 6 December 2015)
"This book, ideal for seminarians but also for the non-professional Christian, is an incredible resource for helping Christians understand where our faith comes from, how it has developed and spread and survived as long as it has. Ultimately, this book is a great picture of the story of God working to advance his kingdom in the midst of broken humanity." (
Tom-farr.blogspot.com
, 1 August 2013)
See More
Instructors Resources
Digital evaluation copy available for this title
Request Copy

Contact your Wiley Representative
Find Your Rep

See More
See Less
Purchase Options
Christian History: An Introduction
ISBN : 978-1-118-33783-7
392 pages
December 2012
Paperback
Christian History: An Introduction
ISBN : 978-1-118-33780-6
392 pages
March 2013, ©2013
Hardcover
Christian History: An Introduction
ISBN : 978-1-118-33779-0
392 pages
March 2013
Christian History: An Introduction
ISBN : 978-1-118-51632-4
392 pages
January 2013

Information about Wiley E-Texts:
Wiley E-Texts are powered by VitalSource and accessed via the VitalSource Bookshelf reader, available online and via a downloadable app.
Wiley E-Texts are accessible online and offline, and can be read on a variety of devices, including smartphones and tablets.
Wiley E-Texts are non-returnable and non-refundable.
Wiley E-Texts are protected by DRM. For specific DRM policies, please refer to our FAQ.
WileyPLUS registration codes are NOT included with any Wiley E-Text. For informationon WileyPLUS, click here .
To learn more about Wiley E-Texts, please refer to our FAQ.

Information about e-books:
E-books are offered as e-Pubs or PDFs. To download and read them, users must install Adobe Digital Editions (ADE) on their PC.
E-books have DRM protection on them, which means only the person who purchases and downloads the e-book can access it.
E-books are non-returnable and non-refundable.
To learn more about our e-books, please refer to our FAQ.