Textbook
Textbook of Obesity: Biological, Psychological and Cultural Influences
May 2012, ©2012, Wiley-Blackwell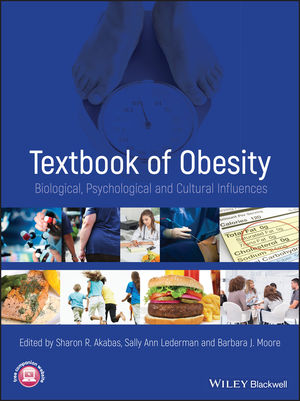 Textbook of Obesity is designed to cover all of the essential elements concerning the etiology, prevention and treatment of obesity suitable for students in nutrition, dietetics and health science courses. Providing core knowledge for students is an essential and urgent requirement to ensure that those graduating will be properly equipped to deal with the high prevalence of overweight and obesity, currently affecting almost two-thirds of the population of the USA and with prevalence in much of the rest of the world rapidly catching up.
This landmark text is organized into 5 parts comprising 27 chapters, each carefully written in a user-friendly style by experts in the area.  Part I helps the reader to understand the scope and complexity of the problem of obesity. Part II focuses on obesity etiology. Part III examines the health consequences of obesity for both children and adults.  Part IV discusses the challenge of assessing obesity in humans and offers insights into community factors that influence the risk of obesity.  Finally, Part V dedicates 13 chapters to a discussion of a wide variety of obesity prevention and treatment interventions that are currently in use.
Textbook of Obesity is an essential purchase for students and the many health professionals dealing with obesity on a day-to-day basis. A dedicated companion website features an extensive bank of questions and answers for readers to test their understanding, and all of the book's illustrations for instructors to download:  www.wiley.com/go/akabas/obesity
See More
Contributors vii
Foreword x
Acknowledgments xi
Glossary xii
Introduction 1
Part I Understanding the Scope 3
1 Epidemiology, etiology, and consequences of obesity 5
Barbara J. Moore and Xavier Pi-Sunyer
2 Cultural attitudes and biases toward obese persons 42
Janet D. Latner, Rebecca M. Puhl, and Albert J. Stunkard
3 The application of public health lessons to stemming the obesity epidemic 58
Rodney Lyn, Barbara J. Moore, and Michael Eriksen
4 Psychodynamic approaches to the treatment of obesity 84
Bonnie Bernstein and Edward Mandelbaum
Part II Etiology 93
5 Genetic contributions to the development of obesity 95
Daniel Shriner, Issa Coulibaly, Georgina Ankra-Badu, Tesfaye M. Baye, and David B. Allison
6 Hidden persuaders: environmental contributors to obesity 108
Brian Wansink
7 White adipose tissue as a dynamic organ 123
Aliki Kosteli and Anthony W. Ferrante Jr.
8 Appetite and body weight regulation 133
Joseph R. Vasselli
9 Eating behaviors in obesity: the role of appetite 161Susan Carnell, Leora Benson, and Jane Wardle

10 The relation of pregnancy and lactation to obesity development in the mother and child 181
Sally Ann Lederman
Part III Health Consequences 197
11 Effect of obesity on development and health in childhood 199
Ileana Vargas and Sharron Dalton
12 Impact of obesity during adulthood on chronic disease: diabetes, hypertension, metabolic syndrome, cardiovascular disease, and cancer 209
Jeanine B. Albu
Part IV Assessment 221
13 Measurement of human body composition to assess obesity 223
Dympna Gallagher and Jung-Eun Yim
14 Assessment of obesity risk in the community 239
Carmen R. Isasi, Nichola Davis, and Judith Wylie-Rosett
Part V Prevention and Intervention Approaches and Settings 251
15 Behavioral approaches to the treatment of obesity 253
Meghan L. Butryn, Vicki L. Clark, and Maria C. Coletta
16 Non-dieting approaches to the treatment of obesity 273
Melissa A. Napolitano and Gary D. Foster
17 Dietary intervention approaches to the treatment of obesity 295
Cathy A. Nonas and Karen Reznik Dolins
18 Pharmacological approaches to the treatment of obesity 310
George A. Bray
19 Surgical treatment of severe obesity: patient selection and screening, surgical options, and nutritional management 320
Marc Bessler, Daniel Davis, Beth Schrope, Akuenzunkpa Ude, Nancy L. Restuccia, Meredith Urban-Skuro, and Mary DiGiorgi
20 Metabolic consequences of weight reduction 333
Michael Rosenbaum
21 The role of physical activity in weight loss and weight loss maintenance 344
Jamile A. Ashmore, Georita Frierson, and Steven N. Blair
22 The challenge of weight loss maintenance: successful losers 354
Rena R. Wing and James O. Hill
23 Treatment of obesity in the primary care setting 365
Louis J. Aronne and Judy Townsend
24 Worksite health promotion for obesity prevention 374
Wahida Karmally and Megan Tubman
25 Treatment of overweight and obesity in children 384
Sharron Dalton and Ileana Vargas
26 School-based interventions for overweight and obesity prevention 400
Isobel R. Contento, Pamela A. Koch, and Angela Calabrese-Barton
27 Preventing childhood obesity: It Takes a Nation 424
Barbara J. Moore, I. J. Frame, and Ninia Baehr
Index 463
Companion website: Textbook of Obesity
This book is accompanied by a companion website: www.wiley.com/go/akabas/obesity
The website includes:
• Extensive bank of Questions and Answers
• All figures from the book for downloading
• Note-taking outline for each chapter
• Webliography
See More
"It also provides useful background information when assessing employees on return to work following surgical treatment for severe obesity, or advising those considering such treatments. It is recommended as a reference book, with the health warning that the statistics, case examples and demographic data are specific to the USA."  (Occupational Medicine, 4 October 2012)
See More
Purchase Options
Textbook of Obesity: Biological, Psychological and Cultural Influences
ISBN : 978-1-118-31838-6
520 pages
March 2012
Hardcover
Textbook of Obesity: Biological, Psychological and Cultural Influences
ISBN : 978-0-470-65588-7
504 pages
May 2012
Textbook of Obesity: Biological, Psychological and Cultural Influences
ISBN : 978-1-118-31842-3
504 pages
January 2013

Information about Wiley E-Texts:
Wiley E-Texts are powered by VitalSource and accessed via the VitalSource Bookshelf reader, available online and via a downloadable app.
Wiley E-Texts are accessible online and offline, and can be read on a variety of devices, including smartphones and tablets.
Wiley E-Texts are non-returnable and non-refundable.
Wiley E-Texts are protected by DRM. For specific DRM policies, please refer to our FAQ.
WileyPLUS registration codes are NOT included with any Wiley E-Text. For informationon WileyPLUS, click here .
To learn more about Wiley E-Texts, please refer to our FAQ.

Information about e-books:
E-books are offered as e-Pubs or PDFs. To download and read them, users must install Adobe Digital Editions (ADE) on their PC.
E-books have DRM protection on them, which means only the person who purchases and downloads the e-book can access it.
E-books are non-returnable and non-refundable.
To learn more about our e-books, please refer to our FAQ.