Textbook
Exploring Immunology: Concepts and Evidence
May 2012, ©2012, Wiley-Blackwell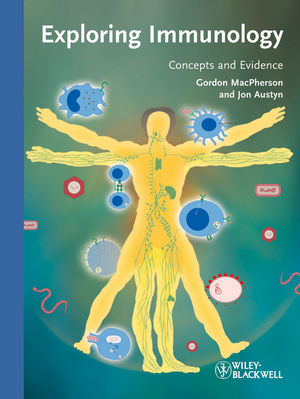 This concise introductory textbook uses carefully chosen examples from clinical and experimental observations to provide an insight into the principles underlying the immune system. As a result, it encourages readers to ask critical questions in order to further advance our understanding of this unique organ. Both authors are experienced lecturers and highly regarded researchers.
The book is professionally illustrated in four color throughout with beautiful artwork which by itself distinguish the title from any comparable title.
Website:
www.wiley-vch.de/home/immunology

See More
INTRODUCTION
Introduction
Immune Responses
Infection and Immunity
Immunopathology and Immunotherapy
Exploring Immunology
THE IMMUNE SYSTEM
Introduction
Host Defence Against Infection
Anatomical Basis of Immunity
Cellular Basis of Immunity
Molecular Basis of Immunity
Immune Responses and Disease
INFECTION AND IMMUNITY
Introduction
Pathogens and Infectious Disease
Host Defence Against Infection
Infection and Immunity in Action
Immunity and Vaccines
FUNCTIONAL ANATOMY OF THE IMMUNE SYSTEM
Introduction
Natural Barriers
Functional Anatomy of Innate Immunity
Functional Anatomy of Adaptive Immunity
Development of Blood Cells and Organs of Immunity
Stem Cell and Gene Therapy
INNATE IMMUNITY
Introduction
Induction of Innate Immunity
"Tissue-Resident Cells" of Innate Immunity
Recruited Effectors of Innate Immunity
Haematopoiesis and Myeloid Cells
Vaccines and Adjuvants
T CELL-MEDIATED IMMUNITY
Introduction
Major Histocompatibility Complex and Antigen Presentation
T Lymphocyte Activation
Effector and Memory Functions of T Cells in Infection
T Cell Development and Selection
Adoptive Cell Therapy
ANTIBODY-MEDIATED IMMUNITY
Introduction
Antibody Structure and Function
B Cell Responses
B Cell Memory, Antibodies and Long-Term Resistance to Re-Infection
Cell Differentiation and Selection
Therapeutic Antibodies
IMMUNITY, DISEASE AND THERAPY
Introduction
What are the Mechanisms of Tissue Damage Caused by the Immune System?
Why Do We Make Harmful Immune Responses to Harmless Antigens?
Immunopathology and Therapy in Action
Transplantation Immunology
Tumour Immunity
Conclusions

ANSWERS TO THE QUESTIONS

FURTHER STUDY QUESTIONS
See More
Gordon MacPherson is Reader in Experimental Pathology at the Sir William Dunn School of Pathology, University of Oxford and Tutor in Medicine, Oriel College Oxford. He has taught immunology to medical students for over 30 years in lectures, practical classes and tutorials at both introductory and Honours levels. He teaches all aspects of immunology, and in tutorials also covers microbiology and general pathology. His research interests are in immune regulation, particularly mucosal immunity, and the properties and roles of dendritic cells. He has published many papers (experimental and reviews) and has been an invited speaker at many international conferences

Jon Austyn is Professor of Immunobiology in the Nuffield Department of Surgery at the University of Oxford. He has taught extensively in all areas of fundamental immunology over many years, and designed the MSc course in Integrated Immunology at the University of Oxford, which he now co-directs. Jon Austyn has over 25 years research experience of dendritic cell immunobiology, particularly as applied to transplantation, infectious diseases and more recently cancer. He was recently awarded with distinction the Diploma in Learning and Teaching in Higher Education by the University of Oxford.

See More
"I recommend it highly to all aspiring immunologists."  (The Biologist, 1 February 2013)
"I cannot do less than to honestly recommend it."  (European Journal of Immunology, 1 December 2012)
"However, the authors also address readers at a higher professional level.  Indeed, it might be interesting for them, too, because Exploring Immunologyis a book whose title keeps its promise."  (Lab Times, 1 November 2012)
See More
Instructors Resources
Request a print evaluation copy
Contact us

Contact your Wiley Representative
Find Your Rep

See More
See Less
Purchase Options
Exploring Immunology: Concepts and Evidence
ISBN : 978-3-527-33577-0
372 pages
March 2013
Paperback
Exploring Immunology: Concepts and Evidence
ISBN : 978-3-527-32412-5
372 pages
May 2012, ©2012
Exploring Immunology: Concepts and Evidence
ISBN : 978-3-527-67313-1
372 pages
March 2013

Information about Wiley E-Texts:
Wiley E-Texts are powered by VitalSource and accessed via the VitalSource Bookshelf reader, available online and via a downloadable app.
Wiley E-Texts are accessible online and offline, and can be read on a variety of devices, including smartphones and tablets.
Wiley E-Texts are non-returnable and non-refundable.
Wiley E-Texts are protected by DRM. For specific DRM policies, please refer to our FAQ.
WileyPLUS registration codes are NOT included with any Wiley E-Text. For informationon WileyPLUS, click here .
To learn more about Wiley E-Texts, please refer to our FAQ.

Information about e-books:
E-books are offered as e-Pubs or PDFs. To download and read them, users must install Adobe Digital Editions (ADE) on their PC.
E-books have DRM protection on them, which means only the person who purchases and downloads the e-book can access it.
E-books are non-returnable and non-refundable.
To learn more about our e-books, please refer to our FAQ.