Textbook
Exploring the Solar System
March 2012, ©2011, Wiley-Blackwell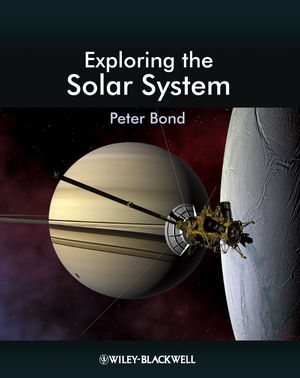 The exploration of our solar system is one of humanity's greatest scientific achievements. The last fifty years in particular have seen huge steps forward in our understanding of the planets, the sun, and other objects in the solar system. Whilst planetary science is now a mature discipline - involving geoscientists, astronomers, physicists, and others – many profound mysteries remain, and there is indeed still the tantalizing possibility that we may find evidence of life on another planet in our system.Drawing upon the latest results from the second golden age of Solar System exploration, author Peter Bond provides an authoritative and up-to-date account of the planets, satellites and smaller debris that orbit the Sun.
Written in an informal style, with minimal use of mathematics, this book is the ideal introductory text for non-science students and other readers with little or no science background. With the aid of numerous illustrations, many in full colour, this exciting book brings to life the weird and wonderful worlds that populate our corner of the Universe.
This book:
Assumes no background in physics , astronomy or mathematics
Carefully explains key concepts
Gives balanced coverage to areas of controversy or uncertainty in planetary science
Is in in full color throughout and richly illustrated
An interview with Peter can be found at http://wisciblog.com/2012/02/28/exploring-the-solar-system/ 
See More
Introduction 1
1 Beginnings 3
2 Sun 23
3 Earth 52
4 The Moon 86
5 Mercury 112
6 Venus 133
7 Mars 156
8 Jupiter 210
9 Saturn 243
10 Uranus 281
11 Neptune 298
12 Pluto and the Kuiper Belt 314
13 Comets, Asteroids and Meteorites 335
14 Exoplanets 379
Appendices 412
Glossary 432
Further Reading 437
Index 450
See More
Award winning author, Peter Bond, is a Fellow of both the Royal Astronomical Society and the British Interplanetary Society. He has written 10 books and hundreds of articles about astronomy, space exploration and planet Earth, and contributed to, or edited, numerous others. Peter has been a consultant and writer for the European Space Agency for many years, and was a press officer for the Royal Astronomical Society 1995-2007.
See More
"This is an excellent account of our present knowledge of the Solar System. The text is clearly written, and the full-colour illustrations are magnificent and each one has a substantial caption...I recommend it to all who know little or nothing about the Solar System." (
The Observatory
, March 2013)
"This textbook is right up to date, containing many recent results from our robotic emissaries currently exploring Venus, Mars and the Saturnian system, especially the astounding discoveries the Cassini-Hygens mission has made about the moons Titan and Enceladus."  (
BBC Sky At Night
, 1 June 2012)
"The book would make an excellent introduction to the planets, and the focus on exploration offers a different, less structured approach to an exciting and active research field, that will appeal to the interested non-specialist as well as students in the field."  (Astronomy & Geophysics, 2012)
"I highly recommend the accessible and very informative book Exploring the Solar System by Peter Bond, to undergraduate students in science or in non-science related fields, and anyone in the general public seeking an understandable yet comprehensive overview of the Solar System. This book provides the up to the minute information about the Sun's family that will enrich your understanding of science in general, and outer space in particular."  (Blog Business Word, 31 March 2012)
See More
Students Resources
Wiley Student Companion Site
See More
See Less
Purchase Options
Exploring the Solar System
ISBN : 978-1-4443-9836-6
456 pages
February 2012
Paperback
Exploring the Solar System
ISBN : 978-1-4051-3499-6
456 pages
March 2012
Hardcover
Exploring the Solar System
ISBN : 978-1-4443-5108-8
456 pages
March 2012
Exploring the Solar System
ISBN : 978-1-118-31361-9
456 pages
January 2013

Information about Wiley E-Texts:
Wiley E-Texts are powered by VitalSource and accessed via the VitalSource Bookshelf reader, available online and via a downloadable app.
Wiley E-Texts are accessible online and offline, and can be read on a variety of devices, including smartphones and tablets.
Wiley E-Texts are non-returnable and non-refundable.
Wiley E-Texts are protected by DRM. For specific DRM policies, please refer to our FAQ.
WileyPLUS registration codes are NOT included with any Wiley E-Text. For informationon WileyPLUS, click here .
To learn more about Wiley E-Texts, please refer to our FAQ.

Information about e-books:
E-books are offered as e-Pubs or PDFs. To download and read them, users must install Adobe Digital Editions (ADE) on their PC.
E-books have DRM protection on them, which means only the person who purchases and downloads the e-book can access it.
E-books are non-returnable and non-refundable.
To learn more about our e-books, please refer to our FAQ.