Textbook
Gregory's Pediatric Anesthesia, 5th Edition
February 2012, ©2012, Wiley-Blackwell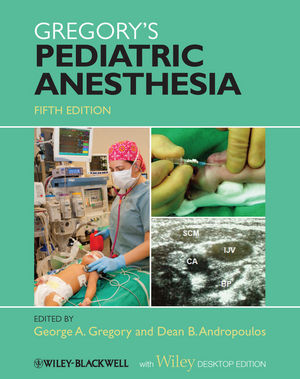 Overcome the risks to ensure safe anesthesia in your young patients
The surgical options for children, from birth through adolescence, have mushroomed in recent years. The challenges to anesthetists have consequently increased in scope and complexity. The 5th edition of Gregory's Pediatric Anesthesia introduces you to the basics of pediatric anesthesia, and how they are applied to contemporary practice both in and out of the operating room. The evidence-based approach is supplemented by in-depth case studies that spotlight best-practice in action across all the major subspecialties. New to this edition are:
Developmental physiology of individual organ systems
Fetal surgery
Spine surgery
Post-anesthesia Care Unit management
Complications
Neurotoxicity
Communication, databases and electronic records
Purchase includes an enhanced Wiley Desktop Edition*. This is an interactive digital version featuring:
all text and images in fully searchable form
integrated videos of procedures
highlighting and note taking facilities
book marking
linking to additional references
Edited by true leaders in the field of pediatric anesthesia, with contributions from internationally renowned physicians, Gregory's Pediatric Anesthesia remains the most complete resource available for your training, practice and continuing education.
*Full instructions for downloading your digital Wiley DeskTop Edition are inside the book.
See More
List of Contributors, vii
Preface, xii
List of Abbreviations, xiii
Part 1 Principles of Pediatric Anesthesia
1 Ethical Considerations, 1
David B. Waisel
2 History of Pediatric Anesthesia, 15
Burdett S. Dunbar & Dean B. Andropoulos
3 Educating Pediatric Anesthesiologists: What's Best for the Kids?, 27
Alan Jay Schwartz
4 An Introduction to the Ethical Design, Conduct, and Analysis of Pediatric Clinical Trials, 40
Myron Yaster, Jeffrey Galinkin & Mark S. Schreiner
5 Developmental Physiology of the Cardiovascular System, 60
Wanda C. Miller-Hance, Ivan Wilmot & Dean B. Andropoulos
6 Developmental Physiology of the Respiratory System, 95
Susan H. Guttentag, Maria Victoria Fraga & Dean B. Andropoulos
7 Developmental Physiology of the Central Nervous System, 117
Ken M. Brady, R. Blaine Easley & Bruno Bissonnette
8 Developmental Physiology of the Liver, Gastrointestinal Tract, and Renal System, 139
Peter N. Bromley, Ellen Rawlinson & James Bennett
9 Pharmacology, 168
Jean X. Mazoit
10 Fluids, Electrolytes, and Nutrition, 205
Claire Brett & Danton Charr
11 Coagulation, Bleeding, and Blood Transfusion, 224
Bruce E. Miller & Jeanne E. Hendrickson
12 Cardiopulmonary Resuscitation, 255
Todd J. Kilbaugh, Alexis A. Topjian, Robert M. Sutton, Vinay M. Nadkarni & Robert A. Berg
Part 2 Pediatric Anesthesia Management
13 Preoperative Evaluation and Preparation, Anxiety, Awareness, and Behavior Change, 273
Andrew Davidson, Kelly Howard, William Browne, Walid Habre & Ursula Lopez
14 Pediatric Airway Management, 300
John E. Fiadjoe, Paul A. Stricker & Ronald S. Litman
15 Induction, Maintenance, and Emergence from Anesthesia, 330
Jerrold Lerman, Venkata Sampathi & Stacey Watt
16 Postanesthesia Care Unit Management, 361
Warwick Ames & Allison Kinder Ross
17 Monitoring and Vascular Access, 381
Dean B. Andropoulos
18 Pediatric Regional Anesthesia, 419
Claude Ecoffey
Part 3 Practice of Pediatric Anesthesia
19 Anesthesia for Fetal Intervention and Surgery, 444
Mark D. Rollins & Mark A. Rosen
20 Anesthesia for Premature Infants, 475
George A. Gregory
21 Anesthesia for the Full-Term and Ex-Premature Infant, 497
Neil S. Morton, Ross Fairgrieve, Anthony Moores & Ewan Wallace
22 Anesthesia for the Adolescent and Young Adult Patient, 520
Loren A. Bauman, Joseph R. Tobin & Dean B. Andropoulos
23 Anesthesia for Neurosurgical Procedures, 540
Bruno Bissonnette, Ken M. Brady & R. Blaine Easley
24 Anesthesia for Thoracic Surgery, 569
Grant McFadyen, Stefan Budac, Michael Richards & Lynn D. Martin
25 Anesthesia for Congenital Heart Disease, 588
Kirsten C. Odegard, James A. DiNardo & Peter C. Laussen
26 Anesthesia for Spinal Surgery in Children, 654
Joseph D. Tobias
27 Anesthesia for Transplantation, 678
Stephen A. Stayer, Glynn Williams & Dean B. Andropoulos
28 Anesthesia for Abdominal Surgery, 720
Lena S. Sun, Neeta R. Saraiya & Philipp J. Houck
29 Anesthesia for Pediatric Urological Procedures, 740
Ira S. Landsman, Laura N. Zeigler & Jayant K. Deshpande
30 Anesthesia for Orthopedic Surgery, 757
Cathy Lammers & Cecile Wyckaert
31 Eyes, Ears, Nose, and Throat Surgery, 777
Olutoyin A. Olutoye & Mehernoor F. Watcha
32 Anesthesia for Plastic and Craniofacial Surgery, 810
Ehrenfried Schindler, Markus Martini & Martina Messing-Jünger
33 Pain Management in Children, 845
Charles Berde & Christine Greco
34 Outpatient Anesthesia, 875
Joseph A. Scattoloni, Olubukola O. Nafiu & Shobha Malviya
35 Anesthesia for Burns and Trauma, 896
Patrick J. Guffey & Dean B. Andropoulos
36 Anesthesia and Sedation Outside the Operating Room, 919
Robert S. Holzman & Keira P. Mason
37 Pediatric Intensive Care, 946
Patrick A. Ross, Robert Bart III & Randall C. Wetzel
38 Anesthesia for the Patient with a Genetic Syndrome, 993
David Mann, Priscilla J. Garcia & Dean B. Andropoulos
39 Pediatric Anesthesia in Developing Countries, 1140
Adrian T. Bosenberg
Part 4 Quality, Outcomes, and Complications in Pediatric Anesthesia
40 Clinical Complications in Pediatric Anesthesia, 1152
Randall Flick
41 Impact of Pediatric Surgery and Anesthesia on Brain Development, 1183
Andreas W. Loepke & Sulpicio G. Soriano
42 Patient Simulation and Its Use in Pediatric Anesthesia, 1219
Anita Honkanen & Michael Chen
43 Databases and Outcome Research in Pediatric Anesthesia, 1239
Donald C. Tyler, Laura Schleelein & Harshad Gurnaney
44 Electronic Anesthesia and Medical Records, 1257
James Edward Caldwell & David Robinowitz
45 Operating Room Safety, Communication, and Teamwork, 1279
Thomas L. Shaw & Stephen A. Stayer
Appendix A: Pediatric Anesthesia Drugs and Other Treatments in the Perioperative Period, 1293
Dean B. Andropoulos
Appendix B: Pediatric Normal Laboratory Values, 1300
Dean B. Andropoulos
Index, 1315
See More
Dean B Andropoulos, MD,
Texas Children's Hospital, Baylor College of Medicine, Houston, TX, USA
George A Gregory, MD, Department of Anesthesia, University of California, San Francisco, CA, USA
See More
"Clearly this book will be ideal for reference in departmental and hospital libraries and I will be recommending this to ours."  (Royal College of Obstetricians and Gynaecologists, 1 April 2013)
See More
Chapter
Page
Details
Date
Print Run
940
Error on P140
There is an error on p. 940. The first sentence of the paragraph beginning line 6, second column should read: With dexmedetomidine administered at induction doses of 2 - 3 MCG/kg over 10 min followed by an infusion of 1.5 - 2 mCg/kg/HR, up to a 97.6% success rate for MRI scans has been reported.
05/12/2012
See More
Purchase Options
Gregory's Pediatric Anesthesia, 5th Edition
ISBN : 978-1-4443-4516-2
1376 pages
December 2011
Hardcover
Gregory's Pediatric Anesthesia, With Wiley Desktop Edition, 5th Edition
ISBN : 978-1-4443-3346-6
1376 pages
February 2012
Gregory's Pediatric Anesthesia, 5th Edition
ISBN : 978-1-118-22788-6
1376 pages
February 2013

Information about Wiley E-Texts:
Wiley E-Texts are powered by VitalSource and accessed via the VitalSource Bookshelf reader, available online and via a downloadable app.
Wiley E-Texts are accessible online and offline, and can be read on a variety of devices, including smartphones and tablets.
Wiley E-Texts are non-returnable and non-refundable.
Wiley E-Texts are protected by DRM. For specific DRM policies, please refer to our FAQ.
WileyPLUS registration codes are NOT included with any Wiley E-Text. For informationon WileyPLUS, click here .
To learn more about Wiley E-Texts, please refer to our FAQ.

Information about e-books:
E-books are offered as e-Pubs or PDFs. To download and read them, users must install Adobe Digital Editions (ADE) on their PC.
E-books have DRM protection on them, which means only the person who purchases and downloads the e-book can access it.
E-books are non-returnable and non-refundable.
To learn more about our e-books, please refer to our FAQ.