Textbook
The Copywriter's Toolkit - The Complete Guide to Strategic Advertising Copy
August 2012, ©2012, Wiley-Blackwell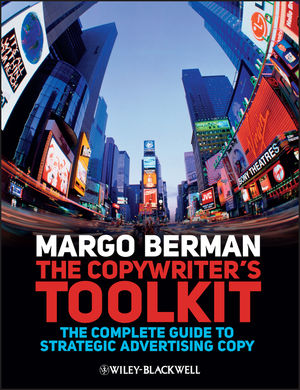 Written from a real-world perspective by an award-winning copywriter/producer/director, this comprehensive guide is what every writer needs to create powerful, strategic ad copy. Focusing on strategy, technique, and the skills needed to write for different media,
The Copywriter's Toolkit
book will sharpen your copywriting skills whatever your level.
Introduces essential conceptual strategies and key writing techniques for result-driven copy
Provides practical advice on writing for specific media including: print, radio, TV, websites, blogs, social media, ambient, digital, direct mail, product packaging, and viral marketing
Covers all areas of copy  development: on-strategy and on-target messaging; headline and slogan creation; brand personality and tone of voice; broadcast production conceptualization and print / digital typesetting consideration
Presents innovative visual examples from exciting multimedia campaigns, comments from copywriters at world-renowned agencies, inspiring radio scripts, TV scripts and storyboards, effective blog posts, imaginative package copy, and more 
Shares invaluable writing tips and insights from award-winning copywriters currently at global agencies 
Includes supplementary website an instructor's manual, sample syllabus, PowerPoint presentations, and creative assignments, as well as student study aids, flashcards, podcasts and/or webinars by the author, and links to sample and featured campaigns, agencies, and related videos
See More
1 THE PERSUASIVE WORD: strategy ABCs: audience, benefits, and creative briefs 1
2 THE STRATEGIC WORD: strategy categories 15
3 THE CHOSEN WORD: writing techniques 32
4 THE STICKY WORD: headline and slogan techniques 44
5 THE WRITTEN WORD: print 59
6 THE SPOKEN WORD: radio 85
7 THE ANIMATED WORD: television 115
8 THE DELIVERED AND ABRIDGED WORD: direct mail, mobile, and small-space writing 167
9 THE AMBIENT AND MOVING WORD: out-of-home and transit 196
10 THE ONLINE COMMUNAL WORD: digital dialogue, virtual community, blogging 224
11 THE ONLINE WORD: websites 242
12 THE BUZZ WORD: interactive engagement, social media, viral marketing 265
13 THE MULTIMEDIA WORD: integrated campaigns 289
14 THE GLOBAL WORD: multicultural and international campaigns 314
See More
Margo Berman is a professor of advertising at Florida International University. She has more than twenty years of experience as an award-winning creative director and copywriter. She is the author of Street-Smart Advertising: How to Win the Battle of the Buzz (2010) and co-author (with Robyn Blakeman) of The Brains Behind Great Ad Campaigns: Creative Collaboration between Copywriters and Art Directors (2009).
See More
"From strategy fundamentals to executional tips from some of the industry's best, beginning writers and veterans alike will appreciate using
The Copywriter's Toolkit
to help them get started—or even clear away the cobwebs."—
Tom Denari, President, Young & Laramore
"The Copywriter's Toolkit is one of the few books I have read that applies to the meeting room as much as the classroom.  I found the relationship between strategy and execution to be right on.  I highly recommend it."—Joe Zubizarreta, CEA, Zubi Advertising Services
"Berman has succeeded in explaining the entire, global, advertising ecosystem in one comprehensive, easy-to-read book."—Pippa Seichrist, President, Cofounder, Miami Ad School
See More
Instructors Resources
Request a print evaluation copy
Contact us

Contact your Wiley Representative
Find Your Rep

See More
See Less
Purchase Options

Information about Wiley E-Texts:
Wiley E-Texts are powered by VitalSource and accessed via the VitalSource Bookshelf reader, available online and via a downloadable app.
Wiley E-Texts are accessible online and offline, and can be read on a variety of devices, including smartphones and tablets.
Wiley E-Texts are non-returnable and non-refundable.
Wiley E-Texts are protected by DRM. For specific DRM policies, please refer to our FAQ.
WileyPLUS registration codes are NOT included with any Wiley E-Text. For informationon WileyPLUS, click here .
To learn more about Wiley E-Texts, please refer to our FAQ.

Information about e-books:
E-books are offered as e-Pubs or PDFs. To download and read them, users must install Adobe Digital Editions (ADE) on their PC.
E-books have DRM protection on them, which means only the person who purchases and downloads the e-book can access it.
E-books are non-returnable and non-refundable.
To learn more about our e-books, please refer to our FAQ.