Textbook
Conservation of Wildlife Populations: Demography, Genetics, and Management, 2nd Edition
December 2012, ©2013, Wiley-Blackwell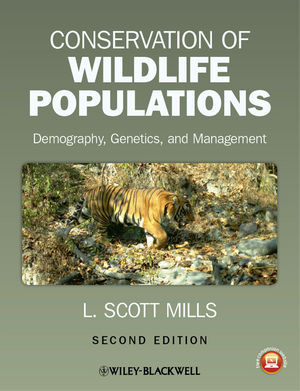 Population ecology has matured to a sophisticated science with astonishing potential for contributing solutions to wildlife conservation and management challenges.  And yet, much of the applied power of wildlife population ecology remains untapped because its broad sweep across disparate subfields has been isolated in specialized texts.  In this book, L. Scott Mills covers the full spectrum of applied wildlife population ecology, including genomic tools for non-invasive genetic sampling, predation, population projections, climate change and invasive species, harvest modeling, viability analysis, focal species concepts, and analyses of connectivity in fragmented landscapes. With a readable style, analytical rigor, and hundreds of examples drawn from around the world, Conservation of Wildlife Populations (2nd ed) provides the conceptual basis for applying population ecology to wildlife conservation decision-making.  Although targeting primarily undergraduates and beginning graduate students with some basic training in basic ecology and statistics (in majors that could include wildlife biology, conservation biology, ecology, environmental studies, and biology), the book will also be useful for practitioners in the field who want to find - in one place and with plenty of applied examples - the latest advances in the genetic and demographic aspects of population ecology.

Additional resources for this book can be found at: www.wiley.com/go/mills/wildlifepopulations.
See More
List of boxes ix
Preface to second edition xi
Preface to first edition xii
List of symbols xiv
Acknowledgments for second edition xv
Acknowledgments for first edition xvi
PART I BACKGROUND TO APPLIED POPULATION BIOLOGY 1
1 The big picture: human population dynamics meet applied population biology 3
2 Designing studies and interpreting population biology data: how do we know what we know? 14
3 Genetic concepts and tools to support wildlife population biology 33
4 Estimating population vital rates 54
PART II POPULATION PROCESSES: THE BASIS FOR MANAGEMENT 77
5 The simplest way to describe and project population growth: exponential or geometric
change 79
6 All stage classes are not equal in their effects on population growth: structured
population-projection models 98
7 Density-dependent population change 126
8 Predation and wildlife populations 142
9 Genetic variation and fi tness in wildlife populations 154
10 Dynamics of multiple populations 175
PART III APPLYING KNOWLEDGE OF POPULATION PROCESSES TO PROBLEMS OF DECLINING, SMALL, OR HARVESTABLE POPULATIONS 199
11 Human-caused stressors: deterministic factors affecting populations 201
12 Predicting the dynamics of small and declining populations 224
13 Focal species to bridge from populations to ecosystems 244
14 Population biology to guide sustainable harvest 251
Summary 266
Further Reading 267
Epilogue 269
References 271
Index 301
Colour Plates fall between page 160 and 16
See More
L. Scott Mills is a Professor in the Wildlife Biology Program at The University of Montana. He was a 2009 John Simon Guggenheim Fellow, has received multiple NSF Awards, served on the Board of Governors for the North American Section of the Society for Conservation Biology, and has testified to Congress about the role of ethics in wildlife population biology research. Mills was an invited contributor to the 2007 Intergovernmental Panel on Climate Change Report (IPCC) report, and to the Western Governors' Association Climate Change Working Group. His research and teaching integrates field studies with population models and genetic analyses to understand effects of human perturbations on wildlife populations. Mills' research on wildlife around the world – from snowshoe hares to marmots, mice to coyotes, bighorn sheep to snow leopards and tigers - has been covered in media outlets including Newsweek, National Geographic, The New York Times, Discovery Channel Canada, Science News, National Public Radio, Nature, Science, and The Nature of Things with David Suzuki.
See More
"Once again, Conservation of Wildlife Populations: Demography, Genetics, and Management is a great contribution to the current wildlife literature and will no doubt prove to be an excellent and indispensible resource when training wildlife biologists, upper level undergraduate students, and graduate students." (The Journal of Wildlife Management, 2 January 2015)
"As a class text it offers an extremely useful and stimulating comprehensive integration of conservation and population biology, including clear, readable scientific basics." (Austral Ecology, 19 May 2014)
"Summing Up: Recommended. Lower-division undergraduates through researchers/faculty. (Choice, 1 November 2013)
See More
Instructors Resources
Wiley Instructor Companion Site
Digital evaluation copy available for this title
Request Copy

Contact your Wiley Representative
Find Your Rep

See More
See Less
Students Resources
Wiley Student Companion Site
See More
See Less
Purchase Options
Paperback
Conservation of Wildlife Populations: Demography, Genetics, and Management, 2nd Edition
ISBN : 978-0-470-67149-8
342 pages
December 2012
Hardcover
Conservation of Wildlife Populations: Demography, Genetics, and Management, 2nd Edition
ISBN : 978-0-470-67150-4
342 pages
December 2012
Conservation of Wildlife Populations: Demography, Genetics, and Management, 2nd Edition
ISBN : 978-1-118-48458-6
352 pages
June 2013

Information about Wiley E-Texts:
Wiley E-Texts are powered by VitalSource and accessed via the VitalSource Bookshelf reader, available online and via a downloadable app.
Wiley E-Texts are accessible online and offline, and can be read on a variety of devices, including smartphones and tablets.
Wiley E-Texts are non-returnable and non-refundable.
Wiley E-Texts are protected by DRM. For specific DRM policies, please refer to our FAQ.
WileyPLUS registration codes are NOT included with any Wiley E-Text. For informationon WileyPLUS, click here .
To learn more about Wiley E-Texts, please refer to our FAQ.

Information about e-books:
E-books are offered as e-Pubs or PDFs. To download and read them, users must install Adobe Digital Editions (ADE) on their PC.
E-books have DRM protection on them, which means only the person who purchases and downloads the e-book can access it.
E-books are non-returnable and non-refundable.
To learn more about our e-books, please refer to our FAQ.