Textbook
Pacific Eldorado: A History of Greater California
January 2013, ©2012, Wiley-Blackwell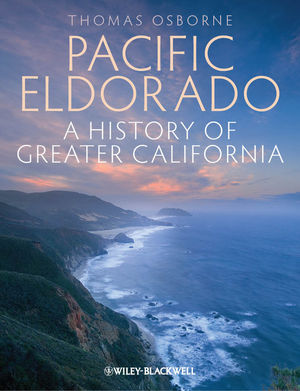 Osborne's work is the first history text to explore the sweep of California's past in relationship to its connections within the maritime world of the Pacific Basin.
Presents a provocative and original interpretation of the entire span of California history
Reveals how the area's Pacific Basin connections have shaped the Golden State's past
Refutes the widely held notion among historians that California was isolated before the onset of the American period in the mid-1800s
Represents the first text to draw on anthropologist Jon Erlandson's findings that California's first human inhabitants were likely prehistoric Asian seafarers who navigated the Pacific Rim coastline
Includes instructor resources in an online companion site: www.wiley.com/go/osborne
See More
List of Illustrations xiii
Foreword xvi
Janet Fireman
Preface xviii
Acknowledgments xxi
1 Beginnings: From Fire and Ice to Indian Homeland 1

Timeline 2

Landforms 2

Climates 6

Plants and Animals 8

First Peoples and Their New Homeland 9

Tribal and Linguistic Groupings 12

Material Culture 14

Religion and Social Practices 16

Pacific Profile: Anthropologist Alfred L. Kroeber 19

The Chumash: Pacific Coast Mariners and Traders 19

Other Possible Early Voyagers to California 21
2 Spain's Greater California Coast 25

Timeline 25

A Name, a Dream, a Land 27

Cabrillo's Coastal Reconnaissance 28

Globalization Begins: The Manila Galleon Trade 30

Drake, Nova Albion, and Cermeño 32

The Spanish Pacific, Vizcaíno, and Monterey 34

Colonizing California: Missions, Indians, and the Sea 35

Ranchos, Presidios, and Pueblos 42

Gender and Sexuality in a Frontier Society 44

Pacific Profile: Alejandro Malaspina, Mariner-Explorer 45

The TransPacific Fur Trade 46

Hippolyte de Bouchard's Pirate Raids 48
3 A Globally Connected Mexican Province 53

Timeline 53

Mexico's Misrule of California 55

Secularization of the Missions 56

Hides, Tallow, and Rancho Society 59

Fur Trappers 64

Early Settlers and Overland Emigrants 66

Pacific Profile: Alpheus B. Thompson, China Trader 70

"Thar She Blows:" New England Whalers 71

The Charles Wilkes Pacific Expedition 72
4 War and Gold: America's West Coast Eldorado 78

Timeline 78

California and the Pacific Squadron 80

Jumping the Gun at Monterey 81

Polk, the Pacific, and the Outbreak of War 84

California and the Mexican War 88

Gold, Ships, and Wagon Trains 91

Pacific Profile: William H. Aspinwall, President of the Pacific Mail Steamship Company 95

The World Rushed In 96

Life in the Diggings 97

The Gold Rush's International Economic Impacts 100
5 National Crisis, Statehood, and Social Change 105

Timeline 106

A Constitution, a Legislature, a State 107

Land Disputes and Independence Movements 110

Vigilance Committees and Untamed Politicians 112

Pacific Filibusterers 116

California, the Pacific, and the Civil War 118

Ocean Crossings: The Chinese on Sea and Land 120

Pacific Profile: Norman Asing, Chinese American Restaurateur 123

Californios and Other Spanish-Speakers 124

Indians: A People under Siege 126

African Americans: Up from Bondage 127
6 Pacific-Bound Rails, Hard Times, and Chinese Exclusion 132

Timeline 133

A Transcontinental Railroad, California, and Pacific Commerce 134

Theodore Judah, the Big Four, and the Pacific Railroad Act of 1862 136

Chinese Laborers and the Push Eastward 140

The Southern Pacific Railroad and the American West 143

Pacific Profile: Seafaring Journalist Charles Nordhoff 146

Transpacific Steamers 147

Depression and the Anti-Chinese Movement 148

The Constitution of 1879 152

Halting Chinese Immigration 153
7 Eldorado's Economic and Cultural Growth 158

Timeline 158

Water, Land, and Rural Development 160

Commercial Agriculture 162

Black and White Gold 166

Interurban Railways and Southern California's Rise 168

California's Maritime Economy 171

Pacific Profile: David Laamea Kalakaua, King of Hawai'i and Visitor 175

California and the Spanish-American-Cuban-Filipino War 176

A Cosmopolitan Culture 178
8 Anti-Railroad Politics, Municipal Graft , and Labor Struggles 186

Timeline 187

The Battle of Mussel Slough 188

An Angry Widow Sues: The Colton Letters 190

Pacific Gateway: Locating a Harbor in Los Angeles 190

Pacific Profile: Phineas Banning, Port of Los Angeles and Santa Catalina Promoter 192

Debt Dodging Denounced 193

The Southern Pacific Political Machine 194

The "Queen City of the Pacific:" Boss Ruef 's San Francisco 195

Foiled Reform: The 1906 San Francisco Earthquake and Graft Trials 197

Maritime and Factory Labor 201

Field Work and the Wheatland Riot 206
9 Governor Hiram Johnson and Pacific-Oriented Progressivism 211

Timeline 212

The Beginnings of Reform 213

An "Aggressive Advocate" and the 1910 Election 215

Regulating the Economy 216

Democratizing Politics, Subsidizing Education 219

Women's Suffrage and Public Morals 220

Water: Cities in a State of Thirst 223

Pacific Profile: George Freeth, Southern California Surfer Extraordinaire 226

San Francisco, TransPacific Racial Tensions, and Angel Island 227

African Americans, Hispanics and Filipinos, Sikhs, and Indians 230

Maritime Trade and the Panama Pacific Exposition 232

The Twilight of Progressivism 233
10 Good Times and Bad in a Pacific Rim Super State 238

Timeline 239

Mass Entertainment: Hollywood Movies, Pacific Fun Zones, and the Olympics 240

Extending California's Water Infrastructure 242

Agribusiness and Banking 244

The 1920s Oil Boom 247

Maritime Enterprises 248

Transportation: Automobiles and Airplanes 250

Pacific Profile: Charles Kingsford-Smith's TransPacific Flight 252

Conservatism Restored 252

Religious Awakenings and Developments 254

Freedom-Minded and Other Women 255

The Great Depression: Strikes and Panaceas 257

Cultural Expression of a High Order 260
11 America's Pacific Bulwark: World War II and Its Aft ermath 267

Timeline 268

Military Installations: Forts, Naval Bases, and Airfields 269

The Wages of War: Shipyards, Aircraft Plants, and Universities 270

Opportunities and Prejudice: Women and Minorities 274

Japanese Imprisonment 277

Pacific Profile: Jeanne Wakatsuki Houston, Manzanar Inmate and Writer 281

The Postwar Military-Industrial Complex and International Relations 282

Population Growth, Housing, and Discrimination 284

Green Gold: Agribusiness and Labor 287

Governor Earl Warren: Progressive Republican 288

Richard Nixon and the Anti-Communist Crusade 290
12 Liberalism at High Tide 295

Timeline 296

Prosperity, Suburbanization, and Consumerism 297

Entertainment Media, Sports, and Amusement Parks 300

The San Francisco Renaissance and the Arts 302

Politics: Goodwin Knight, Pat Brown, and Reforming Government Operations 305

Enhancing the Super State: Water, Transit, and Universities 306

Students in Dissent, Campuses in Revolt 309

Pacific Profile: S.I. Hayakawa, San Francisco State College President 312

Minorities and Women 313

Coastal Counterculture in the 1960s 317
13 "Gold Coast" Conservatism and the Politics of Limits 323

Timeline 324

From Ultra-Right-Wingers to Mainstream Suburban Warriors 326

Ronald Reagan: The "Cowboy" Governor 328

Governor Jerry Brown: The Zen of Politics and Frugality 331

Crime and Racial Tensions 334

Business and Labor 336

Pacific Profile: Jerry Yang, Co-founder and CEO, Yahoo! Inc. 340

Protecting the Environment and Supplying Energy 341

Governor George Deukmejian's Right Turn 345

Voter Resentment, Term Limits, and Wedge Politics 346

Governor Pete Wilson and a Roller-Coaster Economy 347

Architecture and Fine Arts, Sports, and Entertainment 350
14 The Ongoing Pacific Shift 356

Timeline 357

Immigration, Diversity, and the Politics of Multiculturalism 359

Pacific Profile: Novelist Isabel Allende 364

Governor Gray Davis: An Able Moderate under Fire 365

The "Governator:" Arnold Schwarzenegger 366

Infrastructure Matters: Schools, Transportation, Health Care, and Prisons 369

The High-Stakes Gubernatorial Election of 2010 372

An Economic and Political Colossus 374

Major Environmental and Energy Challenges 381

The Pacific, the U.S Military, and California 383

Still the Pacific Eldorado 384

Summary 385
Review Questions 386

Further Readings 387
Appendix: Governors of California, 1768–2012 389
Index 392
See More
Thomas J. Osborne is Emeritus Professor of History at Santa Ana College, where he received the inaugural Distinguished Faculty Lecturer Award. He earned his Ph.D in history from Claremont Graduate University and is the author and co-author of several scholarly books, articles and reviews, including Paths to the Present: Thoughts on the Contemporary Relevance of America's Past (co-authored with Fred R. Mabbutt) and "Empire Can Wait:" American Opposition to Hawaiian Annexation, 1893-1898.
See More
• Presents a provocative and original interpretation of the entire span of California history
• Reveals how the area's Pacific Basin connections have shaped the Golden State's past
• Refutes the widely held notion among historians that California was isolated before the onset of the American period in the mid-1800s
• Represents the first text to draw on anthropologist Jon Erlandson's findings that California's first human inhabitants were likely prehistoric Asian seafarers who navigated the Pacific Rim coastline
See More
"A whole new generation of historians has been discovering California in a new context. ... This textbook—a gift to teachers of California history—will also be useful for anyone seeking to understand the Golden State in a global context." – Boom: A Journal of California, Spring 2014
"Osborne... does a very good job of updating standard narratives and finding a way to pull them together."   (Southern California Quarterly, 1 May 2013)
 "Pacific Eldorado is an innovative and compelling account of California history, and it also offers so much more than a standard textbook.  Thomas Osborne has brilliantly placed California in its 'greater' geographic and historical setting—the Pacific Basin—and he has done so in a highly accessible way for students and scholars.  This is a tremendous achievement." —David Igler, University of California, Irvine
 "A fresh and compelling interpretation of California history that places the state in a new and welcome perspective. This book, in other words, delivers on the promise of its title." —Glenna Matthews, author of The Golden State in the Civil War: Thomas Starr King, the Republican Party, and the Birth of Modern California
"In this splendid volume, Thomas Osborne offers a striking reformulation of prevailing interpretations of California history by introducing the concept of Pacific Eldorado, which elucidates the significant, but heretofore largely unexplored, connections between California and the Pacific world." —Spencer C. Olin, University of California, Irvine
"From prehistory to the 2010 election, this book masterfully makes California history new and richly engaging. With its compelling human stories and wealth of illustrations, Pacific Eldorado draws us in and keeps us reading. I regretted reaching the end." —Janet Farrell Brodie, Claremont Graduate University
"A fresh and lively contribution to the history of California."  —Kerwin Klein, University of California, Berkeley
"Utilizing the latest research, Pacific Eldorado captivates the reader with a balanced, up-to-date, innovative history of California with a Pacific edge. Informative, memorable, and highly recommended!" —Nancy Taniguchi, California State University, Stanislaus  
 "Smartly synthesizes 500 years of California history, from its shifting bedrock to its evolving social dynamics. . . . – a stellar rendering." —Char Miller, Pomona College, and author of Gifford Pinchot and the Making of Modern Environmentalism
"Thomas Osborne brings a new contribution to current discourse about California and its past to reveal a grand tapestry of connections and a multi-hemispheric pattern of interaction with the Pacific world." —from the Foreword by Janet Fireman, Loyola Marymount University
 "Through the pages of Pacific Eldorado new content and important context about California's lively history beckons readers.  This book explains how California's past informs its future."—Larry E. Burgess, Director, A.K. Smiley Public Library
See More
Instructors Resources
Digital evaluation copy available for this title
Request Copy

Contact your Wiley Representative
Find Your Rep

See More
See Less
Purchase Options
Paperback
Pacific Eldorado: A History of Greater California
ISBN : 978-1-4051-9453-2
434 pages
January 2013
Hardcover
Pacific Eldorado: A History of Greater California
ISBN : 978-1-4051-9454-9
434 pages
January 2013
Pacific Eldorado: A History of Greater California
ISBN : 978-1-118-29235-8
440 pages
January 2013

Information about Wiley E-Texts:
Wiley E-Texts are powered by VitalSource and accessed via the VitalSource Bookshelf reader, available online and via a downloadable app.
Wiley E-Texts are accessible online and offline, and can be read on a variety of devices, including smartphones and tablets.
Wiley E-Texts are non-returnable and non-refundable.
Wiley E-Texts are protected by DRM. For specific DRM policies, please refer to our FAQ.
WileyPLUS registration codes are NOT included with any Wiley E-Text. For informationon WileyPLUS, click here .
To learn more about Wiley E-Texts, please refer to our FAQ.

Information about e-books:
E-books are offered as e-Pubs or PDFs. To download and read them, users must install Adobe Digital Editions (ADE) on their PC.
E-books have DRM protection on them, which means only the person who purchases and downloads the e-book can access it.
E-books are non-returnable and non-refundable.
To learn more about our e-books, please refer to our FAQ.