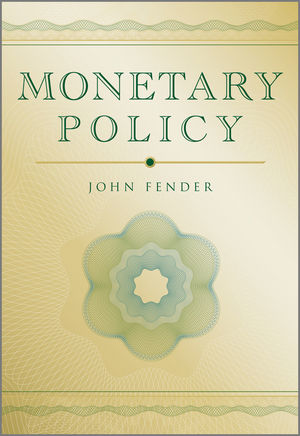 Designed for advanced undergraduates in economics, this new text provides an up-to-date analysis of the practice and theory of monetary policy and discusses key models that tie in with contemporary research and policy.
The transmission mechanism of monetary policy is given particular emphasis and the book discusses the behaviour of a number of central banks, in particular the Bank of England, the European Central Bank and the Federal Reserve. The worldwide credit crunch and subsequent recession and non-conventional monetary policies such as quantitative easing are also given extensive treatment.

There are also chapters on a wide variety of topics such as: Consumption, investment, money demand and money supply, nominal rigidities, inflation and unemployment, time Inconsistency and central bank independence, the social costs of inflation, the role of financial intermediaries, monetary policy in an open economy, the term structure of interest rates, the stock market, the housing market and fiscal policy.
See More
Acknowledgements
Introduction
Chapter 1. Foundations of a Monetary Economy
Chapter 2. Keynes, IS-LM and After
Chapter 3. Consumption
Chapter 4. Investment
Chapter 5. Money Demand and Money Supply
Chapter 6. Nominal Rigidities
Chapter 7. Inflation and Unemployment
Chapter 8. Time Inconsistency: Theoretical Foundations for Independent Central Banks?
Chapter 9. The Social Costs of Inflation
Chapter 10. Financial Intermediaries, Credit Market Imperfections and their Relevance for Monetary Policy
Chapter 11. Monetary Policy in an Open Economy
Chapter 12. The Term Structure of Interest Rates
Chapter 13. The Stock Market
Chapter 14. The Housing Market
Chapter 15. Fiscal Policy
Chapter 16. Evidence on the Effectiveness of Monetary Policy
Chapter 17. The Targets and Instruments of Monetary Policy
Chapter 18. The Transmission Mechanism. How does the Central Bank Influence the Behaviour of the Economy?
Chapter 19. Monetary Policy in Practice
Chapter 20. The Worldwide Credit Crunch and Recession of 2007-9
Chapter 21. Recent Innovations in Monetary Policy: Quantitative Easing
Chapter 22. Monetary Policy Now and in the Future
Glossary
References
Index
See More
Reflects the modern approach to teaching monetary economics
Provides a clear exposition on key models and issues in a way that ties in effectively with ongoing research and policy
An up-to-date text that meets the needs of advanced undergraduate students
John Fender is a highly respected academic with an extensive record of journal publications on monetary policy
See More
Purchase Options
Paperback&nbsp&nbsp&nbsp
Monetary Policy
ISBN : 978-0-470-01909-2
246 pages
March 2012, ©2012

Information about Wiley E-Texts:
Wiley E-Texts are powered by VitalSource technologies e-book software.
With Wiley E-Texts you can access your e-book how and where you want to study: Online, Download and Mobile.
Wiley e-texts are non-returnable and non-refundable.
WileyPLUS registration codes are NOT included with the Wiley E-Text. For informationon WileyPLUS, click here .
To learn more about Wiley e-texts, please refer to our FAQ.

Information about e-books:
E-books are offered as e-Pubs or PDFs. To download and read them, users must install Adobe Digital Editions (ADE) on their PC.
E-books have DRM protection on them, which means only the person who purchases and downloads the e-book can access it.
E-books are non-returnable and non-refundable.
To learn more about our e-books, please refer to our FAQ.